Section Branding
Primary Content
Bob Ross Paint-Along with Certified Ross Instructor Nic Hankins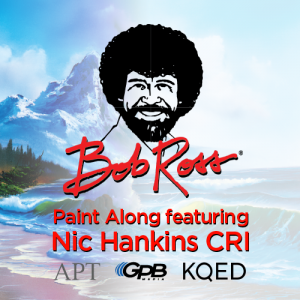 Paint along with this screening of The Joy of Painting with Bob Ross, featuring live technique tutorials by a Certified Ross Instructor!
Register Here
About this Event
Looking for some serenity right now? Let Bob Ross help you escape.
Georgia Public Broadcasting and KQED join to bring you a free virtual watch party for a soothing episode of The Joy of Painting!
If you have a canvas, paints, and brushes at home (list below), follow along as Bob paints some "Royal Majesty," featuring a secluded waterfall deep in the mountains, standing tall and proud. During breaks, we'll be joined live by artist Nic Hankins, a Certified Ross Instructor, to go deeper into Bob's techniques and answer your questions.
Or just unwind, let Bob's cheerful spirit and assurance wash over you, and chat with fellow fans about the magnificent mountains and all the happy little accidents!
Here is a list of everything you'll need to complete the painting.
You can order official Bob Ross paints and supplies at BobRoss.com, or feel free to use your preferred variants.
TOOLS:
18"x24" Stretched, Double Primed, Canvas (but any similar aspect ratio will work)
Bob Ross Painting Knife #10
Bob Ross 1" Landscape Brush
Bob Ross 2" Background Brush
Bob Ross #6 Fan Blender Brush
Bob Ross #2 Script Liner Brush
Bucket and Screen
Trash Can and Brush Beater Rack
Odorless Thinner
Clear Plastic Pallet (or paper plates work fine)
Paper Towels
Drop Cloth
Old Clothes or Apron
FIRM OIL PAINT COLORS:
Sap Green
Alizarin Crimson
Van Dyke Brown
Dark Sienna
Midnight Black
Prussian Blue
Phthalo Blue
Cadmium Yellow
Yellow Ochre
Indian Yellow
Bright Red
Titanium White
Black Gesso
Liquid Clear
Register here and receive a link to the screening on the OVEE platform, powered by ITVS and the Corporation for Public Broadcasting.
The episode of The Joy of Painting screened during this event provided courtesy of American Public Television and Bob Ross, Inc.