Section Branding
Header Content
The humble casserole is the South's ultimate comfort food
Primary Content
There are many foods for which the South is justifiably famous, such as gumbo, fried chicken, barbecue and so many more. The casserole is not thought of as a particularly Southern dish. But as Salvation South editor Chuck Reece explains in this week's commentary, the way Southerners use the casserole — and how we fill it with love — is definitely distinct.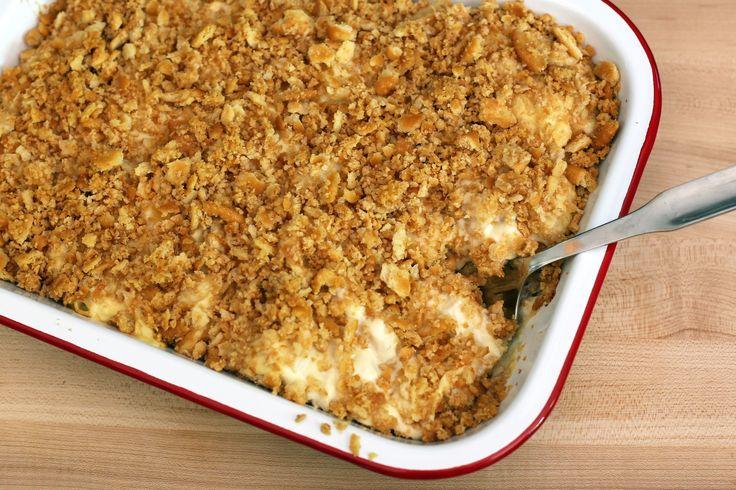 TRANSCRIPT: 
Chuck Reece - Salvation South Editor: Last fall I was up in the Appalachian foothills in my hometown of Elijay for a visit with my most beloved cousin. Her name is Martha. She's known me her whole life and has been known to call me her little brother. When I called Martha before my wife, Stacy, and I went to see her, Martha asked me if she could feed us lunch. I happily accepted the offer. She told me she had a chicken casserole in the freezer that she could take out and warm up. It was delicious, simple, country comfort food. The sort that warms your belly and your heart all at the same time.
Now a few months later, a writer named Amanda Dobbs sent a story entitled, "The Casserole Mindset," to Salvation South, the online magazine I edit. And she wrote the following, "Odes have been written about how casseroles are about comfort, community and connection. You don't make casserole for one. You make casserole for the potluck, the party, the friend who had a baby, the family who lost a loved one. You make casseroles not only so that people can eat but so that people are nourished in the way that the body needs to be fed."
Now, it's clear that casseroles matter a lot to Southerners. Casseroles are more than food. They are a way we express love. Sometimes folks in the South even build up a stockpile of casseroles in their freezers because they know that the day will surely come when someone in their life will need the kind of love and nourishment that only a casserole can provide. 
All of us want to know that there is someone out there who when we are having times of trouble or suffering might bring us a casserole. And I was having a stretch of rough days when I visited my cousin Martha last fall. She gave me her precious words on consolation and served them up with a chicken casserole. It was delicious and its recipe was simple:
Chicken breast
1 can cream of chicken soup
1 can of cream of mushroom soup
Half a pound of sour cream
A sleeve and a half of Town House crackers
1/2 stick of butter
And finally, an unmeasurable amount of love. 
I have not peeked into the freezer in the big kitchen at the Episcopal church that Stacy and I go to in Decatur, but I have heard tell that inside it a casserole cache exists. It is used when folks are in need and someone has lost a loved one or when life has thrown an expected curveball. When someone is carrying too many of life's trials, someone else in the church grabs a casserole from the freezer and delivers it to the person in need. 
That's the way the world goes around. Or at least, that's the way it goes around here in the South. 
Visit us at SalvationSouth.com.
Salvation South editor Chuck Reece comments on Southern culture and values in a weekly segment that airs Fridays at 7:45 a.m. during Morning Edition and 4:44 p.m. during All Things Considered on GPB Radio. You can also find them here at GPB.org/Salvation-South.
Secondary Content
Bottom Content