Section Branding
Header Content
Downton Abbey Revisited – Season 5 Episodes 6 & 7 (We'll laugh about this one day.)
Primary Content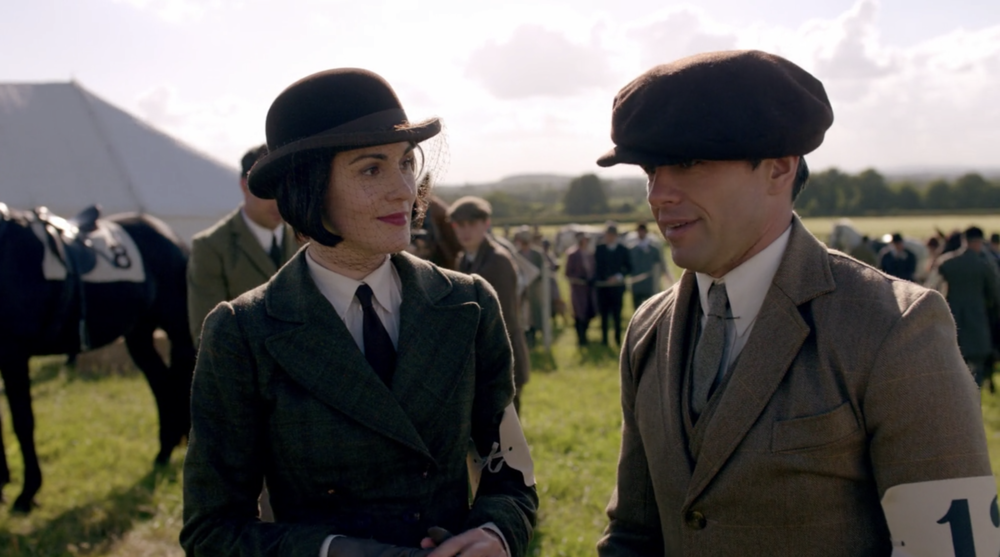 Rachel - Longtime Downton Fan
As the Bob Dylan song says: The times, they are a-changin'. And even though it's presented in a traditional backdrop of horse races and elegant dinners, those changes aren't limited to Mary's haircut. In fact, despite how she tries to make a splash with it this week, it's the least notable part of these Downton Abbey episodes for me (though I'm in agreement with the stylist: Mary can indeed pull it off!).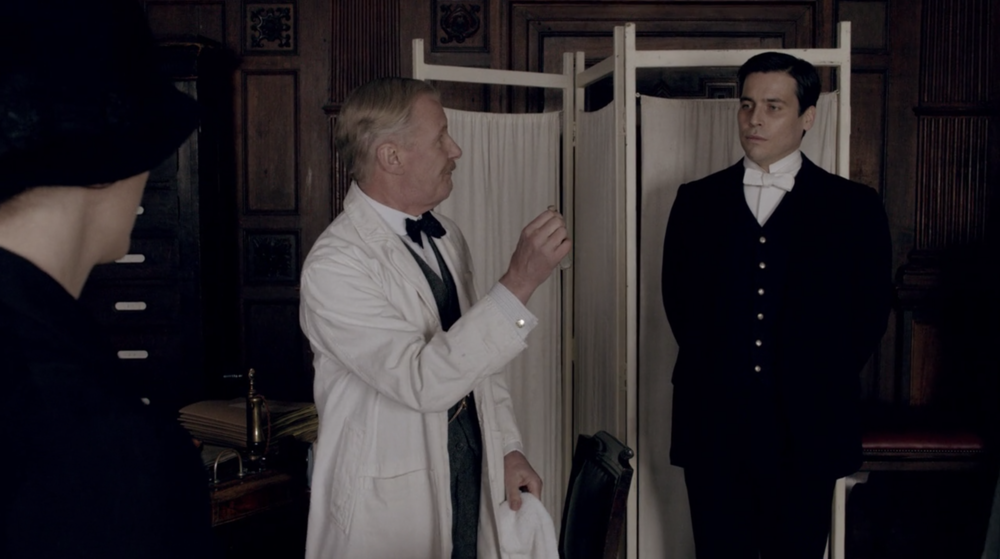 Thomas continues to break my heart this week, something that when I watched this show the first time I couldn't believe it. So much of Seasons 1 and 2 were spent loathing him, despite his struggles, but watching him open up to Miss Baxter about what he was doing to himself gutted me. And to her credit, despite all of the blackmail he's put her through, she's still compassionate and understanding, arranging a visit to Dr. Clarkson to have his injuries assessed. Dr. Clarkson is equally understanding: despite homosexuality being illegal at the time, he knows that Thomas cannot change himself and his interest in men, no matter how hard he's trying. As much as I feel frustrated with Julian Fellowes (Sybil, Matthew), I think it's a credit to how well-written the characters on Downton are.
But not all villains are redeemable. Larry Grey and his brother are prime examples of this, and while it's not until Season 6 we understand just how single-minded Larry and his wife are in regards to his father, it's another uncomfortable dinner with the Grey family. I always wonder how Lord Merton managed to remain cheerful around his relatives, but these episodes make it clearer than ever that he and Isobel are well-suited: she loves him for him, though they'll have a long struggle to get there.
And then there's the heartbreak that didn't have a long struggle at all: Isis is diagnosed with cancer and she doesn't have long to live. I detest animal deaths on film and TV, but her passing does reunite Cora and Robert (or rather, allows him to see what's important in life: his family, not his pride).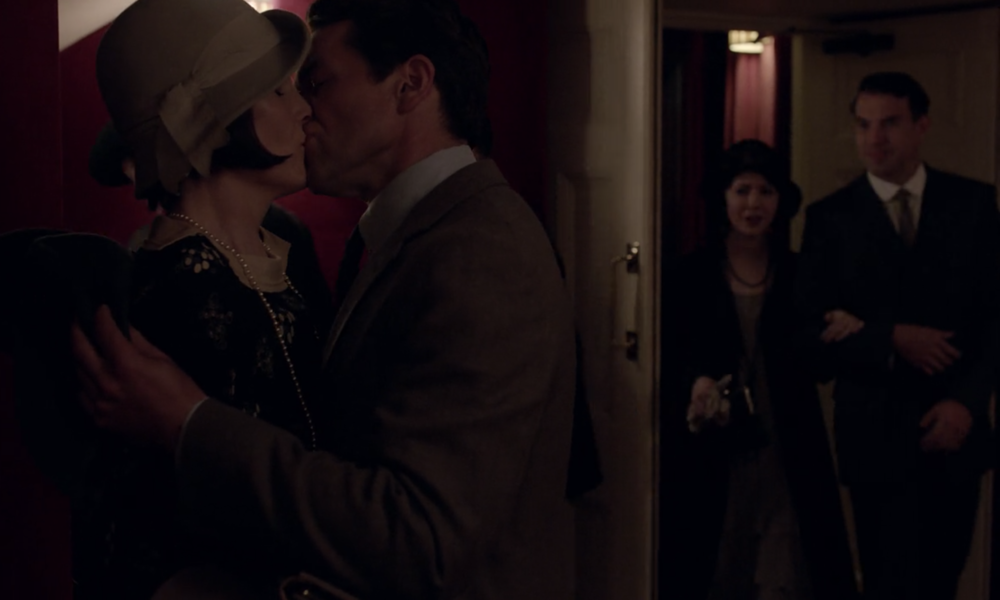 Yet, there are final goodbyes that aren't quite as sad: Mary, with the help of Charles Blake and Mabel Lane Fox, finally makes Tony Gillingham understand that under no circumstances will they ever get married. Charles, having accepted it early on, is keen to help Mabel and Tony reunite if just to assist Mary in sending him away. I have to agree with Mabel's assessment: Mary doesn't make it easy for them in these episodes, debuting her stylish new hairdo and fashionable clothes. But it's the goodbye kiss at the cinema where she bids farewell to both Tony and Charles by kissing the latter and frankly, I'm happy to see them both go. Not that they're bad characters, but once Mary's made her decision and refuses to change her mind, there's not much left for either of them to do. And besides: it's not long now until Henry Talbot makes his memorable entrance into Mary's life! He's no Matthew, and that's what I like about him: neither Tony nor Charles could get under Mary's skin the way Henry does and become her partner, versus someone simply enamored with her.
Love continues to blossom too for Rose, as she and Atticus grow closer before culminating in a secret proposal by him. When I watched these episodes for the first time, I felt like there was never any doubt that they were going to end up together. But there's something charming about having a couple on this show reach a marriage proposal with little-to-no drama: you can't help but root for them, and they'll need it going into the final two episodes of Season 5: both sets of parents in the same room for the same wedding ceremony is bound to be cause for disaster.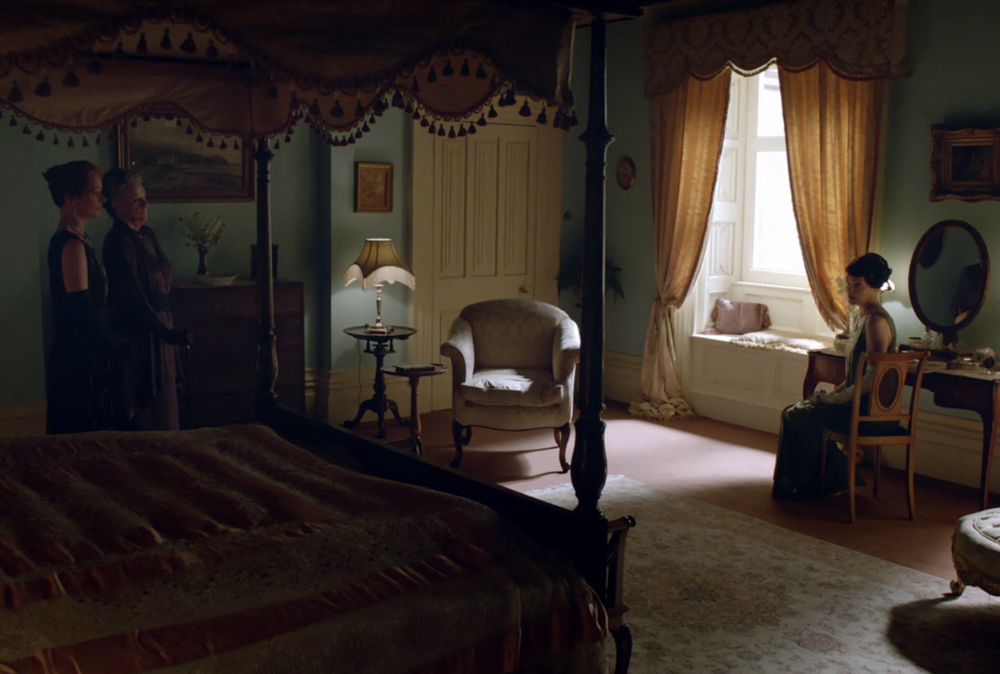 In more tumultuous relationships, Edith finally gets the horrible news she's been dreading and retaliates by taking Marigold away from the Drewes and running off to London. There's no choice but for Violet and Rosamund to tell Cora who Marigold truly is, and the best part of it for me is how Cora reacts to it all: she still loves her daughter but her disappointment with the other two women remains, and rightfully so. Elizabeth McGovern is spectacular in these scenes, and I think Season 5 really gave her a chance to shine with Cora and the various dramas the Countess of Grantham endures. 
The Dowager Countess has her own drama to contend with, in the form of a refugee Russian prince who, despite being married to the Princess Kuragin, remains in love with her. It's a love Violet refuses to return to but she struggles with it, as she does with the looming departure of Isobel as friend and confidant to becoming Lady Merton, with a new life to lead. Mary chides Violet for it, but these episodes show just how transformed the Dowager Countess has become from her friendship with Isobel Crawley. They'll continue to snipe at one another for years to come (even the Downton Abbey movie continues their verbal jabs), but it's out of affection now, instead of jealousy. Violet can be snobby and set in her ways, but she knows who her true friends are (even if she tries to avoid them on occasion). 
Watch the end of Downton Abbey Season 5 live this week on Friday, August 6 beginning at 7 p.m. to see just how Lord Sinderby and Susan MacClare plot to ruin an otherwise happy wedding and the introductions of Henry Talbot, Bertie Pelham, and Andy. Or you can watch the entire series now on GPB Passport.
Kirk - Downton Newbie
There were some plots and schemes in these last couple of episodes, but also major revelations and life-changing decisions made.
In last week's biggest development, Edith has finally succeeded in tearing a family apart and utterly destroying a tenant farmer's wife! It was unavoidable. Edith is a machine. A bulldozer, if you will, tearing her way through the lives of others with an awkward smile before backing up over her own. It would be impressive if she weren't already the MVP. Her only competition is herself.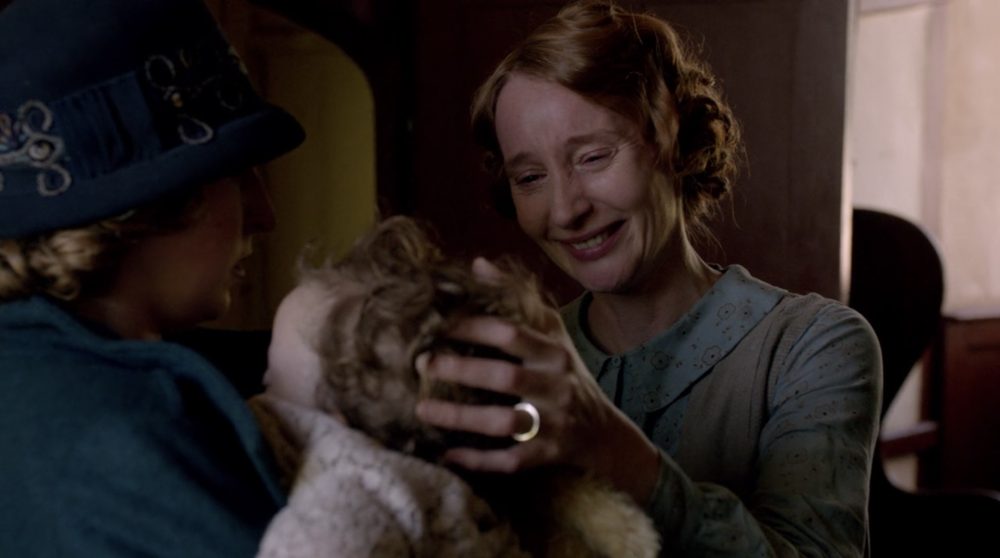 This latest life-altering foolishness began with the arrival of a telegram. Edith receives confirmation of what she'd known in her heart to be true for a while, that Gregson was dead. She, of course, goes to the Drewe's to see her daughter for some comfort, but Margie was not having it. She finally decides to come clean and, backed by Mr. Drewe, takes her baby away from the only family she's ever known. This scene was heartbreaking. I'm glad she's finally going to raise her child herself, but none of this had to happen the way it did. She, Violet, Rosamund and Cora tell the rest of the family about their new addition, which is the end of it? I have no idea. There's a scene earlier where Rose's boyfriend Atticus subtly points out how dense the Grantham's are. It was funny because it's true. At first, I thought they had just been conditioned not to think the unthinkable, for example, that Edith had randomly run away for months to have a child and that the orphan she had become obsessed with was that child, but now I just don't think any of them are very bright.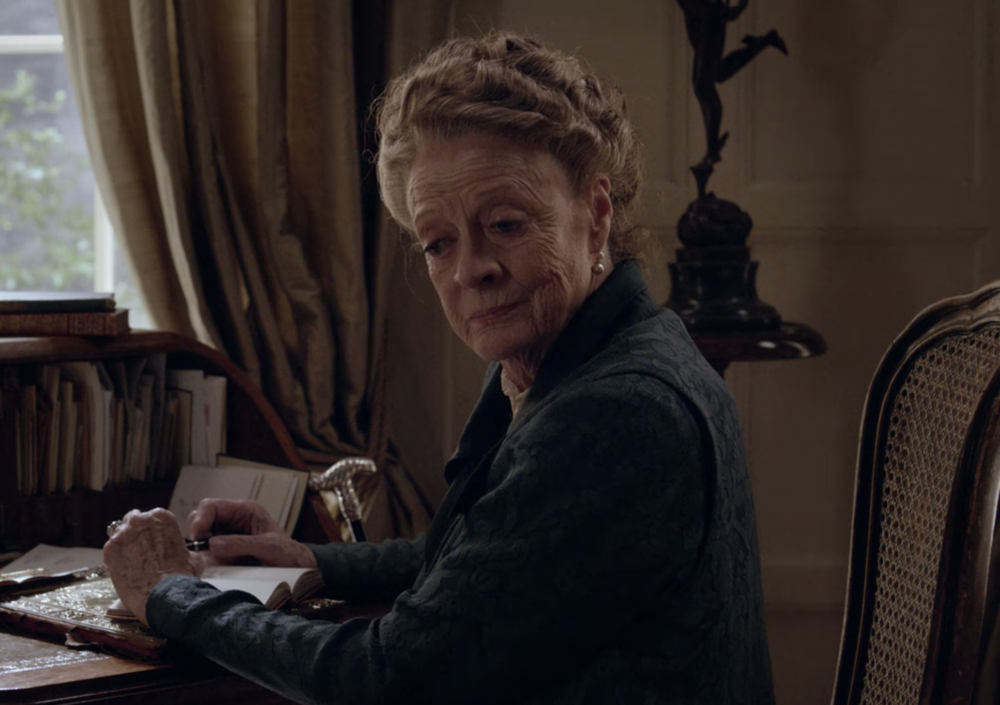 Speaking of Rose and Atticus, they're engaged! So are Isobel and Lord Merton, and Larry is still a jerk! Lord Merton's eldest manages to insult Isobel's status and Atticus' ethnic identity in a single breath, in front of everyone at dinner. I think this scene served to make it clear that these would not be easy marriages for either couple, but I hope they will be happy ones. Violet finally confesses to Mary that her seeming disapproval is not because of Isobel entering the aristocracy, but because she's sad about losing a friend. I think Isobel is too strong-willed to let convention interfere with their friendship, but we'll see. Besides, the Prince confessed to Violet that he still loves her more than he loves his wife. I wonder if another engagement is on the horizon.
Downstairs, Thomas reached out to Baxter for help after the snake oil he had been injecting into himself caused an infection and she took him to the doctor. Honestly, I can't figure out what brought any of this on. Thomas seemed sad and very lonely, but also appeared to have accepted his sexuality as a part of himself that he couldn't change. Maybe Baxter can fill the void left by Jimmy. If anyone could use a friend, it's Thomas.
Finally, Anna needs to work on her communication skills. The cops are still poking around about Green's death. Instead of asking her husband whether he killed the man, she convinces herself that he didn't know that Green was the man that assaulted her and let her anxiety and worry eat her up inside. She eventually learns of her husband's innocence, but the proof was destroyed by Mary. My one question is if Mary and Mrs. Hughes could see that the ticket had not been torn, why didn't they realize it proved Bates' innocence? Atticus knows why.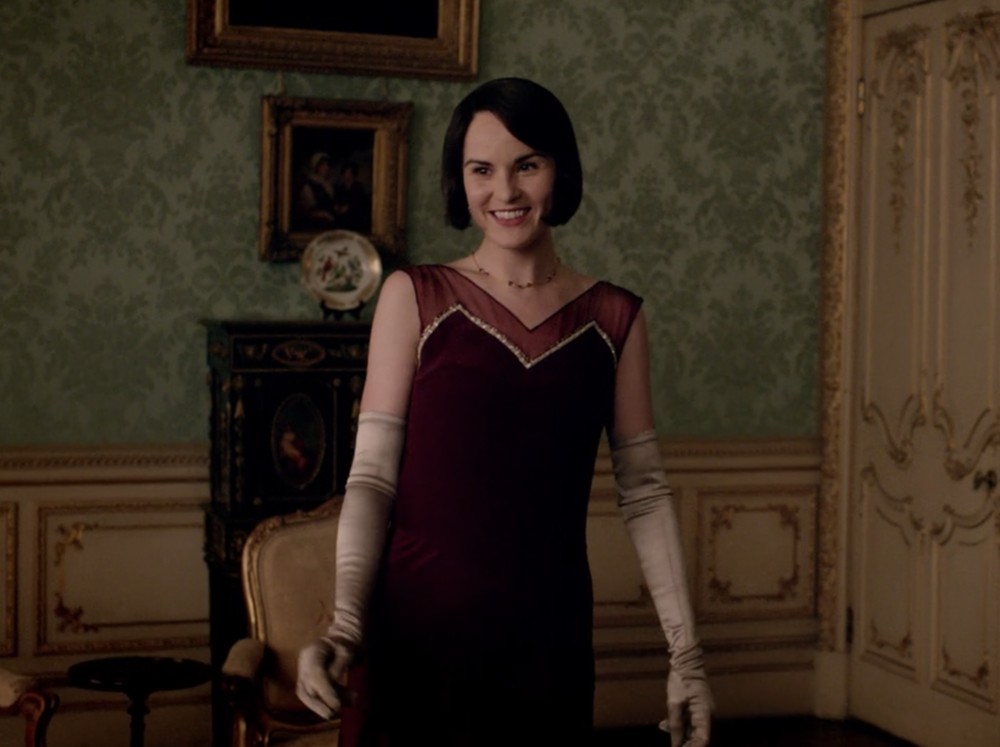 This week's highlights were Mary's haircut dress and her hairdresser's fake French accent. Tune in Friday at 7 p.m. for more dimly-lit extravagance or binge every season of Downton Abbey right now with GPB Passport.
Secondary Content
Bottom Content