Section Branding
Header Content
Downton Abbey Revisited – Season 4 Episode 8 (Maybe it is and maybe it ain't!)
Primary Content
Rachel - Longtime Downton Fan
The Season 4 finale has always been (almost) everything I love about Downton Abbey in a single episode. Out of all the season finales, it's probably my second favorite of them all (besides the Season 2 finale: nothing can top the Matthew and Mary proposal scene at the end, or Matthew punching Richard Carlisle in the face). It's got plenty of intrigue, lavish settings and elegant costumes, and sets up plots for the next season while not ending on a sour note. Rewatching the Season 4 finale is always a treat for so many reasons, but here's a few of them.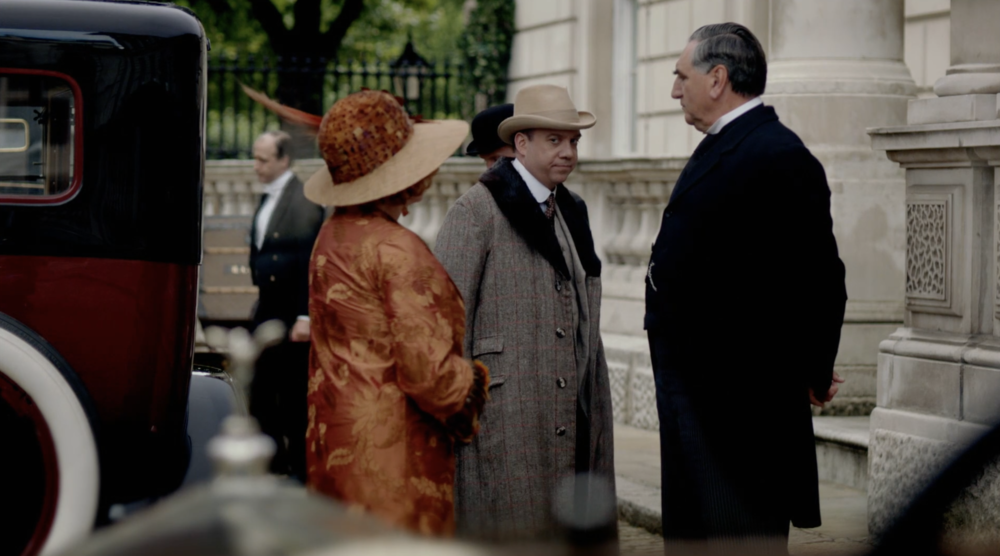 While this episode is, in theory, all about Rose, I'm convinced this episode is made all the more interesting with both Martha and Harold Levinson's descent upon the Crawley family. Martha already made quite the impression in Season 3 and after the Teapot Dome scandal subplot, it's always refreshing to see Harold and how he differs from Cora and his English relatives. He becomes won over by aspects of English culture but Martha is not swayed in the least by Lord Aysgarth, who can spot a gold digger across a ballroom and a picnic table. They also provide some of the most hilarious moments of the episode, including Harold trying to introduce himself to the Prince of Wales. In short, while the rest of the family is trying to get Rose introduced properly into society, avoid catastrophe, and learn some very important details about each other, Harold and Martha are just having a good time. As Martha says, her leading on Lord Aysgarth simply added to the fun of the trip, and the episode, and I agree each time I rewatch this finale.
Meanwhile, the Crawleys have their own set of problems to contend with. Rose can't wait to be out properly in society, but it's not without its hiccups: alongside the elegant presentation at Buckingham Palace (and seasonal cameo by Historical Advisor to the show, Alastair Bruce), it's up to the Crawleys to prevent the Prince of Wales' womanizing ways from being leaked to the press due to a stolen letter by card shark Sampson, who previously got the boot from Downton after Lord Grantham lost a major sum of money and Michael Gregson, the hero of the house party, won it back. I remember first watching this episode, I sided with Cora and her worries about Rose and Mary getting caught burgling Sampson's flat, but now the prospect of Mary, Rose, and Charles Blake trying to find the incriminating letter in a man's sock drawer (and Rose is right: going through someone's worn socks is a bit uncomfortable!) is hilarious. They're no Sherlock and Dr. Watson, but it does lead to Mary and Charles growing closer and the realization that Charles will be a member of the British Peerage one he inherits a distant relative's title and estate. To Mary, it means everything: that he, despite his methods to modernize, can still relate to her needs to preserve traditions when possible.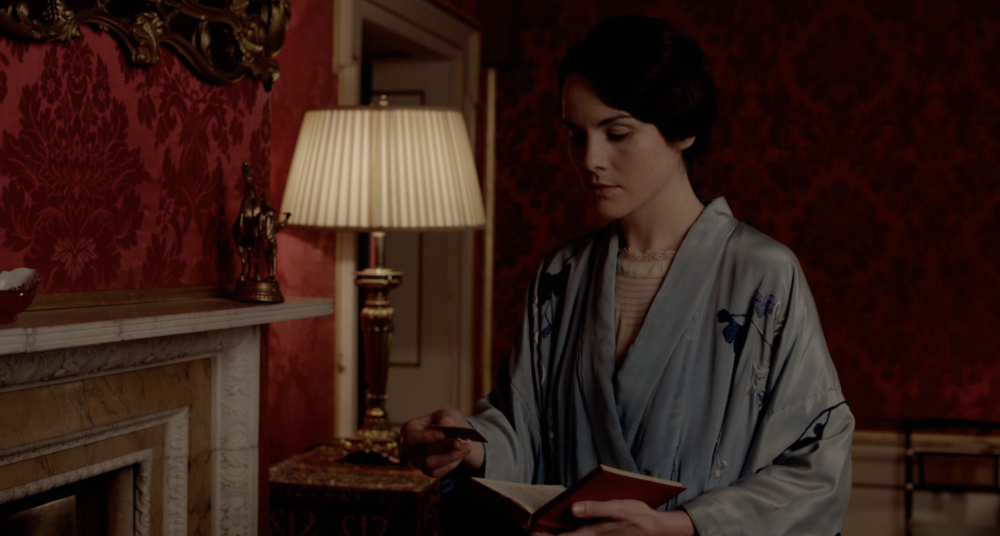 But their victory, and preservation of the Royal Family's dignity, isn't done without the help of the downstairs staff who came with their own troubles. While Robert comes to understand just how useful Mr. Bates' skills really are, I tend to feel more for Anna and Daisy this episode, if just for the fact I know what's coming for them both. The unused train ticket in Mr. Bates' coat becomes a significant plot point next season when it comes to Anna's eventual arrest, and this is one of those times during a rewatch when I'm yelling at the screen "DON'T BURN IT!" But, it adds to the drama of next season of how the family will get the other half of the Bates relationship out of jail. Meanwhile, Daisy's dilemma is simply heartwarming: she has no romantic interest in Harold Levinson's valet, but she's flattered all the same that someone showed interest in her. Interest, in Mrs. Patmore's terms, that wasn't "entirely proper." It sets up the stage nicely for Andy in later seasons to become a prospect for her affections (and I tend to forget that he doesn't show up in this episode, but instead during Rose's wedding. Does anyone else forget when certain members of the cast debut sometimes?). It also gives a fitting exit for Ivy: after Alfred left, I'm not sure the show knew what to do with her besides adding to Daisy's character development, so I think it was time for her to bow out.
And finally, we can't ignore the blooming romances for older members of the cast! I still remember liking Lord Merton during his introduction during Season 4 and have always found him a more fitting partner for Isobel than Dr. Clarkson, so it was enjoyable to see him in pursuit of her again (or rather, "leading her down the primrose path of dalliance." Another favorite Violet-ism!). But the real attention-grabber came in the last minute or so of the episode when Mr. Carson and Mrs. Hughes take their first steps into the ocean (or the world, if you think about it!) together. It's hard to ignore the chemistry between these two for four seasons: they're pretty much the mother and father of the downstairs staff and relate, bicker, and joke like many families do. Besides the cliffhanger of Mary's Men (it's appropriate to call them as such, sorry Lady Mary!), it's the growing closeness between Mrs. Hughes and Mr. Carson that had me crying at my screen the first time I saw this episode and made me so excited to see how it unfolded in Season 5. By the time I got to the Season 5 Christmas Special, I was not disappointed.
Of course, plenty of other stories continue on, especially Edith's pursuit of Marigold and new friendships for both Tom and Cora that create rifts in the Crawley family. Downton Abbey Season 5 premieres Friday, July 16 at 7 p.m. with 3 back-to-back episodes, but you can watch it right now on GPB Passport. 
Kirk - Downton Newbie
After all the trauma I went through earlier this season, I feel like I was owed a caper. A lighthearted romp. A heist: Downton style!
The family has all traveled to the beautiful Grantham House for the London season and Rose's long-awaited presentation at court. Cora's mother and brother Harold have even come to take part in the celebration (and get Harold out of the states for a while). It was fun to see Martha and Violet interact again. I was skeptical about Paul Giamatti as a playboy but by the end of the episode, I could see it. He's a very talented actor.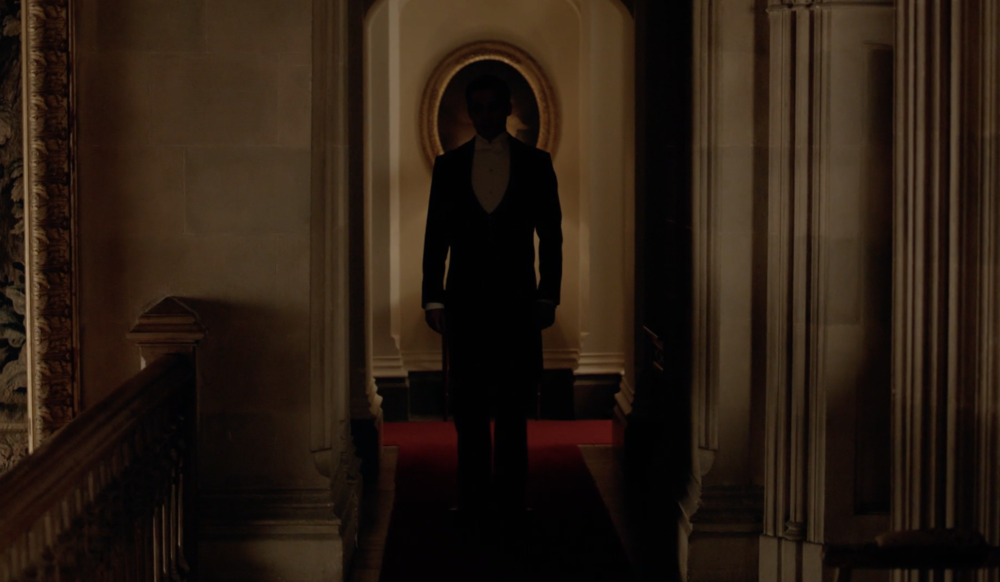 Back at Downton, Branson is all alone until he is to leave to join the rest of the family for the ball. He runs into the teacher Sarah Bunting, who basically invites herself to Downton. She's a little pushy, isn't she? Why does Tom keep attracting women that use the Grantham's wealth against him? Anyway, they have dinner and he reluctantly takes her back home to take a look around. Barrow, whose animosity towards Tom has reached a fever pitch all of a sudden, catches them upstairs and thinks to himself, yes. I can use this against him. It doesn't work but when do Thomas' schemes ever work?
Back at Grantham House, Hughes finds a train ticket that she believes to be evidence that Bates pushed Green in front of that bus in the pocket of a coat that Anna gives her for charity. She tells Mary, who agonizes over what to do with the information. While they both understand why he would have killed Green, Mary seems convinced that she's going to have to do something about it. She changes her mind and burns the ticket after Bates comes through for the family, but I didn't understand why Hughes gave her the ticket in the first place.
Edith has returned from her French immersion semester abroad and learned that Michael may have been attacked by Brownshirts in Germany. She has taken over as editor and has started to think about what may be in Michael's will, and what his child is owed. Deciding, against the advice of her aunt and grandmother, that she needs to have her child closer to her, and arranges to have a farmer on her family's land take her in. I really want this to work out but I know it won't. Because Edith.
Now to the heist! Rose meets the Prince of Wales, soon to become King Edward (for a minute at least), and his lover, Freda Dudley Ward, at a nightclub shortly before her coming out. She and Freda become friendly while she is in London and Freda shows her a love letter the Prince had written her. Slimy cardsharp Terence Sampson steals the letter to sell or blackmail with and Robert, feeling responsible, puts a crew together to retrieve it. Granted, this is a lame crew of inept aristocrats but, still, exciting! They fail, of course, but household criminal Bates fixes everything in his low-key style. He didn't even know this would save him from the gallows again!
This week's highlight was, of course, Bates saving the royals from scandal by pickpocketing. Tune in Friday at 7 p.m. for the premiere of season 5 or catch up and blast through all the Downton Abbey you want with GPB Passport.
Secondary Content
Bottom Content