Section Branding
Header Content
Downton Abbey Revisited - Season 3 Episode 7 (He finds himself in need of a wife.)
Primary Content
Rachel - Longtime Downton Fan
After the events of this season, it's high time that the Crawley family took a proper holiday. However, this is the Christmas special that has forever made me doubt Christmas specials from my favorite British shows. Mainly, I know not to expect a Christmas special that suits the festive season and keeps me from sobbing into my tea and Christmas cookies (or are they biscuits?). However, like most family holiday gatherings, things are hardly what they seem.
Diving right in, there's plenty I remember enjoying about this episode and continue to do so. Perhaps it's my love of Scotland (through shows like Outlander and Monarch of the Glen), but the true star of this season finale is the Scottish Highlands and Duneagle, otherwise known as Invernay Castle. There are similarities to Downton (the staff, the drinks and mingling before dinner) which gives the Crawley family some comforts of home, but it's the vast landscapes, animals, and bagpipe processions (much to Robert's dismay) that truly allows Duneagle to shine. The characters themselves are eager to take part in it all too, from hunting to flyfishing to the annual Ghillies ball, which served for plenty of excellent moments particularly for the staff that accompanied the Crawleys up north.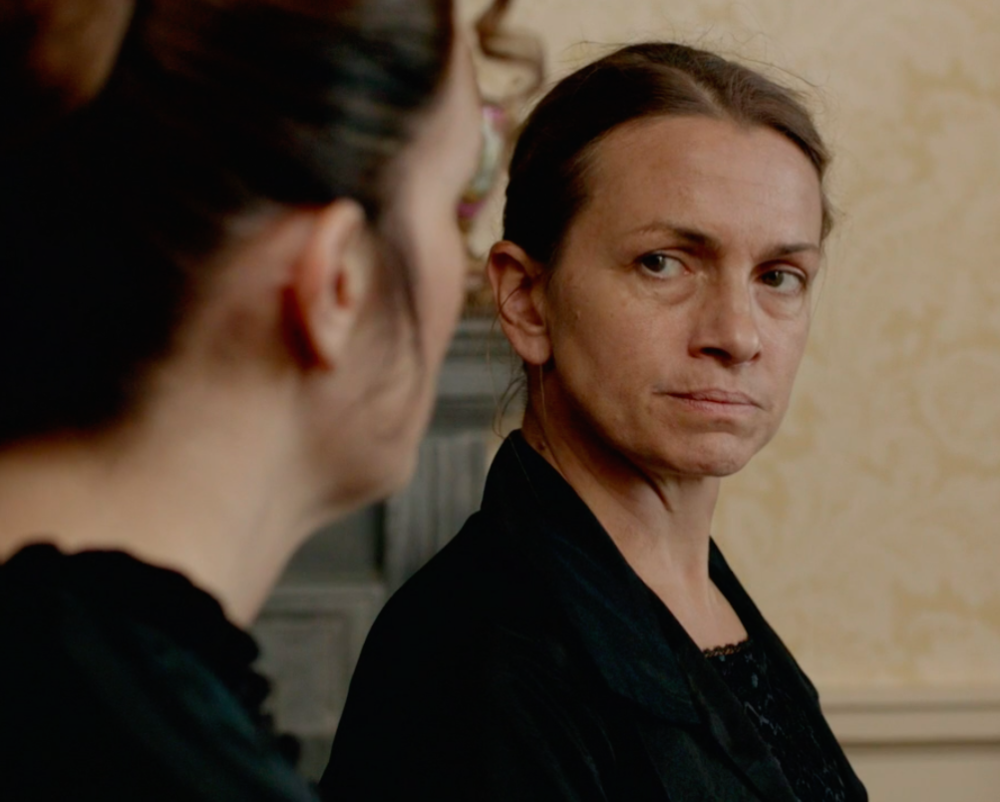 At this point, I've been so used to seeing O'Brien scheme and plot for the entire show that it's always a pleasant surprise with each rewatch to learn that underneath her bitterness, she does have true talent as a lady's maid and dreams of her own. The contrast between her and Lady Susan's maid is clear: despite their mutual ability to construct chaos (or try, at least), O'Brien still has big dreams and wishes she wants to fulfill, and for once no longer feels held back by them or her loyalty to Cora. Unfortunately, that realization comes at Moseley's expense, providing one of the most hilarious parts of the whole episode (and a good reminder to go easy on the whiskey!). But it's Anna who truly steals the show at the Ghillies Ball: upon learning of Mr. Bates' Scottish ancestry, she asks Rose for help in learning how to dance a proper Scottish reel and surprises her husband and employers alike. For as long as these two have been separated in Season 3, it's heartwarming to see them bond now (and, naturally, such heartwarming scenes are a precursor for the disaster to come. It is the Bates Rule, after all). 
But the staff left back in Yorkshire is not without their own adventures and drama, too. As soon as Mrs. Patmore becomes acquainted with a new grocery supplier, the majority of the staff takes off for a festival day in Thirsk. While he isn't what he seems (to Mrs. Patmore and Mrs. Hughes' joint amusement), Thomas also proves to be more than what is on the surface. He doesn't hesitate to protect Jimmy from a gang of thugs, angry at the Downton footman for winning the bets placed on the tug of war game. It's this selfless act and Thomas' desire to have Jimmy in his life as a friend, if not as something more, that we begin to see their relationship repair and evolve. Tom Branson too is evolving, learning how to find his place somewhere between above and below stairs as new maid Edna Braithwaite forces him to address some very uncomfortable questions (and that doesn't include dropping by his room while he's changing!). I know it's not the last we see of Edna, but it's the first in a series of women entering Tom's life after Sybil where I, and likely most of you too, are wary of him being taken advantage of. As Mrs. Crawley says in this episode, he's done a very difficult thing in becoming part of the family and taking on the agent role, and no one should make him feel as if he is not fit to socialize with anyone he likes.
Upstairs, however, the Crawley family is primarily marred in tragedy as the episode plays out. While they look to be enjoying the splendor of Scotland, Shrimpie and Susan cannot conceal both their disdain for one another nor their differing opinions when it comes to parenting Rose. In the previous episode, it's easy to write Rose off as simply being free-spirited with little in the way of life experience. And while both are true, this episode also gives us an idea of how painful her life at home truly is: she's caught between a mother and a father who lack the love they should have for one another but still maintain that certain responsibilities should be met, both to their old, traditional way of life and to their daughter, to be raised as a proper Lady. Meanwhile, Michael Gregson's true feelings about Edith are told to Matthew, further illustrating the impossibility of their relationship of being one her family will accept.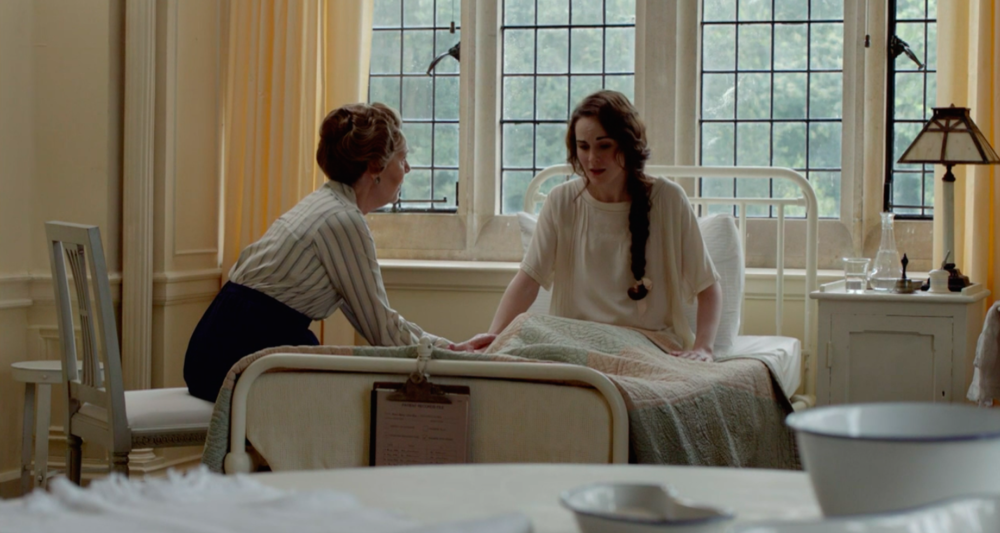 But it's Matthew and Mary who encounter tragedy during this season finale. I remember seeing this episode twice when it first aired: once near the Christmas holiday itself and once when MASTERPIECE aired it at the end of their winter season of Downton Abbey. And both times, social media and press around the world erupted in cries, disbelief, and most importantly, resentment towards Julian Fellowes: we'd just lost Lady Sybil, how could we lose Matthew Crawley too? Personally, I found Sybil's death far more heartbreaking than Matthew's, if just for the fact that the latter goes by pretty quick. As soon as you see Matthew driving and the approaching car, you have a pretty good idea of what horrible event is about to happen. But the weight of the situation is not lost, as the family shares in their joy at Downton and Mary holds her new child lovingly as the awful scene plays out. I still think we could have done without seeing Matthew's corpse beneath the car, though. That was, and still is, a challenging scene to stomach.
Nevertheless, the season finale, in all of its beauty and horror, does what a season finale should do: wrap up the previous storylines of the past season while setting the stage for new drama and problems to be solved. Rose is coming to Downton permanently, Edith is tangled in feelings for someone she can't have, and Mary will be forced to confront a life without Matthew. And that's only the trials for the young ladies upstairs!
The Season 4 premiere of Downton Abbey begins Friday, June 11 at 7 p.m., but you can stream the whole series now on GPB Passport.
Kirk - Downton Newbie
So... clearly, every time a baby is born on Downton Abbey a main character dies. Seems like a weird choice. I'm not sad about it because I know better now than to trust any of these people, but let's rewind a bit before getting into that.  
The Grantham's Scottish cousins have so many guns. This doesn't really have anything to do with the episode, but it's the first thing that jumped out at me. The family, including a pregnant Mary (surprise!), headed up to Scotland to hunt and visit Wild Rose's family. And, goodness, not a single person in that home is happy. Family? Miserable. Staff? The ones we met seemed miserable but that may have just been the weather.   
Rose and her mother Susan are constantly, openly, at each other's throats. Their relationship reminds Cora of Sybil and she recognizes Rose as the youngest daughter growing up in a changing world with ideas and attitudes that seem baffling to her mother. Susan and Rose's father Shrimpie are at it as well, only they're much louder about it. They can't stand each other. On top of that, Cousin Shrimpie is about to lose the castle (they live in a castle). It was nice to see Robert get some outside confirmation that Matthew was right about modernizing Downton's operations from a peer.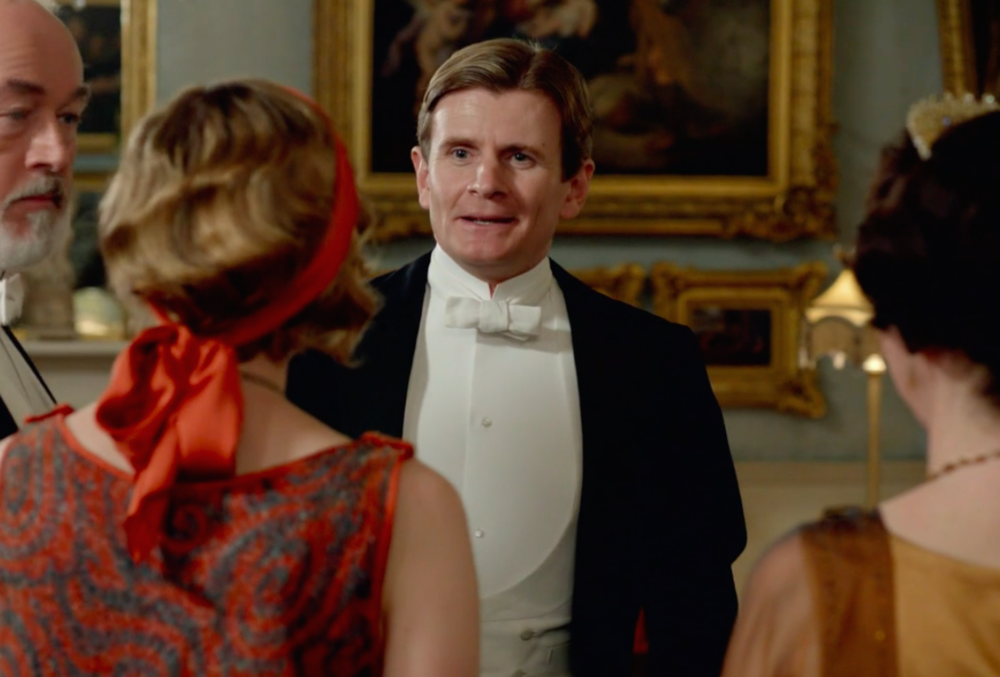 Elsewhere in the castle, Edith's boss/boo Michael has invited himself up in an attempt to win her family over. This rubs Mary the wrong way. It is weird, but she's an admitted snob. On a fishing excursion with Matthew, he is forced to admit that he has absolutely nothing to offer Edith. He's right! But he's not going to let that stop him from wasting her time, and Edith is on board. Mary is also irritated by everyone fretting over her, but she eventually decides to head home after dancing a bit too hard. She is about to go into labor when she gets off the train back at home.   
Back at Downton, there is a lot going on. Branson has been left there with his baby and the new maid Edna sets her sights on him. By the time the episode ends, she has shamed him, kissed him, tried to date him, and been fired. I was happy they didn't drag that out through more than one episode.   
Isobel and Mrs. Patmore are also both being pursued romantically. Isobel performs one of the most impressive curves I've ever seen on television when Dr. Clarkson tries to propose to her. She's such a cool lady. Mrs. Patmore is informed by Mrs. Hughes that the shopkeeper who has been flirting with her is probably just trying to marry her for her cooking. Also impressive.  
Things are still tense between Thomas and Jimmy, but nothing that has happened has changed Thomas' feelings. During a group outing to a fair, Thomas takes a beating to save Jimmy and his perfect face, which seems to soften Jimmy to the point that they're friendly by the end of the episode.   
Matthew got to meet his son once before he was run over by that truck, which was nice I guess. I hope Rachel can explain this to me because I do not understand. I don't know how she can do that without spoilers, but fingers crossed. I will say, though, that this was the first episode that I watched without waiting to start the next. I didn't get too far into the next episode, but you don't have to wait to indulge yourself. Tune in Friday at 7 p.m. to see how the family is coping after Matthew's death or watch every episode right now on GPB Passport.   
This episode's highlights include Anna's dancing and the castle's gun art. 
Secondary Content
Bottom Content