Section Branding
Header Content
Downton Abbey Revisited: Season Two Episode Seven (Curiouser and Curiouser)
Primary Content
Rachel - Longtime Downton Fan
Christmas, a time that should be full of season's tidings and joy, is instead rife with anguish and drama at Downton. This episode, of course, set the trend for Downton Abbey Christmas specials, which range from excellent lines and happy endings (this one!) to specials that ended with far more questions and tears (Season 3, especially). 
However, this particular Christmas special is one of the few that takes place during the holiday season, which always makes it such a fun rewatch for me. Even if, like Mrs. Hughes, I'm not in the mood to wear a paper hat and celebrate right alongside the cast, I find learning about the various customs across the pond fascinating: plum pudding, Christmas crackers, celebrations both upstairs and down (and celebrations that combine them both, like the Servants' Ball at the end of the episode). 
But not everything is festive at Downton: the saga of Mr. Bates and Anna continues (from here on out, it never really stops. Just remember the rule: as soon as either of them expresses happiness, tragedy is about to befall someone. Probably them) with Bates' trial, sentence to death by hanging, and finally altering his fate to life imprisonment. As much as their story makes me lose interest at times, I love Joanne Frogatt's acting in these scenes: her outcry at the sentencing is excellent. For a character so used to keeping her cool, it just shows how much John means to her. They may have married quickly (by Downton standards: Mary and Matthew move at a glacial pace and Mary and Henry even more so. And let's not start on Edith) but they're in it for the long haul.
They have to be, if she's going to help get him out of prison next season. There are only so many storylines Julian Fellowes can tell in prison.
But ouija board, trials, Thomas' attempt to do a good deed, and Rosamund realizing her maid is really the one in charge, the highlight of this episode is the will they or won't they between Mary and Matthew. With Lavinia and her father now both gone, there's nothing from his previous engagement holding Matthew back beyond his own conscience. Mary's got a bigger problem to contend with in the form of Sir Richard Carlisle, who somehow has become even more spiteful and nasty than he's been the rest of the season.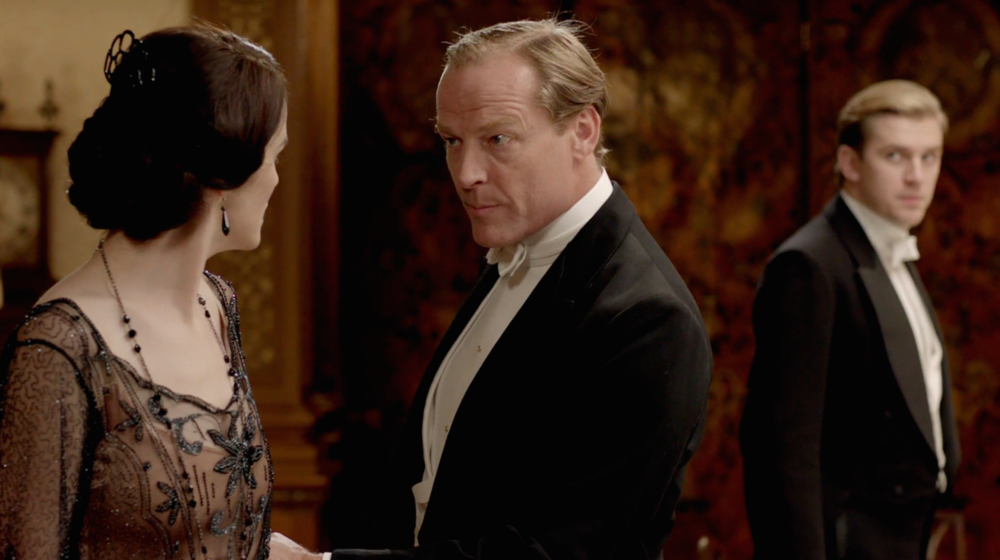 At least Violet can be counted upon to give two of the best quips in the entire series in this episode: "Sir Richard, life is a game in which the player must appear ridiculous." and her comments regarding the vase she's hated for approximately half a century. Unlike the rest of the family, she makes no attempt to hide her distaste for Mary's fiancé, preferring to say it to his face as politely as she can. But it's Robert's advice and Matthew's actions that finally save her from a lifetime of misery (don't worry, we've got that to enjoy in Season 4) and both scenes still have me cheering no matter how many times I watch this show. I remember expecting Robert to fly off the handle the first time I watched the Season 2 Christmas special and instead I watched, pleasantly surprised, as he not only didn't lose his temper (unlike with Sybil) but encouraged Mary to find happiness elsewhere and that, as a family, they'd cope with any repercussions by both her actions and Bates' accusations. 
Additionally, I hope I'm not alone in cheering on Matthew when he threw that first punch right in Sir Richard's face. Even though I know it's going to happen, I still have to yell at my television or streaming device: it's just so good, and we've waited so long, for Matthew to take a stand for what he wants out of life. And watching Sir Richard flail around the floor looking particularly undignified is icing on the cake.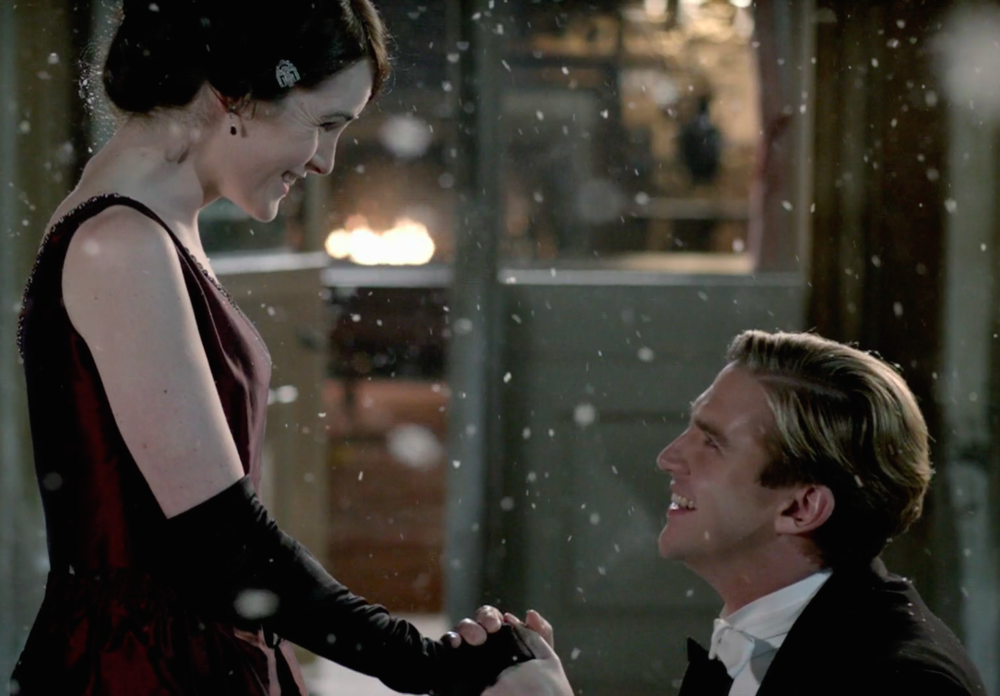 But after a lively Servants' Ball (Bates isn't going to hang!) and a message from beyond the grave, Julian Fellowes finally gives us what we've been waiting for. It took two seasons but Matthew finally asked Mary properly to marry him and she finally said yes. And no matter how many times I watch this episode, I will never skip over that final scene. When it aired, it was the most incredible Christmas gift to dedicated Downton fans, and since then, it's been a challenge for subsequent Christmas specials from our favorite British dramas to match the engaging storylines, the drama, and finally, the happily ever after. For now, anyway.
Tune in on Friday, May 7 at 7 p.m. to reminisce how one of our favorite Downton couples makes it down the aisle, including the beginning of the American Invasion by Martha Levinson and Tom and Sybil's memorable return to her childhood home. But if you can't wait, you can watch the entire series now on GPB Passport.
Kirk - Downton Newbie
Goodness, this was certainly an eventful episode, full of the predecessors of life's biggest transitions, if not the transitions themselves.  
The season two Christmas Episode's main art features Mary standing between her fiancé Sir Richard and her cousin Matthew, all looking dour in hunting clothes on a dark and misty morning, with the men holding rifles. I assumed, obviously, that this was a preview of the "accident" that was finally going to bring Matthew and Mary together. This was, of course, not the case. And the actual solution to Mary's little I'm-engaged-to-a-blackmailing-monster problem was a lot more straightforward. She just dumped him. That was it. She didn't even have to flee the country in the end. When Sir Richard's plot to win Mary's heart by behaving even more obnoxiously than normal failed, he made threats. Threats are second go-to (it's a: Be violently unpleasant, and b: Make threats, in that order).  
Matthew decided to disregard the curse that he invented in his grief and guilt over Lavinia's death and, after throwing the weakest punch ever televised, finally proposed to Mary. Knowing what's coming, it's hard to let myself be too happy about this development, but I am glad I don't have to see Sir Richard again (I hope?).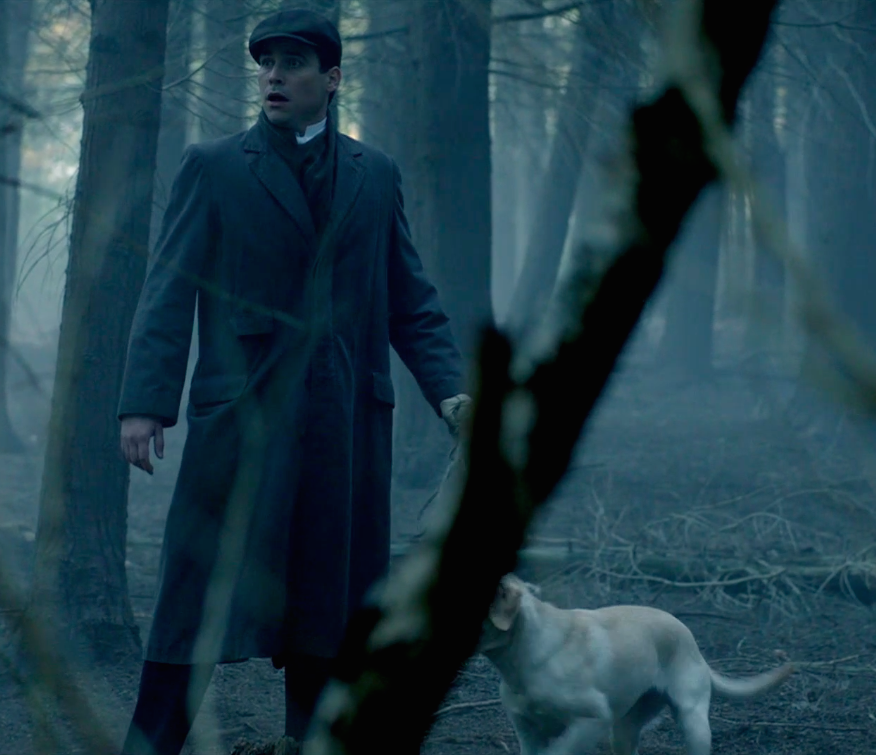 Anna spends most of the episode fretting about her husband, who most of the others are quietly convinced is about to hang. Despite their confidence that Bates is innocent, their pessimism is understandable, as it seems to have taken little more than rumor to condemn a man to death in those days. The prosecution's case amounts to, "Well... he sure did hate her, didn't he?" There are also eavesdropped bits of conversations which I'm not even sure how they found out about. Anyway, Bates is convicted but his sentence is commuted to life. Thomas's brilliant ploy to become Lord Grantham's valet in Bates's absence by kidnapping the man's dog works... somehow.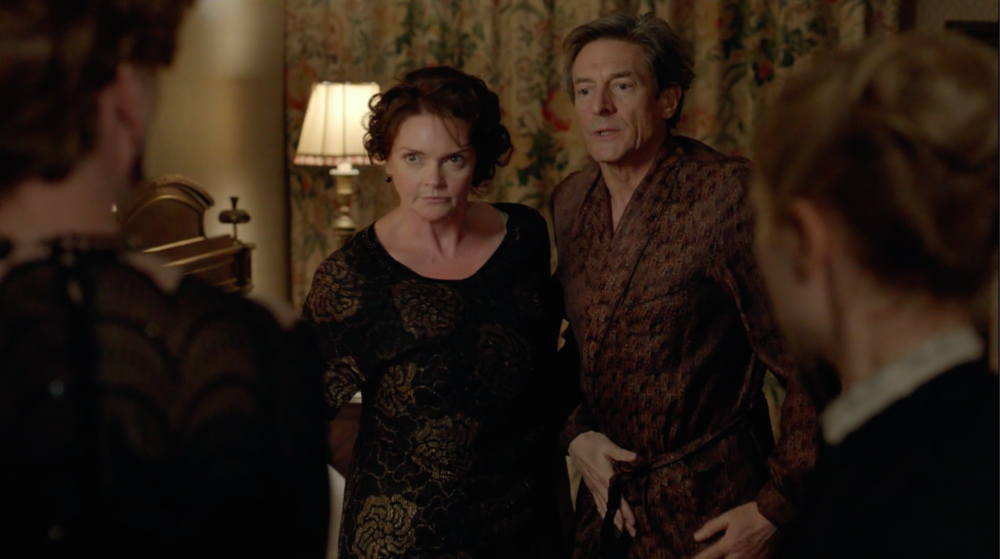 In the midst of all this, Anna is somehow present enough to figure out that Aunt Rosamund's maid is sleeping with her boyfriend. Not only are they sleeping together, but she has orchestrated their relationship to allow him access to Rosamund's fortune. In other downstairs happenings, Daisy tries to convince William's father that she does not deserve his kindness because she did not actually love his son. Fortunately, everyone else in the cast, including Mr. Mason himself, convince her that she did, even if it wasn't in the way that he may have wanted. Special appearance by Mrs. Patmore manipulating an Ouija Board.  
This episode's highlights include Sybil's baby saving the family when the revolution comes, Daisy's sense of self phasing between dimensions at random, and the fact that the phrase "I knew his father in the late sixties," carries the same meaning today as it did a hundred years ago. Tune in Friday night at 7 p.m. for the premiere of season three and binge all the Downton Abbey you require right now on GPB Passport. 
Secondary Content
Bottom Content