Section Branding
Header Content
Downton Abbey Revisited: Season One Episode One (Titanic Troubles)
Primary Content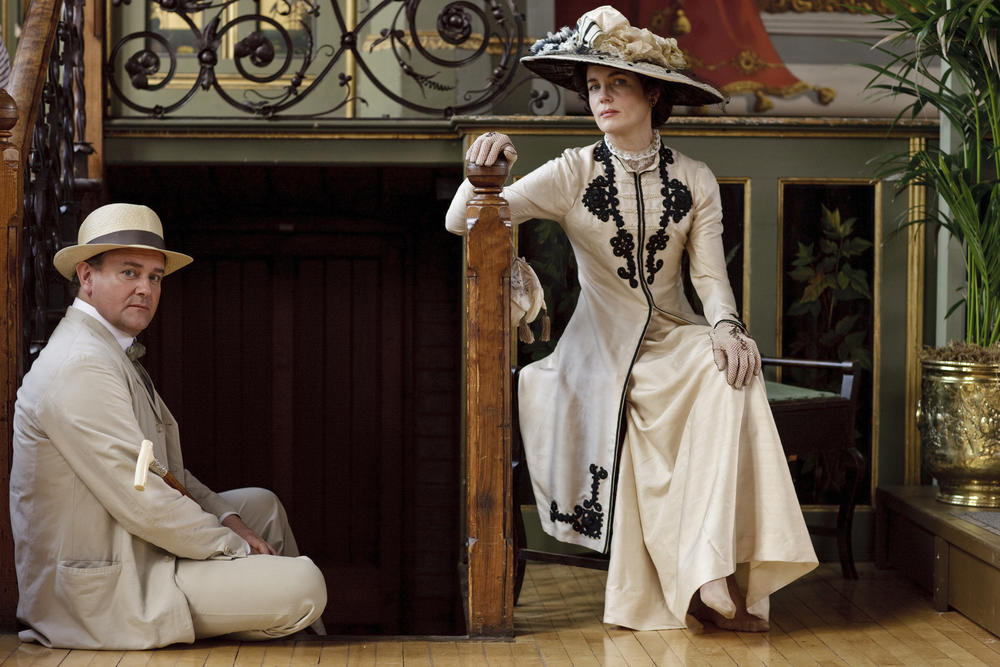 Rachel - Longtime Downton Fan
I never thought I'd be so happy to hear the sound of a telegraph on GPB, but Downton Abbey is officially back and it's time for our first real review (Kirk's initial impressions and mine, ten years later)! But first, something important to note for those of you who are returning to Downton after watching (and re-watching) our favorite show at home.
The PBS version cuts off at a really strange place, doesn't it? 
I'd gotten copies of the show, season by season, as they came out on DVD and blu-ray. Because of the number of times I'd watched and rewatched them (and lent them to friends), I became very aware of what precisely takes place in each episode, especially during Season 1, where plenty of my favorite quotes and fashion moments happened. But after watching these again and again, only during my rewatch on GPB did I realize (and remember, it's been a while since I've seen the first season on PBS!) that the PBS version and the U.K. version (this is what you'll likely have if you received the DVDs or blu-rays as a premium gift after donating to GPB) are two different versions!
The story is still intact, with some scenes added (There are scenes added in the other seasons too in order to meet the runtime needed for MASTERPIECE programs), but the way it's presented is different. The original U.K. version consisted of seven episodes, each filling an hour time slot. The PBS version that originally aired on MASTERPIECE is four episodes, each around 80 minutes long. To put this in perspective, the moment Matthew Crawley answers Isobel and insists Lord Grantham wants to change their lives, the U.K. version cuts to the first episode's end credits.
What this resulted in for me was a rather peevish reaction, complete with "But when do we see Charles Grigg saunter through Downton's front doors!?" Luckily, the whole series is available on GPB Passport so if, like me, you can't wait for the reveal of the Cheerful Charlies next week and Mr. Carson's attempt to resign (thank goodness no one took it seriously), you can stream it all there. But it's something to note.
Now, back to the telegraph machine. I hadn't really thought about it until now, but the entire first episode, if not the first season, is all about communication. A lot of it is done ineffectively (and appropriately causing the drama we love watching), but it's an interesting choice that the first season opens with the telegraph machine and ends with the first telephones being installed at Downton Abbey. The season also opens and closes with a message that changes everything, a life event that no one, no matter their rank or position, could ever prepare themselves for. But how to deal with your world turning upside down? You carry on (no, I won't quote the popular saying) on the outside while on the inside, you're in shambles. Unless you're able to trust someone else to listen to how you feel.
Below stairs, it's really the arrival of Mr. Bates (trivia fact: John Bates is the first member of the cast to appear on the show) that turns several characters' lives upside down. Of course, we're introduced to Daisy and her ability to bungle the most basic tasks (and how direct Mrs. Patmore and Mrs. Hughes are at telling her off), you observe William's earnestness (and try not to think about Season 2. There will be a lot of 'try not to think about what happens to this character in this season'), you see how fiercely loyal Mr. Carson is to the family he serves and how spiteful, in contrast, Miss O'Brien is towards, well, everyone. But it's Mr. Bates who shakes up Thomas and Anna's lives in ways neither of them could have imagined, just like the sinking of the Titanic has done to those above stairs (more on that later). All three of them have their own miseries to cope with: Thomas for his frustration in rising in the ranks as well as his sexual identity, Mr. Bates for his grapples with his injury and gratitude for being taken on, and Anna with her growing interest in Mr. Bates.
But none of them actually communicate this effectively to anyone else. To cope, Thomas schemes and tries to set an advantageous plan in motion only to be foiled, Mr. Bates only shows his struggles behind closed doors (or so he thinks), and Anna can only offer assistance in the most gentle and unassuming way possible: a dinner tray. I'm not sure about you, but there are so many times in this first episode when I was insisting the characters simply say what they felt (even though I'm well aware it'll never happen), and for some of the characters a bit too forthcoming with their feelings? To settle down a bit, even if it does yield some of the best Mrs. Patmore-isms.
Though speaking of character isms and being direct, no one does it better than the Dowager Countess. Lady Mary begins to do so with time, but it's the Dowager who doesn't beat around the bush regarding the issue of the entail, nor does she politely shake Isobel Crawley's hand when offered. But her methods to communicate, while out of love and protection for her family, come at a cost: especially when making Matthew and Isobel feel uncomfortable and unwelcome upon their arrival.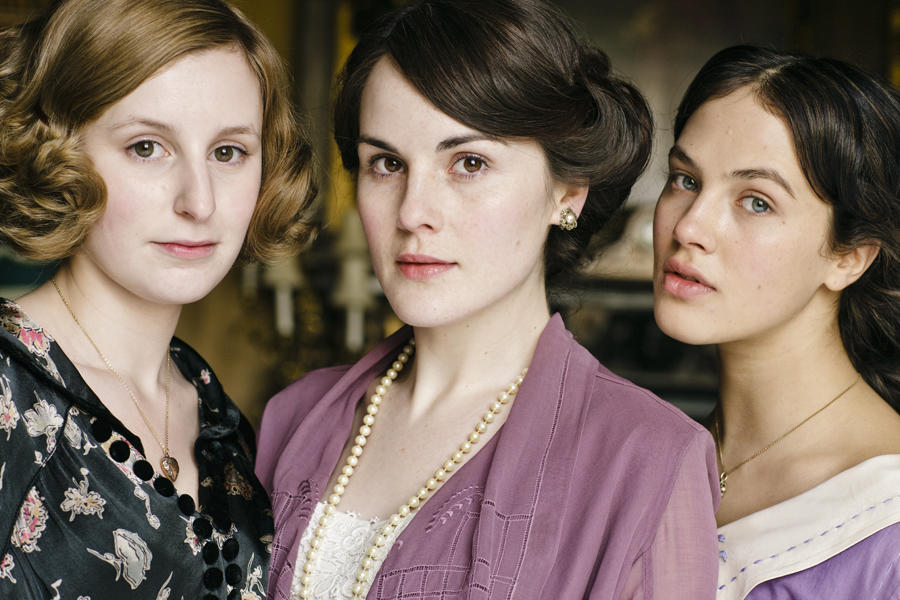 And the Dowager isn't the only one attempting to find a solution to keep Lady Mary in a comfortable marriage, either. In the first episode alone we see Mary's ability to put a plan in motion, one that seems cold and inappropriate considering the fact she's just lost a fiance that she never even cared for romantically. When others, like Edith, see grief, she sees an opportunity, such as with the Duke of Crowborough. And keeping with the theme of this week's blog, he doesn't even directly communicate to Lord Grantham that he's even at Downton to court Mary, and rethinks his approach as soon as Robert makes certain that the entail will stay intact.
But it's Robert that really grabbed my attention this time. I admit I didn't begin the series as a big Edith fan (my first Downton favorite will always be Sybil), so I tend to gloss over the scene with Robert and Edith by the fireplace and she's confiding in her father the extent of her grief. What's stunning to me is that Robert, out of everyone else on the show who has trouble processing everything going on and expressing how out of sorts they are, is the one to tell his daughter that it's okay to feel sad. That he's listening to her and validates how she feels.
In fact, he might be the only character on the show who encourages that in anyone else.
Perhaps that's why Downton worked its magic on me, even upon the first few viewings. I'm so used to seeing patriarchs of period dramas as cold and unfeeling (a term Robert actually calls Cora in the show), but we are introduced to Robert as a sympathetic father, caring employer, and someone who is trying to make the best of a bad situation by welcoming and involving Matthew Crawley with the running of the estate nearly as soon as he arrives. Maybe the changing world has yet to resonate with him, but revisiting Robert in this episode was a touching reminder of the journey he will go on throughout the course of the show: from fighting with his children to losing the entire fortune to disagreeing with and misunderstanding his wife on more than one occasion, being able to remember that, at heart, he's just trying to do what's best for those he loves and supports is comforting.
And comfort is exactly what we need when rewatching a show we've been fans of for years.
Kirk - Downton Newbie
Bad news travels fast. Fortunately for the Crawleys, there is a small army of servants that have risen at dawn to absorb the impact of the historically terrible news incoming. Long enough, at least, to allow the family to wake as they normally would.
The Titanic sank, taking Robert Crawley's heir and his wife's fortune with it.
Maybe?
The first episode of Downton Abbey begins with a race between the news of an unsinkable ship sinking and a man with a cane. The deaths on the Titanic of James and Patrick Crawley, Lord Grantham's cousins and heirs, and the arrival of John Bates, Lord Grantham's new valet, represent complications for both the Crawleys and their staff, and the responses to each disruption seem disproportionate. I have questions.
As they have no sons, the marriage of eldest daughter Mary to her cousin Patrick was the family's plan for keeping their home and Cora's fortune in the family. Mary seems barely able to conceal her relief when she learns of his death and is more concerned about her wardrobe. Robert and Edith are genuinely grief-stricken. Violet and Cora (mostly Violet) are getting down to business trying to keep Mystery Crawley from inheriting. Sybil is... also there. Their lack of urgency about the situation could be because there's not really much they can do, but it also seems like Robert spoke to one lawyer, shrugged about it, and got the giant check ready for his long-lost cousin.
I'm most interested in understanding the scheming machinations of footman Thomas Barrow, aided, if not orchestrated, by Lady Grantham's maid Sarah O'Brien. I gasped, loudly, when she kicked Bates' cane. I do not understand this pair, and I'm very eager to find out what is actually going on there. It doesn't make sense to me that they would resort to blackmail and assault just to get Thomas a better gig, but maybe I just don't know enough about aristocratic English households. What approach would they have taken to get rid of Bates if he hadn't been disabled? I was confused and scandalized but definitely intrigued. These two have my attention. I'm in it for the shenanigans. 
I can't remember my reaction after watching the series premiere a decade ago, but I am interested in understanding these characters and maybe, eventually, having some of my burning questions answered. I'd like to get to know these people better.
Secondary Content
Bottom Content