Section Branding
Header Content
Two MASTERPIECE Nerds, Two Perspectives: We're Revisiting Downton Abbey
Primary Content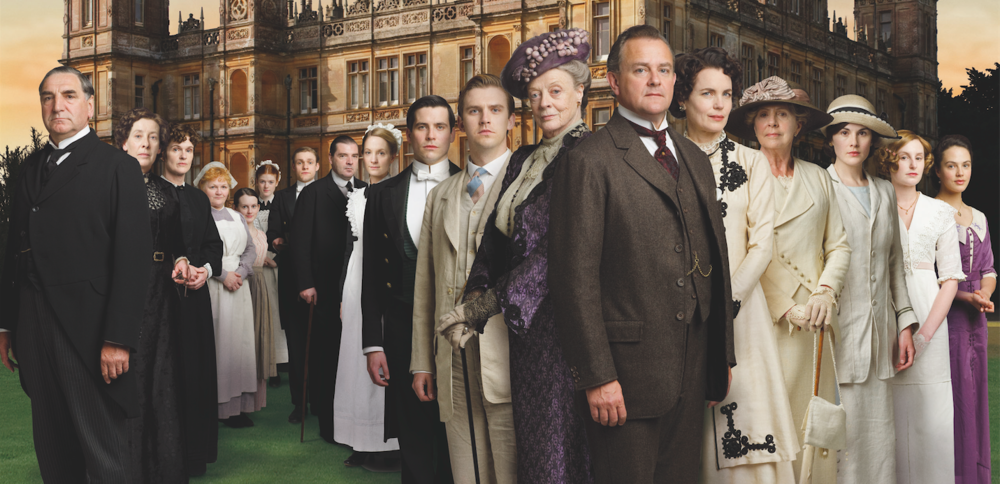 In a shocking turn of events (cue dramatic music), Downton Abbey is returning to GPB! Rachel Buchman and Kirk Cooper will be tuning in weekly to share their perspectives as a die-hard fan (Rachel) and someone who gave up on Downton very early on (Kirk). They share their Downton histories below.
Rachel - Longtime Downton Abbey Fan
When I first heard that Downton Abbey was returning to PBS and GPB, it felt like coming home again. 
As of this publication date, Georgia, like the rest of the world, is still fighting the COVID-19 pandemic. There's a lot of uncertainty in our lives and for some, that has involved seeking out comfort and stability in the familiar. Revisiting and bingeing old TV shows is not only a venture into a good (and often happy) story, our brains crave predictability. 
Downton's return to television could not come at a better time.
It's been ten years since Downton Abbey premiered as part of MASTERPIECE. Since then, it's had six television seasons, an array of televised specials, a feature film, a series of books and published scripts, several merchandise lines (I'm writing this blog while drinking from a Downton teacup), museum exhibitions, and most importantly, has helped grow and develop a community of period drama lovers whose enthusiasm for the Crawley family, their staff, and their friends helped spur a new generation of British dramas on PBS and other broadcast and streaming networks.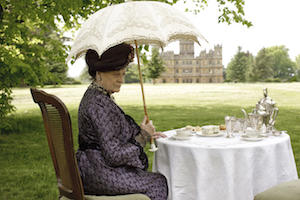 My contribution to our new blog series, Downton Abbey Revisited, aims to speak to those Downton Abbey fans who have watched the show time and time again: we celebrated the joys and mourned the sorrows of our favorite characters (and shouted outrage towards Julian Fellowes at the end of Season 3: was Christmas ruined for anyone else that year?), we gobbled up every bit of news we could about the upcoming seasons, and we commiserated every week as the new episodes aired with "Can you believe the Dowager Countess said that!?"
Downton Abbey, for many of us, was and is more than a show. It's an escape to a bygone era, it's incredible storytelling and character development, and it brings people together online and off. And for me personally, it changed my life: making friends I still hold dear to this day, meeting some of the people in front of the camera and behind the scenes, and eventually working at GPB as the Social Media Community Manager (and when the opportunity arises, donning Lady Sybil's harem pants). I began my journey with GPB as a fan of Downton Abbey who was enthusiastic to report on some of Georgia's biggest Downton events and I'm so thrilled that years later, I'm returning to Downton Abbey with all of you. I'm eager to see how Lady Mary's scandal with Kamal Pamuk, Thomas' attempts to frame Mr. Bates, and Violet and Isobel's rivals-turned-friends relationship, and more resonate ten years after we were originally on the edge of our seats week after week, wondering how our favorite characters will react to the changing world starting with the Titanic's sinking and heading into World War I. 
The Crawley family, staff, and friends quickly had to become accustomed to the "new normal" with the passing of James and Patrick Crawley, the impending war, votes for women, and the Spanish Flu (and that's just the first two seasons!). Watching Lord and Lady Grantham, Lady Mary, Mr. Carson, Mrs. Hughes, Anna, and more continue to face adversity and ready themselves for an uncertain future can give us insight into our own: we know our favorite characters find their success and happiness as the world quickly transforms around them. As we rewatch Downton Abbey together, we can both take comfort in the familiar and look ahead to brighter days.
 
Kirk - Longtime Downton Denier
When Downton Abbey first began airing on GPB, it wasn't on my radar at all. Not that I had decided it wasn't something I was interested in watching. Although my taste tends to skew more towards mysteries, I've loved MASTERPIECE since the early '90s, watching Prime Suspect and Poirot with my parents, and it did look like something I would enjoy quite a bit. When the hype began to build and the accolades began to roll in, it was firmly in the back of my mind as something I would definitely get around to watching... eventually.   
When I did finally start the series, I believe I dove right in with epic binge sessions of the first two seasons. When the third season premiered, I never picked it back up. I had just begun a new job and, unfortunately, the show hadn't hooked me the way it seemed to have hooked viewers here and across the pond. I didn't have time to continue watching and I didn't feel compelled to.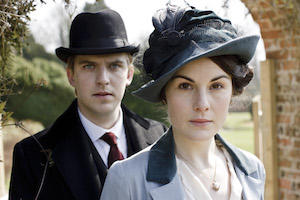 Don't get me wrong, Downton was absolutely gorgeous and well-acted. Two of its stars have been in some of my very favorite recent television shows and movies (Dan Stevens in Legion on FX and Michelle Dockery in Guy Ritchie's The Gentlemen). But I never felt incredibly interested in any character or their journeys and the plot moved at a pace that prevented me from becoming invested.  
That was nearly 10 years ago. There may well have been other things going on that kept me from giving the show a chance. The dognapping incident is the only thing I actually remember. I did feel envious of the fans I knew, and their excitement over various surprising plot points. Especially when the film was released. There's nothing quite like sitting in a movie theater with like-minded fans who are as excited about experiencing a film as you are. That's something I know we have all missed more than ever over this past year. 
During quarantine, I've been cycling through different genre-specific binge sessions. In the Spring I watched period dramas like The Great, Gentleman Jack, Pride and Prejudice, Sense and Sensibility, and others. In June, it was sci-fi films and TV shows about time loops (Looper, Timecrimes, The Endless, Primer, Steins;Gate, Dark, Predestination, many others. I also started reading Robert Jordan's The Wheel of Time series.). It has been a running joke for the past year between me and my best friend (a fan from the beginning) that eventually I will run out of things to watch and have to try and watch Downton Abbey again from the beginning. It seems that time has finally come. I couldn't wish for a better guide on this journey than Rachel, who absolutely adores the series. I will be sharing my observations as someone outside the Downton fandom for Downton Revisited, and am looking forward to experiencing the show with you all as well!  
Every season of Downton Abbey is now available for streaming with GPB Passport. Tune in on Friday, March 5 at 7 p.m. to relive Downton from the beginning on GPB TV.
Secondary Content
Bottom Content