Section Branding
Header Content
NOVA Explores The History And Habits Of Pets On "Dog Tales" And "Cat Tales"
Primary Content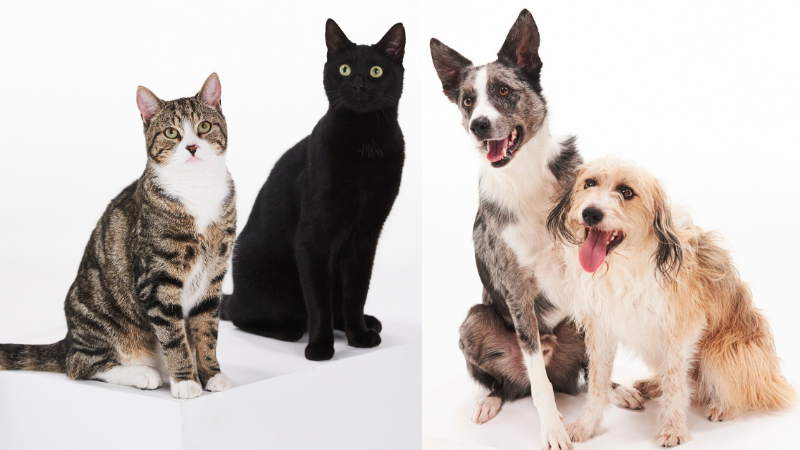 For a lot of us at Georgia Public Broadcasting, PBS programming is best enjoyed with a pet. Whether it's discovering ancestral history on Finding Your Roots or a new favorite recipe on America's Test Kitchen, our four-legged, furry friends are our source of comfort, support, joy, and love.
Now, it's time to give dogs and cats the spotlight! This month on NOVA, the history, behavior, genetics, and more of our animal companions will be featured on two consecutive Wednesday nights. From explaining the evolution of the human-dog relationship and the varied history of cats, find out more about this special duo of documentaries and when you and your pet can tune in.
In "Dog Tales," NOVA takes viewers into the history of domesticating "humanity's perfect partners" and a cutting-edge study examining if dogs truly love their owners or if they're just in it for the food. And besides finding new insight about our canine companions, this research has a Georgia connection! At Emory University in Atlanta, Dr. Gregory Berns is running a special project focused on examining the brains of unrestrained dogs in an MRI machine, looking to see if dogs are more motivated by praise or food by examining the levels of dopamine released in their brains. Tune in Wednesday, February 12 at 9 p.m. to discover his incredible findings or stream "Dog Tales" online or through GPB Passport.
WYSIWYG: EMBEDDED VIDEO
If you're looking for more puppy love, we've got you covered! From a recent interview from On Second Thought with Jason Flatt of Friends to the Forlorn, a pitbull rescue in Dallas, Georgia, to our GPB Originals series focused on dog ownership, "Unleashed," GPB has a soft spot for our canine friends. We're even a pet-friendly workplace, with many of our employees bringing their dogs to work each day!
Watch an episode of "Unleashed" here on our blog!
WYSIWYG: EMBEDDED VIDEO
Next week, our attention shifts to cats as NOVA debuts "Cat Tales," the kitty-focused followup. In this one hour show, experts will delve into the various ways cats have long fascinated humans, including their history of being worshipped as a goddess and condemned as satanic. In addition, research studies help illuminate how cats went from wild animal to furry friend as well as how neuroscience can be used to explain why they're so irresistible to humans. Make a date for all things feline on Wednesday, February 19 at 9 p.m. on GPB-TV, or stream "Cat Tales" online or through GPB Passport.
WYSIWYG: EMBEDDED VIDEO
Here at GPB, we adore our cats as well! One of our favorite GPB News stories about Georgia kitties comes from a 2018 interview between Morning Edition's Leah Fleming and Sterling Davis, otherwise known as Atlanta's TrapKing. Davis works in the metro Atlanta area on promoting the practice of trap, neuter, return with the city's feral cat population. And while we mostly see dogs in our offices, we've got several cat lovers in our building who are eager to share how their kitties help them bring GPB to residents across the state of Georgia! Check out our gallery of some of our favorite public media cats below.
We're thrilled to introduce you to Colby! He's a Russian Blue rescue, adopted by our Director of Communications Mandy Wilson when he was a kitten. He lives with his canine sister Summer and enjoys talking, eating, and helping his human with all things marketing and communications for GPB.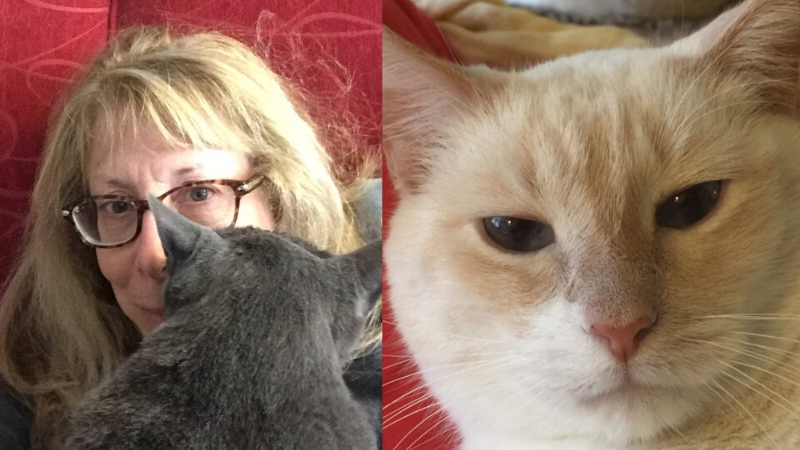 Meet Eli and Sid! They're the companions of our Director of Fundraising Strategies Pat Marcus. She shared with us that Eli's a fan of MASTERPIECE's hit this winter, Sanditon, though taking breaks during a GPB Passport marathon viewing sessions is necessary. Pat also included that Sid's more of a news buff, citing PBS NewsHour as a favorite program for him to watch with her.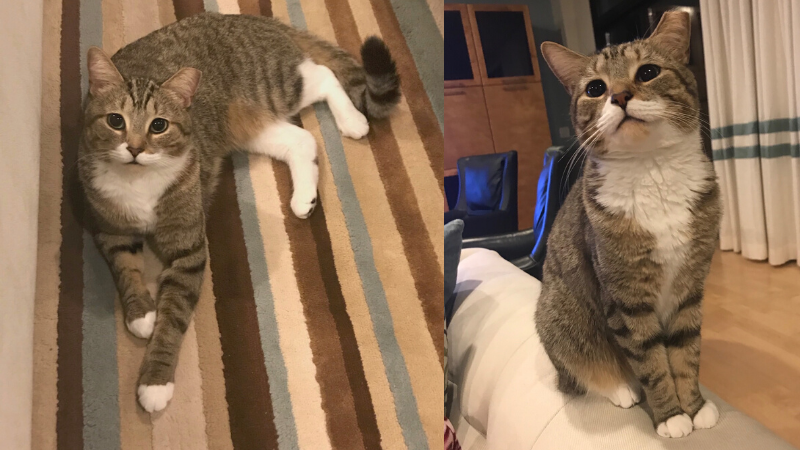 Finally, we'll introduce you to Molly! She's the favorite kitty of Rachel Buchman, our Social Media Community Manager. Molly was a feral kitten before she was caught by her foster mother and eventually made available for adoption through Atlanta's Snap 2 It, a non-profit animal rescue and adoption agency. Ever since she was brought to her forever home, Molly's been an avid fan of GPB and PBS, particularly of Agatha Christie mysteries on Thursday nights, Saturday night Britcoms, and Sunday night dramas. She helps her human with her seasonal MASTERPIECE blogs by sharing her thoughts with walks over the keyboard (unfortunately, these get edited before the blogs are posted. Sorry Molly!). 
NOVA airs on Georgia Public Broadcasting Wednesdays at 9 p.m. and is available to stream through our online livestream as well as GPB Passport.
Secondary Content
Bottom Content