Section Branding
Header Content
MASTERPIECE's "Les Misérables" Has Arrived! Here's The Press Coverage You Might Have Missed
Primary Content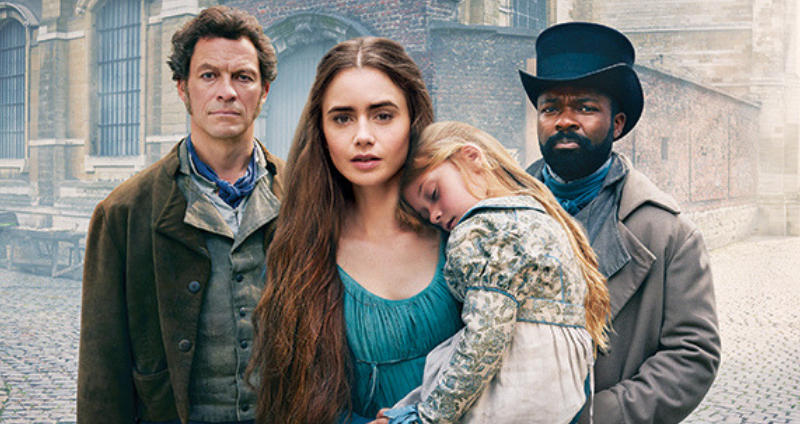 MASTERPIECE heads to 19th Century France on Sundays this spring with Les Misérables, a new retelling of the blockbuster novel from award-winning screenwriter Andrew Davies. Beginning Sunday, April 14, this new adaptation will air for six episodes on GPB Sundays at 8 p.m.
WYSIWYG: EMBEDDED VIDEO
The beauty of this non-musical production of Les Misérables not only lies in Davies' script, but the actors chosen to bring some of the most famous characters in literature to life. Last week, Dominic West (Jean Valjean), David Oyelowo (Inspector Javert), and Lily Collins (Fantine) were sharing their thoughts on the show in various press appearances. For those concerned with spoilers, Lily Collins does reveal Fantine's fate in the show during her interviews.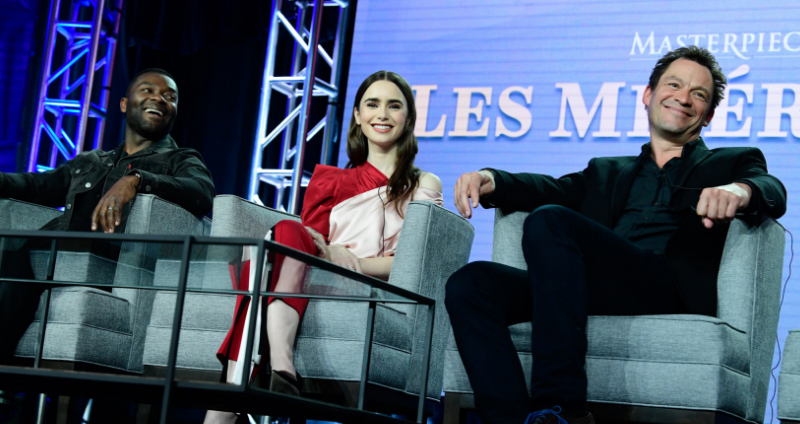 One of David Oyelowo's stops was The Daily Show with Trevor Noah. On his guest appearance, Oyelowo shared his thoughts on playing Inspector Javert, his first foray into film directing, and more.
Lily Collins joined David Oyelowo on a visit to The Today Show. While Collins admitted she couldn't finish the entirely of the Les Misérables, Oyelowo shared that he did and appreciated the wealth of information the book contains regarding his character, Inspector Javert. Both actors also delved into how they got into character, including Oyelowo's reputation of appearing unfriendly and Collins' challenge of filming Fantine's demise early on in production.
Additionally, Dominic West, David Oyelowo, and Lily Collins stopped by BUILD Series NYC for a discussion about Les Misérables. The actors shared insight into the filming process for the show, including how their hairstyles and wigs factored into the filming schedule, and how information about their characters never before seen on screen helped shape their portrayals.
Additionally, we have an exclusive treat for you! MASTERPIECE superfan Amanda-Rae was able to catch a sneak peek of Les Misérables in New York City and meet the cast while dressed as Fantine. We reached out to her for her thoughts on the show, meeting Dominic West, David Oyelowo, and Lily Collins in person, and photos from the event. This is what she had to share.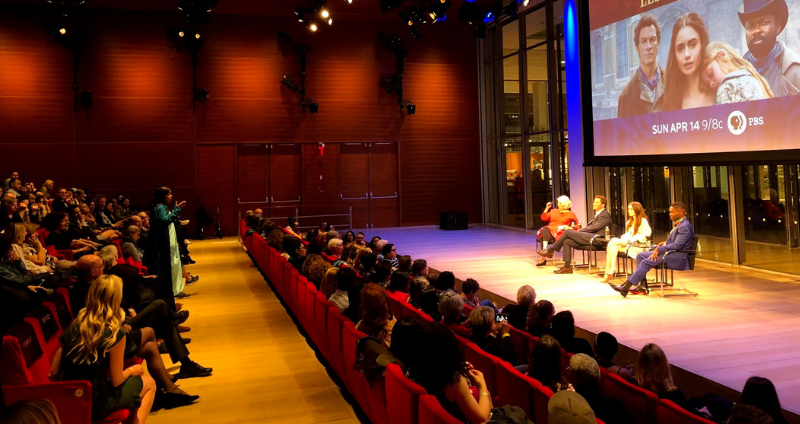 GPB: What made this preview event for Les Miserables so special?
Amanda-Rae: I've attended several PBS premieres in NYC in the past, four for Downton Abbey and one for Victoria. I love attending PBS events not only because of previewing upcoming content but also because of the social aspect of it. It's one of the few times I can meet fellow hardcore PBS fans and period drama addicts in person! One thing I really appreciated is that Les Misérables attracted a more diverse crowd compared to past PBS events. Part of that is the nature of the story itself and part of that is because the production team worked towards that goal. It was also great to see people recognize that I was Fantine.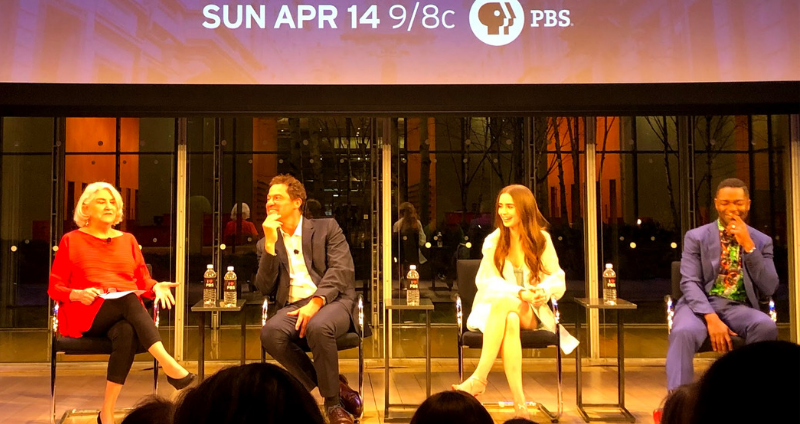 GPB: Without spoilers, what did you think about the preview of Les Misérables?
Amanda-Rae: Overall, Episode One does an amazing job in immersing the viewer in post-Napoleonic France. The episode introduces how economic injustice and sexism in society at the time made the lives of Jean Valjean and Fantine frankly miserable along with Javert acting as the enforcer of those rules. The episode introduces several other characters of note but these appearances make you want to know more about each character and how they connect to either Valjean's storyline or Fantine's. [Additionally,] the cast for Episode One was fantastic! I already liked Dominic West, Lily Collins and David Oyelowo from previous roles but have new found appreciation for their work. I was also happy to see Adheel Akhtar and several other supporting cast members prominently featured. It's very rare to see a period drama where there's more than one POC character who isn't a slave so I especially appreciated this. The costume design also reflected this diversity as well, not hiding natural hairstyles with wigs or straightening, but adapting period style to accommodate the differences.
GPB: What was it like meeting Dominic West, David Oyelowo, and Lily Collins in person? Did they share anything interesting with you during your meet and greet?
Amanda-Rae: All three of them were very gracious and friendly. I chose to speak to Lily first because I wanted to be able to have a pinch more time to talk to her about Fantine. She was absolutely thrilled that I recreated the costume. I also said that she was amazing in the role as well. 
David reached out to shake my hand before I could begin to introduce myself. I [thanked] him for pushing the door open for more diversity in period drama. We talked about how rare it is for period productions to have more than one.
I joined Dominic's line last because I actually met him a few months ago during [another press tour]. I told him that he was awesome as Valjean. I also thanked Dominic for the diversity factor since he is also an Executive Producer. I didn't expect the opportunity to meet them at all so by the end of the night I felt like I was floating on air.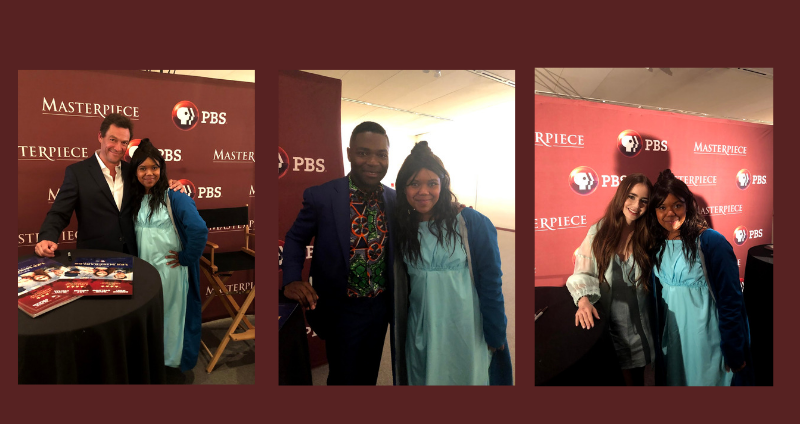 GPB: What part of this production of Les Misérables are you most excited for?
Amanda-Rae: I'm really excited first of all to see how all of the plot lines tie together. Valjean and Javert's antagonism clearly is going to end up in several more clashes. Although the Q&A revealed what happens to Fantine, I still want to see how her story plays out as well. Secondly I'm also super excited to see more from David and the other POC actors. It's not often on PBS I get to see folks who look like me in productions so I'm very much looking forward to this aspect as well.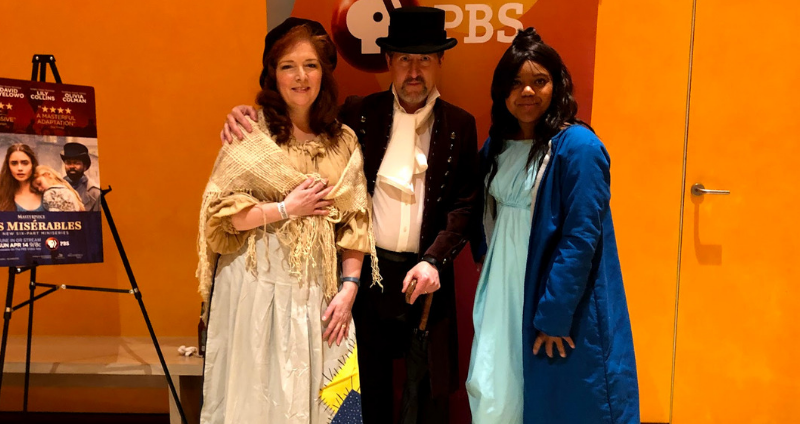 You can find Amanda-Rae online on Twitter where she routinely live-tweets MASTERPIECE productions and on the unofficial fan-run podcast, This Week In Mammoth Screen Dramas. Les Misérables from MASTERPIECE premieres on GPB Sunday, April 14 at 8 p.m. If you can't tune in, the entire six episode series will be available on GPB Passport to binge after the premiere! Find out how you can access your Passport account on our website. 
Secondary Content
Bottom Content