Section Branding
Header Content
Authors And Fans Share Their Love For "The Great American Read" At The Decatur Book Festival
Primary Content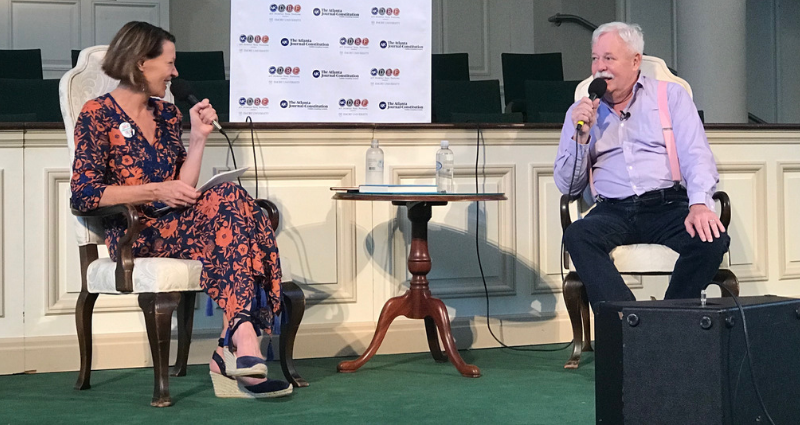 On September 1 and 2, 2018, book fans and authors flooded downtown Decatur to show their passion for books, reading, and The Great American Read.
For the first time, Georgia Public Broadcasting was on-site at The Decatur Book Festival, encouraging the bookworms in attendance to vote for their favorite book from The Great American Read top 100 list as well as sharing information about the new TV series, returning to Georgia Public Broadcasting on September 11. Attendees voted for their favorite book, posed in the photo and video testimonial booth, and were encouraged to tune in for The Great American Read on Tuesdays at 8 p.m. through October 23, when the winner will be announced live nationwide.
Additionally, two Great American Read top 100 authors were in attendance at this year's Decatur Book Festival. In two talks co-sponsored by Georgia Public Broadcasting, authors Jason Reynolds and Armistead Maupin delighted fans with stories about their literary works and their journey to become writers.
"A Seat at the Table" Host Denene Millner Chats With Jason Reynolds About Changing The Literary Canon
Co-host of Georgia Public Broadcasting's A Seat at the Table, Denene Millner engaged Jason Reynolds in conversation about some of his most popular books for young adults in front of a captivated audience on Sunday, September 2. Reynolds shared with the audience his journey from working at a clothing store to becoming published writer, citing Richard Wright's Blackwater as the first book he'd ever read and his friend, author and illustrator Christopher Myers (son of author Walter Dean Myers), as being his inspiration to write his own stories.
Armistead Maupin Shares Tales From His Life With "On Second Thought" Host Virginia Prescott
Sunday's author panels continued with a discussion with Great American Read author Armistead Maupin. Co-sponsored by Georgia Public Broadcasting and moderated by On Second Thought host Virginia Prescott, Maupin shared details from his memoir, Logical Family, as well as the real situations he experienced in San Francisco that inspired plots for Tales of the City.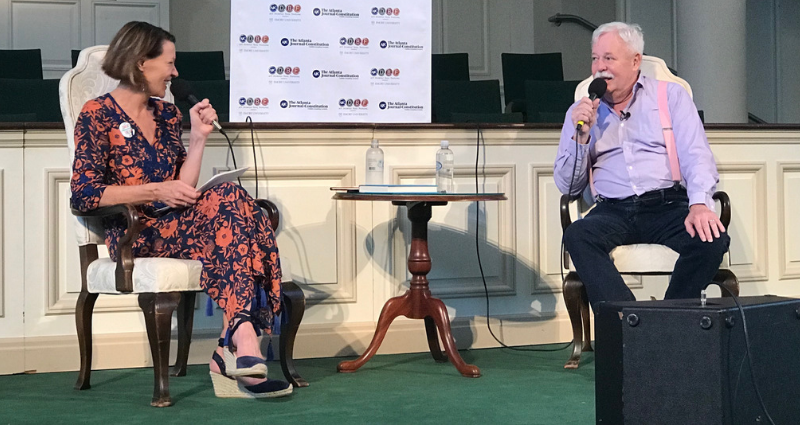 While growing up in the South, Maupin was not encouraged to do stereotypical masculine activities such as shooting guns, but he was still raised as a conservative yong man. He felt that he didn't have the right to assert his sexuality until he moved to San Francisco and worked as a writer for a local newspaper. After lightening up on himself when an acquaintance assured him "half the town is gay," Maupin wrote 800 words per day five days a week for his running column, Tales of the City.
"If it's happening to me, it's immoral if I don't write about it." - author Armistead Maupin on developing "Tales of the City"
Maupin further shared anecdotes from his journey while creating Tales of the City, including demands from his newspaper that only 30% of the characters in his work could be homosexual, adding lesbian and trans characters to the story, and his decision to show the first fatality of AIDS in fiction. Maupin further explained that he did not plan Tales of the City in advance, and his decision to depict a character death from AIDS angered diehard fans and casual readers alike. According to Maupin, "If it makes me nervous, it has to be something interesting."
At the end of the discussion, audience members shared their own stories about how Tales of the City shaped their own lives, including individuals who found strength with their own identities and experiences through the series' characters.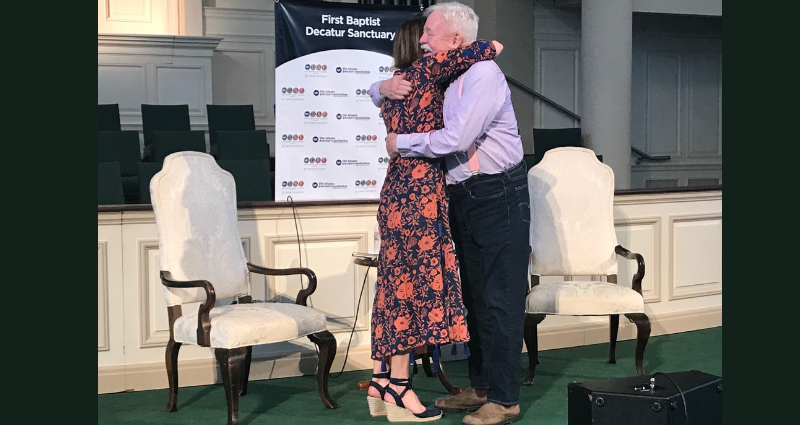 The Great American Read returns to Georgia Public Broadcasting on Tuesday, September 11 at 8 p.m. and will air Tuesdays at 8 p.m. until October 23, when the winner will be revealed live. To vote for your favorite book and take our character personality quiz, please visit The Great American Read website.
Secondary Content
Bottom Content