Section Branding
Header Content
Victoria Returns With A Foray Into Motherhood, War, Mathematics, And Diana Rigg
Primary Content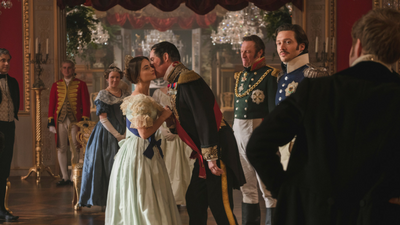 Season 2 of Victoria premiered on Sunday night to social media fanfare, and for your Victoria blogger, the double-episode felt more like a movie than two episodes. There's a lot to unpack, so let's get into the recap.
We meet Victoria again after the birth of her first child, Princess Victoria. But the grandeur of the palace and the fragile treatment of the queen is juxtaposed with snippets of scenes from the First Anglo-Afghan War,  a disaster that Sir Robert Peel and the rest of Victoria's advisers (including Albert!) have chosen to keep her ignorant of. Victoria's frustration with not only her household staff but her own family is relatable, as she strives to be something more than a mother. As she inquires about the status of the Anglo-Afghan War to anyone who will listen, Victoria has finally had enough and lets Uncle Leopold have it:
The other highlight of the first hour were the new faces to Buckingham Palace. Among the newcomers, secretary to the Prime Minister Edward Drummond and Lady in Waiting Wilhelmina Coke are faces to watch throughout the season, but they stood no chance against the new Mistress of the Robes. As Harriet, Duchess of Sutherland departs Buckingham Palace (she and Victoria share a tender moment in the nursery), Victoria acts on Sir Robert Peel's suggestion and enlists the Duchess of Buccleuch as her replacement. Victoria's faith in this choice surprises the Prime Minister, as Victoria does not expect the feisty, elderly Duchess (played by perennial favorite Dame Diana Rigg, after her departure from Game of Thrones) to cause an uproar in the palace, particularly when it comes to a certain dinner with cock-a-leekie soup. The Duchess is a combination of humorous quips and wise words, not unlike Downton Abbey's Violet Crawley or Poldark's Aunt Agatha.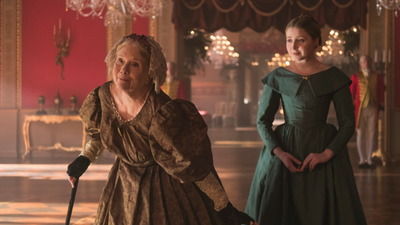 Fan favorites Prince Ernest, the unofficial royal marriage counselor, and Chef Francatelli, the only cook Victoria and her household enjoy, also return in the double episode premiere. It doesn't make life easy for Harriet, who returns in the second episode for Princess Victoria's christening, and Mrs. Skerritt, who now has a promotion to head dresser and her former romantic interest back in the palace.  
The second hour introduces tension in Victoria and Albert's marriage outside of Victoria's role of becoming a mother (one she is not identifying with very well) with the cameo appearances of Ada Lovelace (played by Call The Midwife's Emerald Fennell) and Richard Babbage. Albert is fascinated with the Analytical Engine they've created and is spending much of his time at the Royal Society, leaving Victoria to attend to motherly duties and cope with being pregnant for the second time, only months after the birth of Princess Victoria. Victoria's humiliation is stretched even further as she embarrasses herself in front of Ada Lovelace (did anyone else cringe at the mention of pi versus pie?), causing her to further believe she is far from Albert's intellectual and romantic equal. After a series of missed messages and the pregnancy reveal, Victoria and Albert reconcile by the end of the episode. Other happenings included a thief in the palace (how did anyone not see this kid? Buckingham Palace is large, but the household staff is numerous), Mrs. Skerritt hiring a Catholic assistant dresser (much to the chagrin of Mr. Penge), and the brief return of Rufus Sewell as Lord Melbourne. The trending posts of joy on social media were short-lived, however, as it was revealed near the end of the episode that Lord M's days are numbered: he is clearly ill, being treated with leeches without long to live. With Sewell's popularity on Victoria, it will be difficult to see him go.
Finally, we come to Tweet of the Week. Unfortunately, I'm sad to announce that there were no qualifying tweets for Tweet of the Week this week! Remember, we invite you to live-tweet with us every Sunday during Victoria and get a chance to win a prize when you tag us @mygpb and use the hashtag #GPBLovesVictoriaPBS . Nevertheless, we want to celebrate the return of Victoria with a giveaway, and this week we'll be giving away a copy of Victoria & Albert: A Royal Love Affair!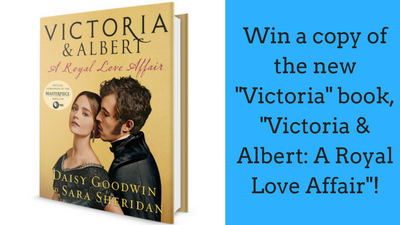 This is the new book for season 2 of Victoria, and one lucky GPB member will win their own copy. You can enter below.
Victoria airs episodes 3 and 4 of season 2 on Sunday, January 21st beginning at 9 p.m.
Secondary Content
Bottom Content