Section Branding
Header Content
Here's The Top Five Reasons Why You Should Take The PBS Nerd Challenge
Primary Content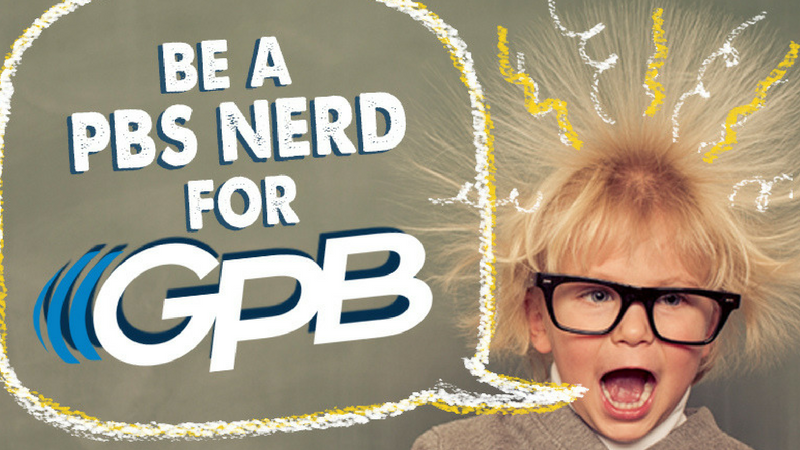 You may think being a nerd is only like the media portrayals on The Big Bang Theory or attending local Atlanta events such as MomoCon or DragonCon in your best superhero costume, but being a nerd is not only cool, it's encouraged. To be a nerd is to be passionate, conscious, and involved with the world around you, so it's no secret that showing your nerdy side is no longer something to be ashamed of.
This month, that's what we're celebrating at Georgia Public Broadcasting: the joy of being a nerd. And as we love a little friendly competition, we're pleased to announce our new campaign, Be A PBS Nerd For GPB . But we can't do it alone. We need your help, and here's the top 5 reasons why you should participate in our challenge.
1. It's Social
It's no fun to nerd out alone. That's why the challenge is available to enter as an individual or group, and it's easy to connect your social media channels. You can register with your Facebook, Twitter, Google Plus, or Instagram accounts (or just your email address), and easily share your profile, challenges, and events to your social networks. It's so easy to get yourself, your family, and your friends involved, you'll be inspired to challenge them and be challenged yourself.
2. It's Creative
This isn't a typical campaign. We're challenging you to be creative when coming up with your challenges or events. Listen to your passions or dare yourself to try something new. Do you love comic books? Challenge yourself and others to read one new comic book a day through the month of February. Are you a picky eater? Challenge yourself to try a new type of food once or twice a week. Likewise, you can also create a reward for successfully recruiting others to complete your challenge, such as if five people also commit to reading one new comic book a day, you'll dress up as a superhero at the end of the challenge and take a picture for proof.
But not everyone has the time for a month-long challenge commitment. If you love throwing parties and creating events, you can also create your own PBS Nerd party! Perfect for binge-watching Downton Abbey for the millionth time.
If you have trouble coming up with an event or a challenge, think about the things you nerd out about and love sharing with family and friends. If you're crafty, check out the PBS Nerd Knitting Challenge for inspiration. If you love to cook, you'll find your motivation with the Great British Cook Off Challenge . Whether it's entertainment, art, sports, science, food, or travel, pick something that you're passionate about or want to try.
3. You Can Choose To Add a Fundraising Component
Many of our campaigns in the past have been about fundraising. This time, you have the option to add a fundraising aspect to your challenge or event, or even donate directly. This option is perfect if you want to participate but don't have the time to complete a challenge or event, prefer traditional campaigns, or just would like to donate a monetary amount. But if you'd prefer to create or participate in a challenge, we encourage that too. You'll see that our campaign factors in points (which you can earn from creating and participating in challenges and/or events, recruiting friends to join the challenge, sharing your challenge on social media, adding photos and video of your challenge, and more) as well as money raised. Both are two parts of the same competition, and both the highest point earners and fundraisers will win prizes.
4. We Have Great Prizes
Speaking of prizes, we have quite a few of them. If you're one of the top five point earners, you'll be given a PBS Nerd hoodie in your size, a GPB swag prize pack, and the invitation to come to our studios to record your own television spot that will air on GPB TV. If you're one of the top three fundraisers, you'll win a free 3D printing class from MODA, and every Nerd who raises over $250 will win a PBS Nerd hoodie. So if you love swag, learning a new skill, or have always wanted to show your nerd passion on television, you'll want to participate the challenge to win.
5. It's Fun!
Most importantly, the PBS Nerd Challenge is all about having a good time while exploring your nerdy side with your family and friends. The challenge runs now until March 3rd, 2017.
Secondary Content
Bottom Content