Section Branding
Header Content
Dinosaur Train Covers Autism With Two Special Episodes
Primary Content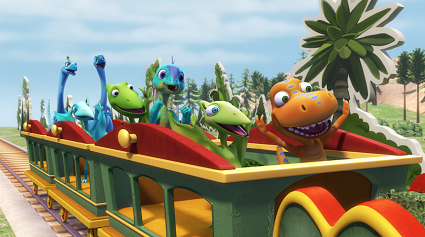 On Wednesday, April 6th and Thursday, April 7th, two special back-to-back episodes will air at 11:30 a.m., titled Junior Conductor's Academy: Part One and Junior Conductor's Academy: Part Two. In these episodes, Buddy and his friends will meet a new friend, Dennis Deinocheirus, who is enthusiastic about his knowledge of dinosaurs, but finds himself lonely and without many friends.
Buddy and his friends learn a lot at the Junior Conductor's Academy - about Dennis and themselves and in return find a new friend to join their circle of dino pals. Dennis will have his own strengths and weaknesses, just like any other dinosaur; children diagnosed with autism or expressing autistic traits can find a role model in Dennis.
This episode can be enjoyed by the whole family, and may help children ask their parents difficult questions about autism they otherwise may not have thought of before, and in return may help parents learn to encourage autistic children and teach children about autism with dignity and respect.
That's not all. PBS has teamed up with The Center of Disease Control and Prevention (CDC) in helping families understand autism in children, and how to look for signs as early as possible. The CDC has released a new, free e-book titled "Amazing Me - It's Busy Being 3!". This e-book is written for two to four year olds and features Joey, a three year old kangaroo who is excited to reach certain life milestones. Read this book along with your kids and see if they can identify with Joey.
Additionally, the Dinosaur Train website features graphs and other information to detect developmental milestones, additional content for schools and more information about the special episodes.
Secondary Content
Bottom Content