Section Branding
Header Content
PBS NewsHour Student Reporting Labs Launches First-Ever Student Journalism Challenge
Primary Content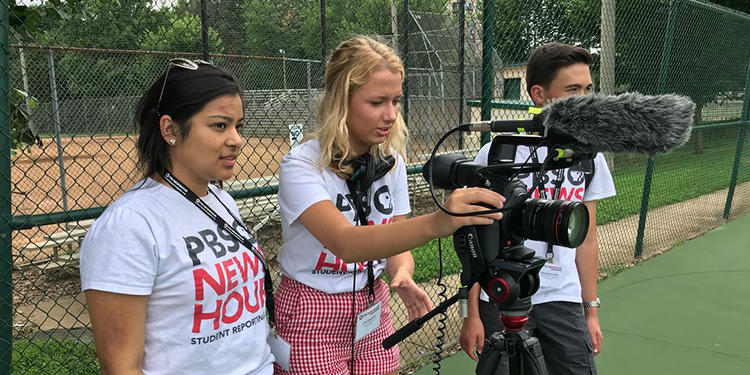 Student Reporting Labs (SRL) is pleased to announce its first Student Journalism Challenge. Students aged 13 to 18 years old from across the United States are invited to contribute written, video and audio pieces on key issues in education throughout the fall semester of the new school year. Expert judges will select the best of each format and stories will be shared widely on local and national public media platforms. 
The Student Journalism Challenge empowers students to build and utilize their research, critical thinking and storytelling skills to explore issues in U.S. education today. 
SRL will support students to report on their school districts and communities through instructional resources on SRL's new, free StoryMaker platform launching in August. 
The stories will shine light on issues in the educational space, as students see them. Issues could include school board meetings, how schools are spending Federal COVID Relief Funding, ways that communities are rethinking classes and education strategies and other issues central to life and well-being as a high school student. 
"Who better to explore and report the stories of what is happening in American schools than the students whose daily lives are affected by policies, priorities and practice," says Leah Clapman, SRL's Executive Director. "This generation is finding agency and power through media making and we're excited to provide a forum that connects them to our multimedia storytelling curriculum and authentic audiences across the country."
Use of sophisticated video recording equipment is not required, though creativity and ambitious storytelling are encouraged.
Young people ages 13-18 affiliated with schools, involved with clubs, afterschool, and extracurricular organizations are eligible to enter.   
The deadline for entries is Friday, December 2, 2022, at 11:59 p.m. ET 
Thirty (30) finalists—ten (10) finalists each from audio, video, and text—will be selected by judges from all entries. Six (6) winners and six (6) honorable mentions will be announced in February 2023.
Winners of the Student Journalism Challenge will have their work published on digital and social platforms by local PBS stations, WETA's Well Beings youth mental health initiative, and through XQ Institute networks. 
Visit the site to enter, share, and review submission criteria.
 
Bottom Content