Section Branding
Header Content
Atlanta-Area Teen Wins Big In 2022 Regeneron International Science And Engineering Fair
Primary Content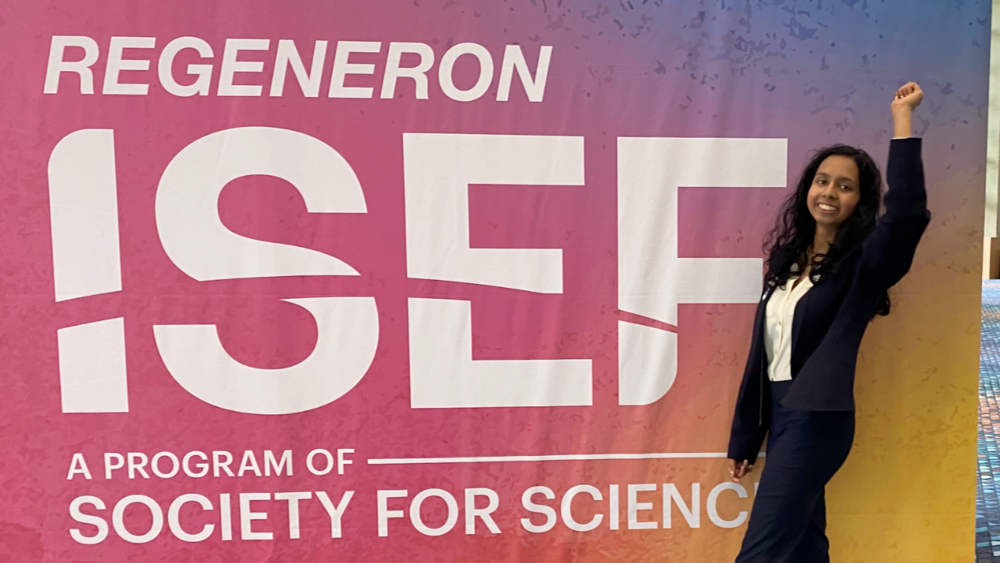 At this year's Regeneron International Science and Engineering Fair, Regeneron Pharmaceuticals, Inc. and Society for Science (the Society) announced that Asmi Kumar, 18, of Milton, Georgia, won a $5,000 scholarship and received the Dudley R. Herschbach SIYSS Award, which provides the finalists with an all-expense paid trip to attend the Stockholm International Youth Science Seminar, which includes attendance at the Nobel Prize Ceremonies in Stockholm, Sweden.
GPB Education spoke with Asmi about her award-winning project. 
Tell me about your project.
Cortical visual impairment (CVI), the most prevalent vision disorder in young children, results from damage to the brain, rather than the eyes. State-of-the-art therapy techniques are qualitative and involve training vision by tracking slow-moving, brightly-colored objects, capitalizing on peak neuroplasticity. With daily sessions needed in combination with COVID-19 continuing to slow the frequency of doctor visits, therapy execution has become a huge parental responsibility. To help, I built FollowMe, a novel AI-powered web application providing free, at-home, individualized therapy and results tracking.
How can your research be used?
FollowMe's therapy targets the brain, specifically the occipital region, the most common site of damage that causes CVI, where vision is hosted. Just as if someone had eye surgery, he/she needs to gradually strengthen vision through a "work, exercise, and repeat" process. FollowMe takes a similar approach, where it works to bring the body back to its natural state and restore function in the brain through physical therapy rather than via invasive medication. 
FollowMe's therapy would work well in both a normal home setting or at a doctor's office — its accessibility, adaptability, and autonomy are its highlights. Currently, I'm working on ensuring privacy measures before deploying FollowMe in iterations at India's LV Prasad Eye Institute!
Who or what inspired you to do this research?
Tech for accessibility is so essential in order to serve as many people as possible and has fascinated me for a while now. In the past, I worked with the family of a boy I tutored to develop a wearable to detect autistic meltdowns for his sister — that was how I first got into the accessibility space — and did a recent project on mapping poverty from satellite images.
What are your future plans?
This fall, I'll be off to college at Massachusetts Institute of Technology studying Computer Science & Engineering and Mathematics! I hope to focus on AI/ML in my career, specifically on technologies with direct human impact. I'm especially interested in learning theory in the context of personalization. Multifaceted questions around ethics and design exist when optimizing computer science solutions for social good problems, and I look forward to thinking through these deeply as a student at MIT.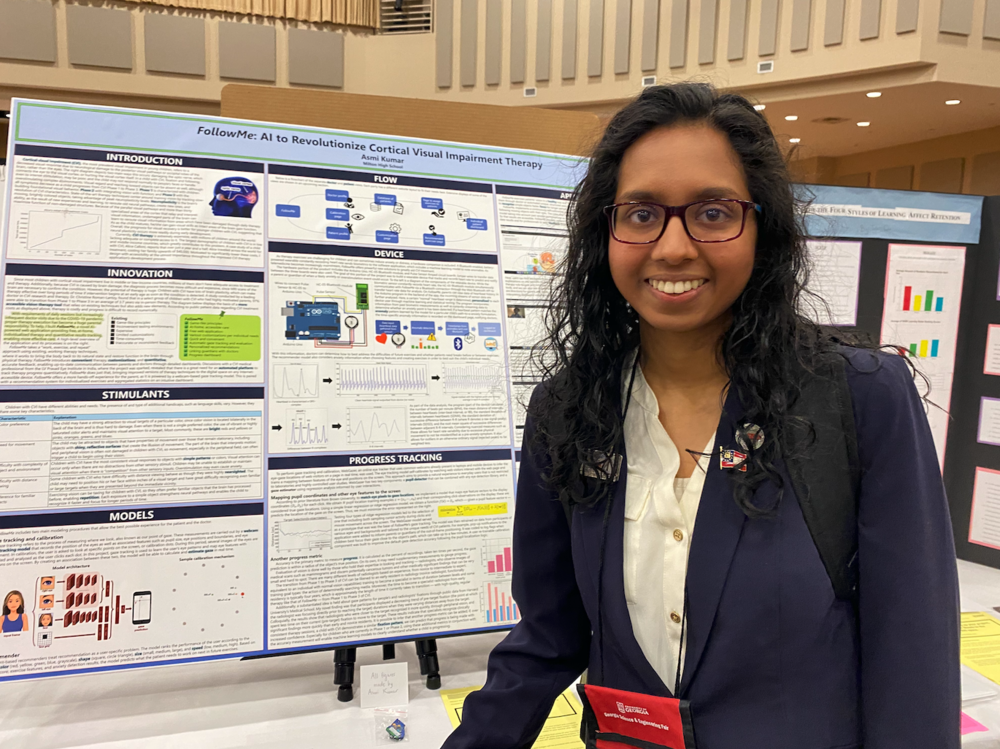 The top winners were honored during two hybrid award ceremonies, the first of which took place on the evening of May 12 and featured Special Award winners. In total, awards valued at nearly U.S. $8 million were awarded to the finalists, who were evaluated based on their projects' creativity, innovation and level of scientific inquiry. The competition featured 1,750 young scientists representing 49 states and 63 countries, regions and territories across the world.
"Congratulations to the Regeneron International Science and Engineering Fair 2022 winners," said Maya Ajmera, President and CEO of Society for Science and Publisher of Science News. "Every single Regeneron ISEF finalist has shown true dedication, passion, and grit. Their commitment to their research, and perseverance throughout the continued challenges of COVID-19 are an inspiration to us all. We are eager to watch the impact they are sure to make in their communities and chosen fields."
Regeneron ISEF provides a global stage for the best and brightest young scientists and engineers around the world. Founded on the belief that advances in science are key to solving global challenges, Regeneron ISEF supports and invests in the next generation of leading STEM thinkers who are generating ideas and acting as catalysts for the change needed to improve the well-being of all people and the planet.
For the first time since 2019, ISEF finalists competed in person. More than half of the finalists gathered in Atlanta, GA at the Georgia World Congress Center and the remaining finalists participated virtually.
 
Secondary Content
Bottom Content