Section Branding
Header Content
Four Georgia Students Among Top 300 Finalists In Prestigious Science And Math Competition
Primary Content
The Society for Science & the Public announced the top 300 scholars in the Regeneron Science Talent Search 2020, the nation's oldest and most prestigious science and math competition for high school seniors. The 300 scholars, including four from the state of Georgia, and their schools will be awarded $2,000 each.
The Regeneron Science Talent Search scholars were selected from 1,993 applications received from 659 high schools across 49 states, Washington, DC, Puerto Rico, Guam, and eight countries. Scholars were chosen based on their exceptional research skills, commitment to academics, innovative thinking and promise as scientists and hail from 192 American and international high schools in 39 states and Guam.
The four students from Georgia are: Ananya Ganesh, The Westminster Schools; Lauren Hester, Coretta Scott King Young Women's Leadership Academy; Bill Sun, George Walton Comprehensive High School; and Shreya Ramesh, Milton High School. 
The full list of scholars can be viewed here.
The Regeneron Science Talent Search provides students a national stage to present original research and celebrates the hard work and novel discoveries of young scientists who are bringing a fresh perspective to significant global challenges. This year, research projects cover topics from medicine and health to environmental science.
GPB Education had the opportunity to catch up with some of these students to learn more about their projects.
Ananya Ganesh
The Westminster Schools
Project Title: Early Onset Scoliosis - A Novel Approach to the Assessment and Classification of Pulmonary Function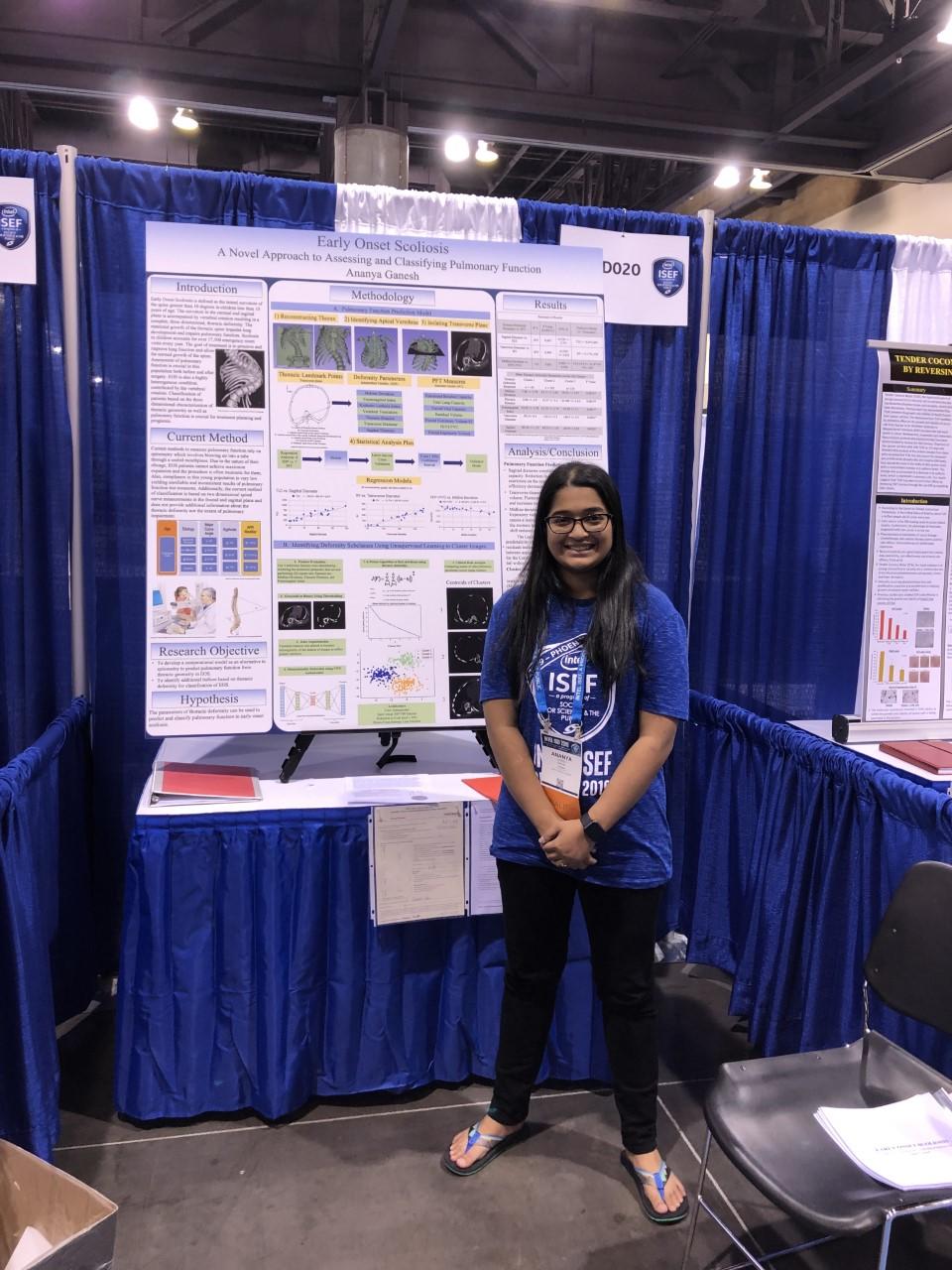 "I was observing children with severe scoliosis get pulmonary function testing and saw how uncomfortable it was for them. Moreover, they couldn't comply with instructions very well, so the test results were not very accurate. I attempted to solve this problem by developing a way to assess their lung function computationally. If we can take their routine X-ray or CT scans and determine how well their lungs function and be able to predict how surgery would change or improve lung function, that would be a useful tool for the medical team. Additionally, classifying patients based on the differences in their ribcage, gives us another organizing structure."
Ananya operates a nonprofit called Girls Maker Initiative which establishes and provides resources for makerspaces in rural Georgia. She plans to use her $2,000 winnings to buy more material for the makerspaces. 
Lauren Hester
Coretta Scott King Young Women's Leadership Academy
Project Title: Inducing the Migration of Dying Non-Pathogenic Lymphoma Cells Towards Areas of High T-Cell Concentration with Chemoattractants In Vitro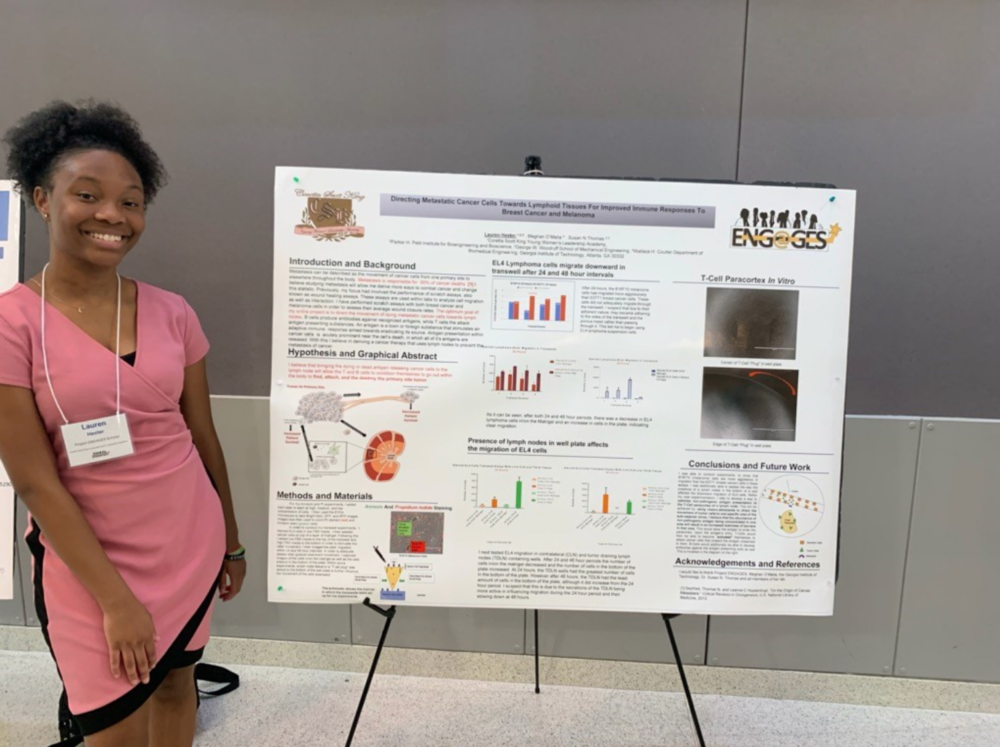 "As a high school researcher of the Project ENGAGES program at the Georgia Institute of Technology, I am currently working to develop a form of cancer therapy that can hopefully succeed in curing cancer through the regulation of metastasis. Metastasis is the movement of cancer cells from the primary site tumor to elsewhere within the body. Ninety percent of cancer deaths are caused by metastasis, and I hope that my research can help to change this statistic. I believe that all cancer patients would benefit from the development of a new form of treatment that does not have the same adverse side effects as current therapies like chemotherapy. Upon learning about immunology and the lymphatic system, I asked myself, 'Why not develop a cancer therapy that involves using the body to heal itself in a more natural manner to help patients avoid adverse side effects?' Within my experiments, I am targeting lymph nodes because they house immune T and B cells. These cells have the ability to recognize specific cancer antigens from dying cancer cells. This will allow the T cells to become activated and go out into the body to look for that antigen. When this happens, I believe the T Cells will then attack at the primary site, destroying the tumor, preventing metastasis from occurring at all."
Lauren says she plans to use her winnings to help fund her undergraduate education. She hopes to pursue a career in public health, psychology, or biomedical engineering. 
Shreya Ramesh
Milton High School
Project Title: Real-Time Analysis of Emotions for Neurological Disorder Patients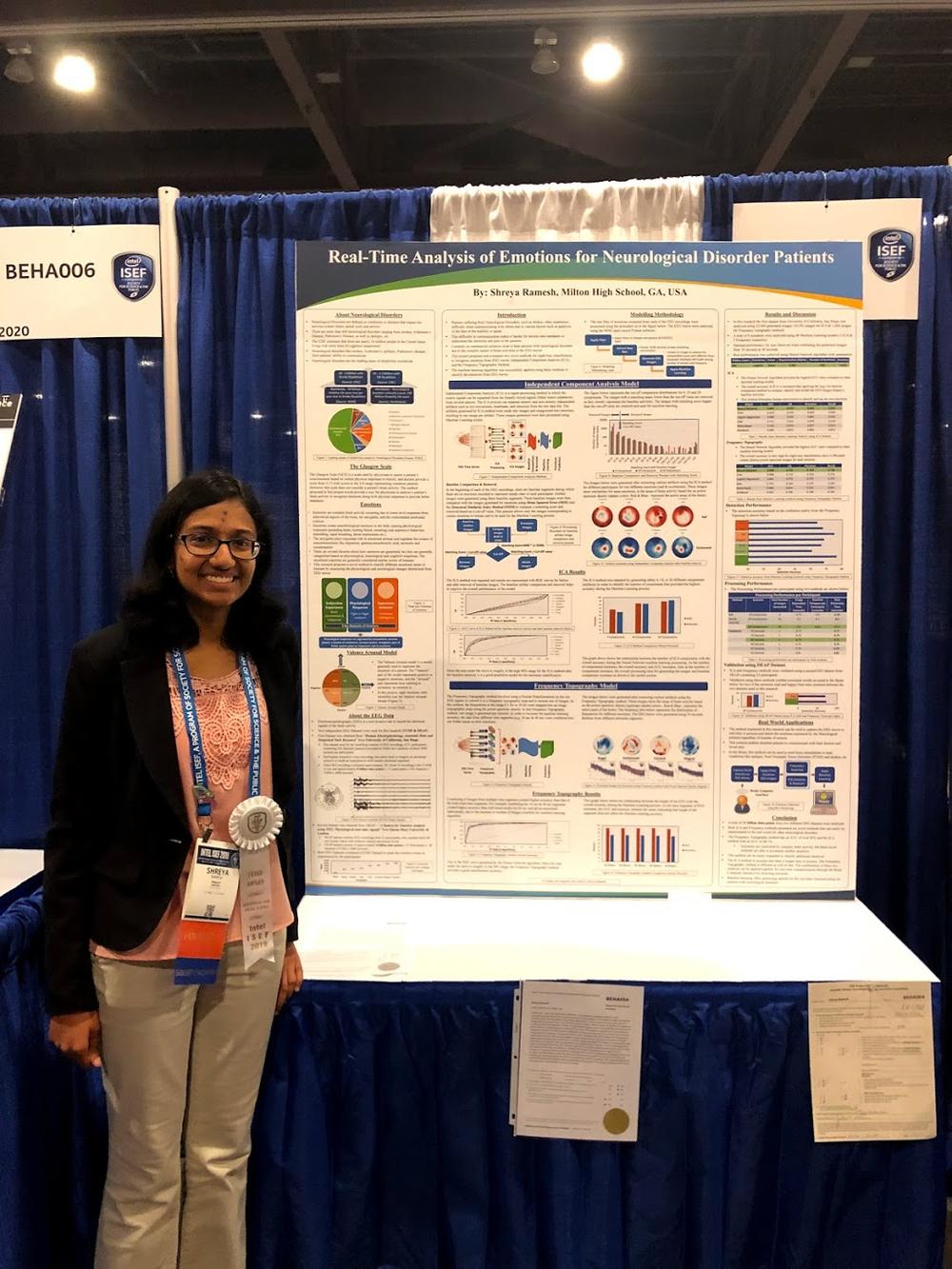 "During the treatment for patients with neurological disorders, doctors typically only consider a patient's physical well-being and not so much on his or her emotional well-being. One primary reason for this is the lack of understanding of how emotions originate in the brain, and the technology to analyze a person's emotions does not currently exist, leading to a major communication gap between a patient and the doctor and loved ones. My family and I experienced this communication gap when my grandfather suffered a stroke and was unable to communicate with us. We didn't know how he felt during the treatment process, and this question led me to create a classification system to determine eight different emotions from the brain's waves using machine learning algorithms. I created two algorithms: one that simplifies the brain waves into its individual components (92% accuracy rate) and another that creates a map of brain activity to classify these maps into different emotions (75% accuracy rate). Doctors can now use these algorithms as another factor when developing treatment plans for patients and can consider a patient's mental and emotional well-being as much as his or her physical well-being."
Shreya says she will likely use her $2,000 winnings to pay for basic college expenses, like textbooks. She will also use a portion of the money to sustain and expand her Girl Scout Project.  
Bill Sun is the fourth finalist from Georgia. His project is titled "Development of Robust Convolutional Neural Networks for Malaria Diagnosis from Thin Blood Smear Images." 
On January 22, 40 of the 300 scholars will be named Regeneron Science Talent Search finalists. Finalists receive an all-expense-paid trip to Washington, D.C., from March 5-11, when they will compete for more than $1.8 million in awards provided by Regeneron.
Secondary Content
Bottom Content