Section Branding
Header Content
9 Fab-Boo-Lous Picture Books To Celebrate Halloween
Primary Content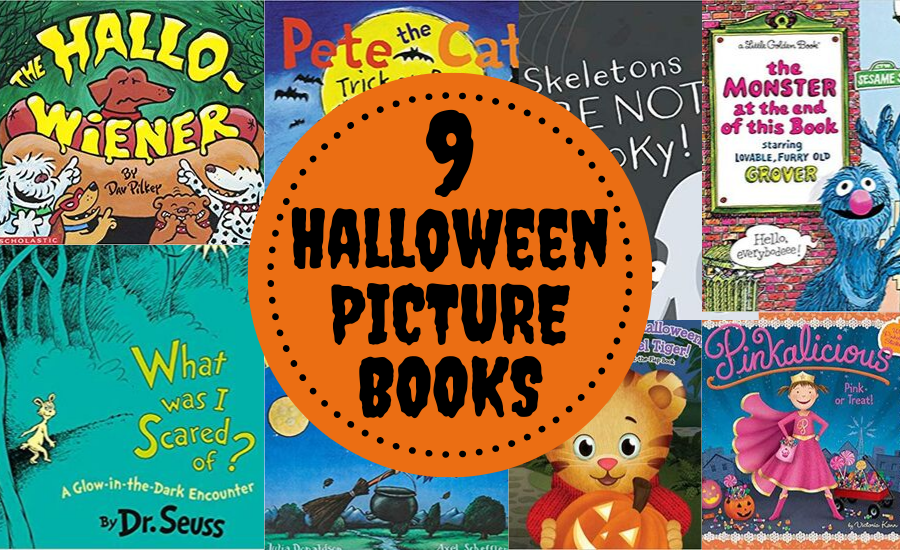 This Halloween, trick or treat kids to a fun bedtime or classroom story. From spooky tales to heroic adventures, these engaging picture books are sure to have your kids on the edge of their seats (or broomsticks)! 
1. Room on the Broom by Julia Donaldson
The witch and her cat are happily flying through the sky on a broomstick when the wind picks up and blows away the witch's hat, then her bow, and then her wand! Luckily, three helpful animals find the missing items, and all they want in return is a ride on the broom. But is there room on the broom for so many friends? And when disaster strikes, will they be able to save the witch from a hungry dragon?
2. Pete the Cat: Trick or Pete by James Dean
Pete loves Halloween and candy but not so much scary surprises. Follow Pete as he goes trick-or-treating from house to house and discover what is waiting behind each door.
With over ten flaps that open to reveal fun spooky surprises, this book is spooktacular!
3. What Was I Scared Of? by Dr. Seuss
Perfect for Halloween, this splendidly silly story about a narrator terrorized by an empty pair of pants (which happens to be equally terrified of the narrator) works perfectly well the rest of the year, too, delivering a timeless message about fear and tolerance to boot. Scaredy-pants of all ages will quiver with delight!
4. Happy Halloween, Daniel Tiger! by Angela C. Santomero
It's Halloween in the Neighborhood of Make Believe, and Daniel Tiger and his friends can't wait to celebrate! Come along with Daniel, Katerina Kittycat, Miss Elaina, O the Owl, and Prince Wednesday as they pick out their creative costumes and march in a Halloween parade! This board book features lift-and-reveal flaps on each spread.
5. The Monster at the End of This Book by Jon Stone
By all accounts, this book is a favorite among toddlers and adults alike. Generations will recall their first time reading along as lovable, furry old Grover begs the reader not to turn the page… for a monster is at the end of the book! But, of course, the monster is none other than Grover himself. 
6. Skeletons ARE NOT Spooky! by Duds and Kaine
For everything that skeletons do for us, they sure do have a bad reputation for being spooky. Have you ever thought that maybe, just maybe, they are actually a lot of fun? Perhaps they really dig hanging out at the park with great pals and taking bubble baths just like you and me. It's about time we see just how absolutely UNspooky skeletons are in this entertaining tale for every body.
7. Pinkalicious: Pink or Treat! by Victoria Kann
Pinkalicious can't believe it: The mayor has canceled Halloween because a storm has knocked out the town's power. No Halloween means no Halloween candy. No Halloween jack-o'-lanterns. No Halloween trick-or-treating. No Halloween holiday parties. And worst of all, no Halloween costumes. Pinkalicious has the perfect Pinkagirl costume and she absolutely has to wear it.
8. Goodnight Goon by Michael Rex
It's bedtime in the cold gray tomb with a black lagoon, and two slimy claws, and a couple of jaws, and a skull and a shoe and a pot full of goo. But as a little werewolf settles down, in comes the Goon determined at all costs to run amok and not let any monster have his rest.
9. The Hallo-Weiner by Dav Pilkey
Oscar is a little dog with a big problem -- he gets more tricks than treats because other dogs tease him all the time. But one brave act on Halloween makes Oscar a Grade-A hero, proving that a little wiener can be a real winner!
What's your favorite Halloween tale? Let us know in the comments below or on Twitter or Facebook. 
Secondary Content
Bottom Content