Section Branding
Header Content
Georgia Student Crowned TOSA Microsoft Excel National Champion
Primary Content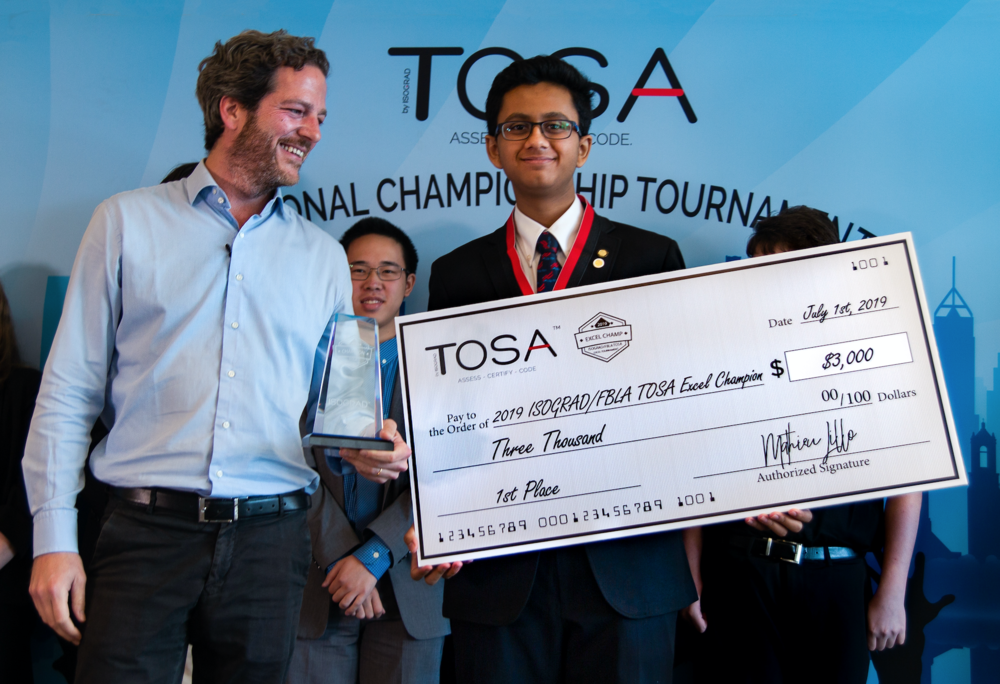 Denmark High School senior, Ameya Jadhav, was crowned as the TOSA Excel National Champion at the Future Business Leaders of America National Leadership Conference in San Antonio, Texas last month. Ameya received the $3,000 first place prize along with the Tournament Champion trophy and medal.
Isograd, in partnership with Future Business Leaders of America-Phi Beta Lambda, Inc. organized the 2019 Isograd/FBLA TOSA Excel Tournament. Students throughout the United States competed in the first half of 2019 by taking a free TOSA Excel certification supplied by Isograd. The TOSA (Test On Software Applications) certification delivers a score that illustrates the proficiency students on a scale of 1–1,000. Over 500 FBLA students participated in the tournament. 
Ten students whose scores were the highest in the nation were invited to the Tournament finals which were held July 1st in San Antonio, Texas at the FBLA National Leadership Conference—an annual conference where high school students participate in a wide variety of business-focused competitions.
The top ten finalists were tasked with completing various tasks on two custom case studies using Microsoft Excel. As opposed to taking a static exam, the students had to possess a deep working knowledge of Excel to complete the requirements within the application itself.
The top three finalists received prize packages valued at over $6,000. 
"We are consistently impressed with the caliber of students that FBLA attracts" stated Mathieu Lillo, CEO – North America for Isograd. "We are honored to provide these students with the opportunity to showcase their Excel skills on a platform that truly evaluates competency rather than the ability to memorize test questions."
"Isograd has been a valued partner in helping FBLA students advance their skills as they prepare to enter the workforce with the skills needed in today's digital job environment," said Alexander Graham, President & CEO, FBLA-PBL.
TOSA is the standard in IT skills assessment and certification. It covers desktop applications (Excel, Word, PowerPoint, Outlook), digital skills (DigComp and Adobe Creative Cloud) and programming languages (PHP, Java, C#, HTML5...). The TOSA certification exam has been developed by Isograd. Our unique and innovative technology is used by more than 5,000 universities and companies in over 30 countries.
FBLA-PBL inspires and prepares students to become community-minded business leaders in a global society through relevant career preparation and leadership experiences.
Secondary Content
Bottom Content