Section Branding
Header Content
11 Books To Celebrate The Summer Of Space
Primary Content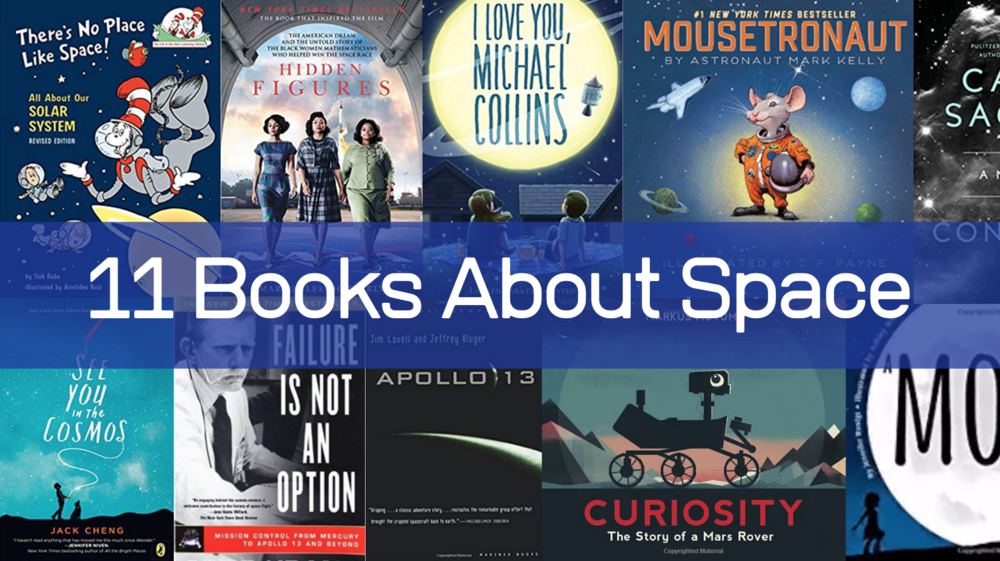 This summer, encourage kids to join in on the world-wide celebration of the 50th anniversary of the Apollo 11 mission with this collection of space-themed books! 
K-5 Reads
1. I Love You, Michael Collins by Lauren Baratz-Logsted
It's 1969 and the country is gearing up for what looks to be the most exciting moment in U.S. history: men landing on the moon. Ten-year-old Mamie's class is given an assignment to write letters to the astronauts. All the girls write to Neil Armstrong ("So cute!") and all the boys write to Buzz Aldrin ("So cool!"). Only Mamie writes to Michael Collins, the astronaut who will come so close but never achieve everyone else's dream of walking on the moon, because he is the one who must stay with the ship. 
2. Curiosity: The Story of a Mars Rover by Markus Motum 
On August 6, 2012, the rover Curiosity touched down on the rocky surface of Mars — and now she's ready to guide you through her journey firsthand. From idea to creation and beyond, this fact-filled, stylish book introduces readers to Curiosity and her mission: to discover more about the red planet and search for evidence of life. How did Curiosity get her name? What tools does she use to carry out her tasks? In her own voice, the popular NASA rover tells how and why she traveled more than 350,000,000 miles to explore a planet no human has ever visited…and what she's been doing there.
3. There's No Place Like Space! by Tish Rabe 
In this best selling title, beginning readers and budding astronomers are launched on a wild trip to visit the now eight planets in our solar system (per the International Astronomical Union's 2006 decision to downgrade Pluto from a planet to a dwarf planet), along with the Cat in the Hat, Thing One, Thing Two, Dick, and Sally. It's a reading adventure that's out of this world!
4. A Moon of My Own by Jennifer Rustgi 
An imaginative young girl travels the world with her faithful companion, the moon, in an enchanted adventure across the seven continents that is marked by the moon's phases, depicted in silhouetted artwork and augmented by references for further learning.
5. Mousetronaut by Mark Kelly
Astronaut Mark Kelly flew with "mice-tronauts" on his first spaceflight aboard space shuttle Endeavour in 2001. Mousetronaut tells the story of a small mouse that wants nothing more than to travel to outer space. With lively illustrations by award-winning artist C. F. Payne, Mousetronaut is a charming tale of perseverance, courage, and the importance of the small!
6-12 Reads
6. Hidden Figures by Margot Lee Shetterly
The phenomenal true story of the black female mathematicians at NASA at the leading edge of the feminist and civil rights movement, whose calculations helped fuel some of America's greatest achievements in space—a powerful, revelatory contribution that is as essential to our understanding of race, discrimination, and achievement in modern America
7. Contact by Carl Sagan
When a signal is discovered that seems to come from far beyond our solar system, a multinational team of scientists decides to find the source. What follows is an eye-opening journey out to the stars to the most awesome encounter in human history. Who—or what—is out there? Why are they watching us? And what do they want with us?
8. 2001: A Space Odyssey by Arthur C. Clarke 
WYSIWYG: EMBEDDED IMAGE
This allegory about humanity's exploration of the universe—and the universe's reaction to humanity—is a hallmark achievement in storytelling that follows the crew of the spacecraft Discovery as they embark on a mission to Saturn. Their vessel is controlled by HAL 9000, an artificially intelligent supercomputer capable of the highest level of cognitive functioning that rivals—and perhaps threatens—the human mind.
9. Failure Is Not an Option: Mission Control From Mercury to Apollo 13 and Beyond by Gene Kranz
This memoir of a veteran NASA flight director tells riveting stories from the early days of the Mercury program through Apollo 11 (the moon landing) and Apollo 13, for both of which Gene Kranz was flight director.
Kranz recounts these thrilling historic events and offers new information about the famous flights. What appeared as nearly flawless missions to the Moon were, in fact, a series of hair-raising near misses. When the space technology failed, as it sometimes did, the controllers' only recourse was to rely on their skills and those of their teammates. He reveals behind-the-scenes details to demonstrate the leadership, discipline, trust, and teamwork that made the space program a success. 
10. Apollo 13 by Jim Lovell and Jeffrey Kluger
In April 1970, during the glory days of the Apollo space program, NASA sent Navy Captain Jim Lovell and two other astronauts on America's fifth mission to the moon. Only fifty-five hours into the flight of Apollo 13, disaster struck: a mysterious explosion rocked the ship, and soon its oxygen and power began draining away. Written with all the color and drama of the best fiction, APOLLO 13 (previously published as Lost Moon) tells the full story of the moon shot that almost ended in catastrophe.
11. See You in the Cosmos by Jack Cheng
11-year-old Alex Petroski loves space and rockets, his mom, his brother, and his dog Carl Sagan—named for his hero, the real-life astronomer. All he wants is to launch his golden iPod into space the way Carl Sagan (the man, not the dog) launched his Golden Record on the Voyager spacecraft in 1977. From Colorado to New Mexico, Las Vegas to L.A., Alex records a journey on his iPod to show other lifeforms what life on earth, his earth, is like. 
What's your favorite book about space? Let us know in the comments below or on Twitter or Facebook! 
Secondary Content
Bottom Content