Section Branding
Header Content
Georgia High School Science Teachers Will Fly On SOFIA
Primary Content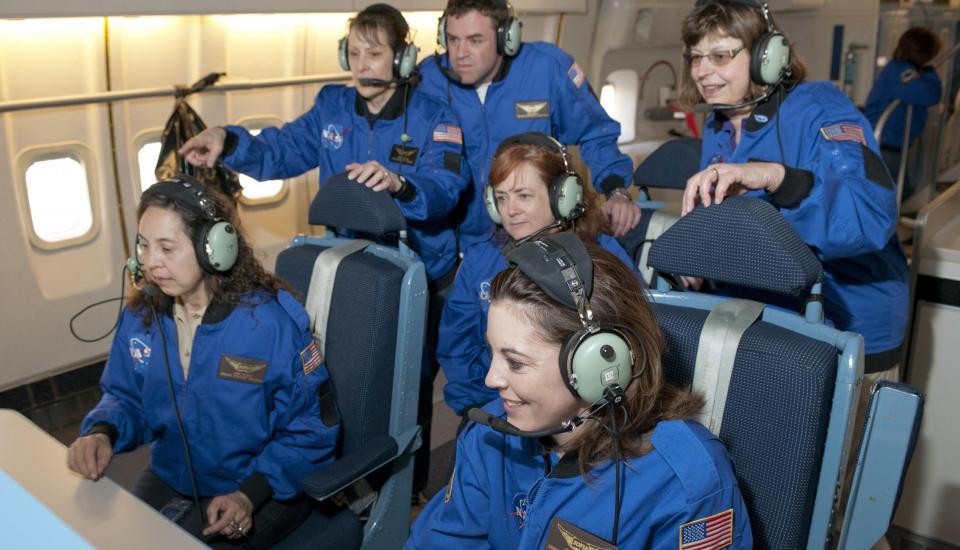 The SETI Institute partnered with 14 school districts in eight states for the 2019 NASA Airborne Astronomy Ambassadors (AAA) program. The AAA program is a professional development opportunity for high school science teachers designed to improve science teaching and learning and increase student engagement in Science Technology Engineering and Math (STEM).
Participating teachers receive training in astrophysics and planetary science, content and pedagogy. Their training includes a week-long immersion experience at NASA's Flight Research Center Hangar 703 in Palmdale, California, with participation in research flights aboard NASA's Stratospheric Observatory for Infrared Astronomy (SOFIA). The program culminates in classroom delivery of a SOFIA science-oriented curriculum module. Impact on student STEM learning and engagement will be measured by WestEd education evaluators.
"SOFIA provides a fantastic opportunity for teachers to better understand and appreciate the research process by interacting with scientists and mission crew members," said Dr. Dana Backman, AAA program principal investigator. "The teachers can then take what they learn back to their classrooms, schools, and school districts, conveying the value of scientific research and adding real-world content to high school learning environments. The first-hand experiences also can illuminate the wide variety of STEM career paths available to students."
Two Georgia school districts participating in the 2019 Airborne Astronomy Ambassadors program include  Cobb County Schools and Muscogee County School District.
From those two school districts, six teachers were selected as 2019 Airborne Astronomy Ambassadors:
Berkil Alexander, Kennesaw Mountain High School, Kennesaw, Georgia
Nikki Bisesi, Hillgrove High School, Powder Springs, Georgia
Philip Matthews, Kennesaw Mountain High School, Kennesaw, Georgia
Luther Richardson, Columbus High School, Columbus, Georgia
Laura Solomons, Columbus High School, Columbus, Georgia
Season Stalcup, Wheeler High School, Marietta, Georgia
The NASA Airborne Astronomy Ambassador Program is managed by the SETI Institute. It was one of the 27 organizations from across the United States selected by NASA for cooperative agreement awards to implement a new strategic approach to more effectively engage learners of all ages on NASA science education programs and activities. Selections were made by the agency's Science Mission Directorate (SMD) in Washington, DC, through the Science Education Cooperative Agreement Notice. Selectee activities will support Earth science, astrophysics, planetary science and heliophysics. The AAA program is funded by NASA SMD NNX16AC51A.
SOFIA is a Boeing 747SP jetliner modified to carry a 106-inch diameter telescope. It is a joint project of NASA and the German Aerospace Center, DLR. NASA's Ames Research Center in California's Silicon Valley manages the SOFIA program, science and mission operations in cooperation with the Universities Space Research Association headquartered in Columbia, Maryland, and the German SOFIA Institute (DSI) at the University of Stuttgart. The aircraft is maintained and operated from NASA's Armstrong Flight Research Center Hangar 703, in Palmdale, California.
Secondary Content
Bottom Content