Section Branding
Header Content
NBA And Discovery Education Host Virtual Field Trip On STEM Careers
Primary Content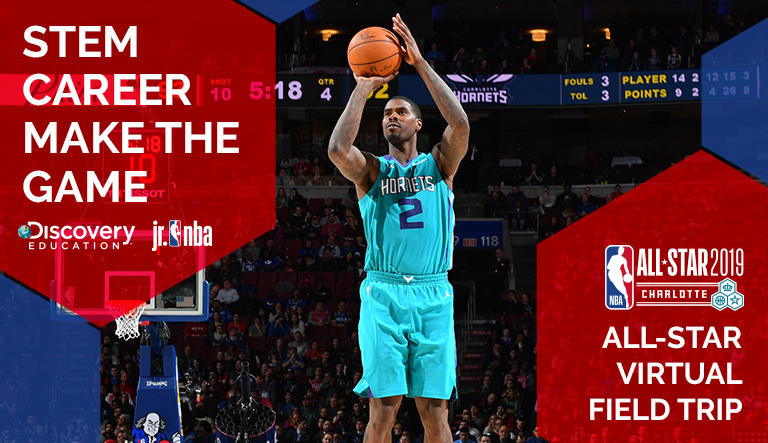 The National Basketball Association (NBA) and Discovery Education invite teachers and students nationwide to participate in Game Plan For The Future: An All-Star Virtual Field Trip on Thursday, February 14th at 1:00 PM EST. During this immersive virtual experience, teachers and students will join NBA players and executives to hear how they use the STEM skills learned in school to bring the excitement of regular season games, playoffs, NBA Finals, and NBA All-Star to life for fans around the world.
Classrooms nationwide can register here for this no-cost event, which will include a live Twitter chat from NBA All-Star in Charlotte, North Carolina featuring a number of special NBA guests.
Game Plan For The Future: An All-Star Virtual Field Trip first takes participants to the NBA's headquarters in New York City. There, VP and Head of Referee Training and Development Monty McCutchen, will take attendees inside the NBA's Replay Center to discuss his career and how technology impacts referees' jobs on and off the court. Next, students and teachers will meet the Digital Content Strategy analyst Iveta Karapetian and learn about how STEM impacts the way fans experience the game of basketball.
Attendees will be transported to Charlotte – the site of the 2019 NBA All-Star Game –to meet Charlotte Hornets forward Marvin Williams. A 14-year NBA veteran, Williams uses a variety of STEM skills to create a competitive edge, and he'll share some of his secrets with students. Finally, participants will be introduced to Arena Events and Operations team members Trista Langdon and Alex MacKenzie, who will explain how they use math and engineering to make sure all events at Spectrum Center run smoothly, including the NBA All-Star game.
"Virtual experiences like the All-Star Virtual Field Trip spark my students' imagination and engagement like few other classroom activities," said Rodney Crouse, a fifth grade teacher in North Carolina's Guilford County Schools. "I am looking forward to sharing this unique learning opportunity with my students."
Game Plan For The Future: An All-Star Virtual Field Trip is part of a multi-year partnership between the NBA and Discovery Education to strengthen middle school students' engagement in learning nationwide.
During the month of February, all users of Discovery Education's digital services will receive special access to the NBA Analysis Tool. Currently exclusive to Math Techbook users, the NBA Analysis Toolhelps students create their own formulas and visualize math concepts through histograms, scatter plots and box plots using NBA and WNBA statistical categories such as points, rebounds, steals, assists and blocks.
"Each day, members of the NBA family – from players and front office staff to league referees – use a variety of STEM skills in all aspects of our game and business," said NBA Senior Vice President, Social Responsibility Todd Jacobson. "The NBA is excited to continue our partnership with Discovery Education to share with millions of students how the STEM skills they are developing in the classroom today can lead to a variety of exciting career opportunities in the future."
"Discovery Education is incredibly proud to partner once again with the NBA to bring this compelling event to teachers and students," said Discovery Education President of K-12 Education Scott Kinney. "This type of experience, which connects what's going on in the classroom to exciting career paths beyond graduation, provides a unique opportunity to ignite students' interest in STEM. We invite all educators to join us for this exciting virtual field trip."
Following the broadcast of Game Plan For The Future: An All-Star Virtual Field Trip, it will be archived in Discovery Education's Virtual Field Trip Library, which can be accessed here. For more information about Discovery Education's digital curriculum resources and content, visit www.discoveryeducation.com.
Secondary Content
Bottom Content