Section Branding
Header Content
Introducing 'Throughline,' NPR's First History Podcast
Primary Content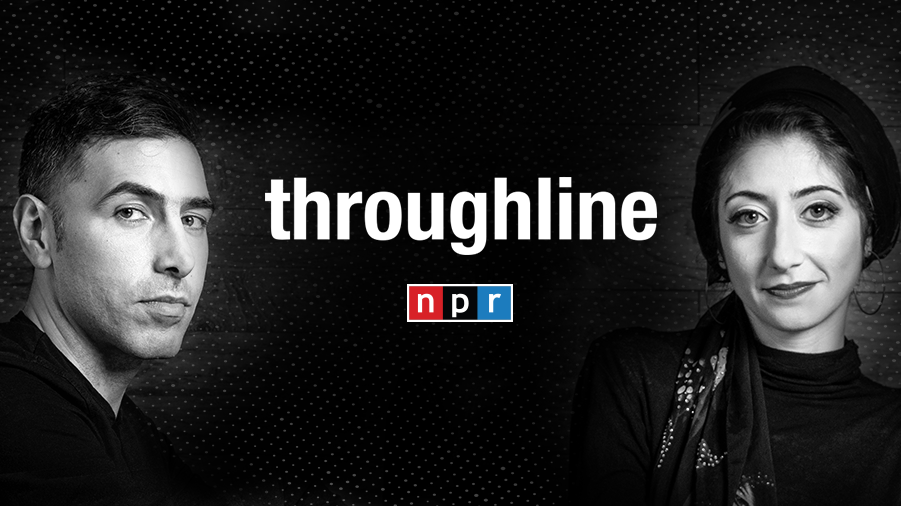 Throughline, the newest addition to NPR's podcast roster, provides the history we sometimes forget — or didn't know in the first place — of events in the news and ideas dominating our national conversations. Through cinematic and sound-rich storytelling, hosts Rund Abdelfatah and Ramtin Arablouei will give you the story and perspectives often missing from history textbooks to help you understand our world today.
Beginning February 7, Throughline will explain how the U.S. overthrew Iran's democratic government and changed the world; unpack how conspiracy theories shaped American political culture; explore the tradition of black athletes using their platform to protest injustice, and more.
"In Throughline, Rund and Ramtin will explain the history that underpins everything happening in this moment," said Anya Grundmann, senior vice president for programming and audience development. "We hope that Throughline will allow people to take a step back from the blinding speed of the news cycle and absorb, more profoundly, the historical context at play. Rund and Ramtin are two of our most charismatic and talented young producers and we're excited for them to come at this with a unique perspective and experience."
A trailer is available now on the NPR One app, Pocket Casts, Apple Podcasts, and wherever podcasts are available. Versions of Throughline episodes will also air on Morning Edition.
"To understand today's conversations about major issues and events, we need to know the complete history of things like immigration, US-Iran relations, and the opioid epidemic," said co-host Ramtin Arablouei.
"We want to bring history to life and make it feel urgent," said co-host Rund Abdelfatah. "Throughline is going to be an auditory experience. With sound design and music we'll create a world that listeners can immerse themselves in."
Rund Abdelfatah has worked at NPR since 2014. She's helped launch and produce How I Built This, Pop Culture Happy Hour, Code Switch, the NPR Politics Podcast, and TED Radio Hour, among other projects. She got her start in journalism covering local and domestic politics at the Washington Bureau of the BBC.
Before starting as the first producer on NPR's How I Built This in 2015, Ramtin Arablouei was a freelance composer, working on movies, commercials, and podcasts. He's composed music for eight podcasts that have been in Apple Podcasts' Top 10: TED Radio Hour, How I Built This, Hidden Brain, Invisibilia, Embedded, The Indicator from Planet Money, Reveal, and Wild Thing.
NPR podcasts average over 4 million downloads per day. According to the Podtrac industry ranker, NPR is the leading publisher of podcasts and has held the number one spot since it began counting in May 2016.
Secondary Content
Bottom Content