Section Branding
Header Content
Meet Our PBS KIDS Early Learning Champion Andrea "Miss Ladybug" Zoppo
Primary Content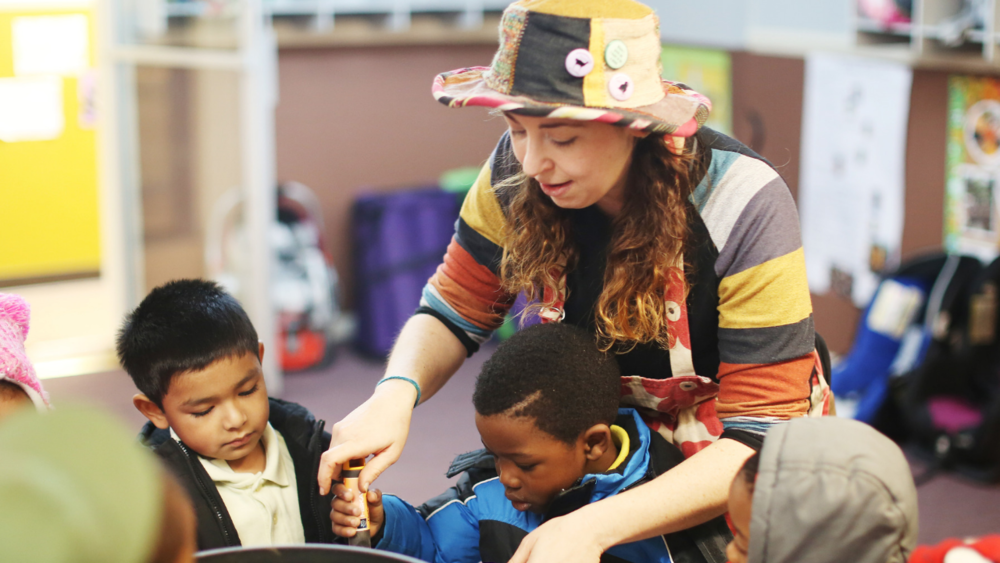 PBS KIDS Early Learning Champion is an initiative that PBS KIDS launched in 2018 to honor and elevate passionate educators of young learners.The 2018 Early Learning Champions represent diverse teaching experiences. Andrea Zoppo of Forest Park, Georgia, is one of 17 early learning educators selected in the 2018 PBS KIDS Early Learning Champions cohort. The Early Learning Champions will embark upon a two-year program of professional development and community collaborative opportunities with PBS KIDS and member stations. Zoppo, affectionately known as Miss Ladybug, will work closely with GPB Education as an educational consultant and to facilitate trainings for other early childhood educators.
Andrea "Miss Ladybug" Zoppo
"The roots, the roots, the roots dig down. The roots, the roots, the roots dig down, in the ground and drink up all the rain..." This chant was accompanied by foot stomping, dancing, and laughter. This was my view while sitting in the back of Miss Ladybug's classroom at the Early Learning Center located in Forest Park, Georgia. Miss Ladybug was facilitating a nature-based class that consisted of indoor and outdoor activities, filled with creative and innovative play. Children excitedly sang along word-for-word. The energy and enthusiasm for learning in this classroom was so infectious, I joined in. After spending time with Miss Ladybug in the classroom, in Washington, DC at the National Association for the Education of Young Children (NAEYC), and at the PBS KIDS Early Learning Champion Awards dinner and summit, I was able to learn much more about her journey to and through the world of early education.
Question: Could you describe the beginning of your career as a youth advocate and educator?
Miss Ladybug: Sometimes it surprises me. I had a woman interviewing me a few years ago and one of her colleagues walked into the room and she heard me speak and she recognized my voice from elementary school and said, "Andrea?" and I said, "Yeah?"
"We went to school together. We were in second grade together and anytime we got in trouble or I got in trouble you always stood up for us. You always stood up and said that's not fair, we were doing this, or we were only do that." So, I didn't I remember all of that, but she had all of these stories of me just like, standing up for our rights. I think it was always innate in me to have always stood up for what was right.
I come from a family of advocates. My mom's side is Jewish and were Holocaust survivors. My grandfather was from Germany and he advocated for Holocaust survivors. My other grandfather was from Italy and was a union organizer and an Italian immigrant translator and advocate. They both independently marched with Dr. Martin Luther King Jr. and I heard a lot about that growing up. It was a big inspiration to me.
I grew up in children's entertainment because my mom was a professional clown. So, I was always her assistant, from five years old. I would help her at birthday parties, and she would do routines and I would critique her as a child. So, it seems like it has always been a part of my world.
Who inspired you the most to work with children?
My grandmother. She was always about the children. When I was born, she took care of me. She was always about having joy and love in her life. She lived to be 99 years old, and she was always going to be where the children were. I've maintained a child-like quality of myself and I feel like children relate to me and I relate to them. There are certain qualities that I have that children receive well.
What kind of qualities would that be?
Well, I get really excited. I get super excited and super hyper over little things. I have all this energy and joy that bubbles out of me and it's very much like children are. I laugh and smile all the time, and I can relate with children when they get rambunctious and really excited. Our excitement fuels each other. Also, as a little girl, I was always told I had a baby voice. It almost became something I was ashamed of. I was always told to speak like an adult and not to speak like a baby, but this was my voice. So, when it comes to working with children - especially little children - I feel like, something about my voice has been a tool, where they could relate to it in some way. 
What are some of the different jobs you've worked professionally, as an educator?
I've been teaching since I was 19. I taught at an art camp that I went to as a child. In college, I was an after-school art teacher. I also was a professional clown and as a child I dressed up as characters like,  "Winnie the Pooh", "Teletubbies" and so forth. I also joined AmeriCorps and worked for Big Brother Big Sisters. I helped high school students' mentor younger children.
How would you describe your journey into educational entrepreneurship? What inspired you?
Well, I really didn't want to be on my own, but being quirky and how I am, I found myself being kind of like the odd bird, because I was always like, bringing in these really silly ideas. I felt like I wasn't always accepted with some of the ideas I had, being that I worked with kids and I had this more playful atmosphere about me. I felt like marginalized with my silliness *giggles*, but it was in me and I couldn't contain it. I worked with a lot of successful programs, but after a while, I realized that it would be better if I invested in myself and really took ownership of who I am and also embraced the silly side of me and use it with teaching and entertainment and really bridge it together. I learned a lot from the nonprofit world. I worked at five different organizations.
What would you say is your most important mission when it comes to working with children?
I really like to hear their discoveries. It's really those "aha" moments when I let them know and we create an environment for them to discover. If you can spark wonder, that's like half the battle. If you can have a safe space for children to wonder and have discoveries and let them know that you are interested in their discovery, then they start to problem solve and think about things and how they can help. When you equip them with tools and let them know that you are here to listen, that is the most beautiful thing. I want them to feel heard. There were times when I didn't feel heard. I want them to know that I hear them. I want to know what they find in nature, because they are going to be the ones that come up with the solutions and have the big picture. Instilling the stewardship in them is important.  
Secondary Content
Bottom Content