Section Branding
Header Content
Georgia Preschool Teacher Recognized As PBS KIDS "Early Learning Champion"
Primary Content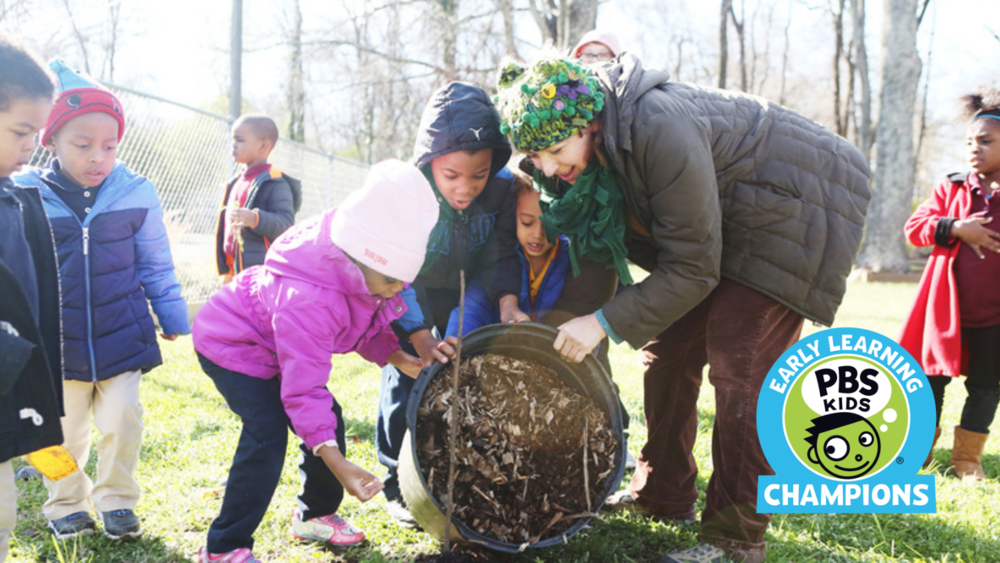 Today, PBS KIDS named 17 educators, including Andrea Zoppo from Little Ones Learning Center in Forest Park, Georgia, as PBS KIDS Early Learning Champions. This new awards program recognizes committed educators who work with young children, from infants to second graders, and will offer a variety of community building, leadership and professional learning opportunities provided by PBS and member stations over the next two years. The program kicks off this week, when the PBS KIDS Early Learning Champions will participate in the NAEYC Conference (November 14-16), get recognized at an awards ceremony (November 16), and attend the inaugural PBS KIDS Early Learning Champions Summit (November 17).
Andrea Zoppo, an early learning educator at Little Ones Learning Center in Forest Park, has a passion for teaching all things related to nature and the outdoors, and has laid the foundation for the Farm-to-Early Care and Education programming at Little Ones. With over 10 years of teaching experience, she has the ability to make each and every child feel important and recognized. Not only does she have a unique ability to work with children, she also has a gift for sharing the magic of curriculum and lesson planning with colleagues. Andrea brings excellence in teaching and creativity to the classroom, helping to build a foundation of lifelong learning for her students.
"At PBS KIDS, we're committed to helping children succeed in kindergarten and in life by engaging the entire ecosystem in which they learn," said Sara Schapiro, Vice President, PBS Education. "Early educators play a critical role in this community, but are rarely recognized for their tremendous contributions to our youngest learners. We are excited to honor, connect and applaud these important teachers and care providers through the PBS KIDS Early Learning Champions program."
The PBS KIDS Early Learning Champions cohort is made up of various early learning caregivers – including certified Pre-K, Head Start, and early elementary teachers, childcare providers as well as family, friends, and neighbors in early learning settings – representing, celebrating, and supporting the diverse teaching community impacting young learners. They were selected for their passion and commitment to early education. They have each demonstrated outstanding impact in supporting the growth and learning of the whole child, strengthening the learning ecosystem, and creating unique and innovative teaching experiences. Through the Early Learning Champions program, PBS KIDS aims to create a community that includes professional learning and networking opportunities for educators, while fostering relationships between them and their local PBS stations.
The 2018 PBS KIDS Early Learning Champions include:
Andrea Zoppo, Little Ones Learning Center, Forest Park, Georgia (GPB)
Avonda Ellison, Laugh-n-Learn Center, Salisbury, Maryland (MPT)
Carmen Espinosa, Little People's Academy, Inc., Dover, New Jersey (WNET)
Cora McNair, New St. Paul Head Start Agency, Inc., Detroit, Michigan (DPTV)
Natalie Beach, Prescott South Elementary School, Cookeville, Tennessee (WCTE)
Robbie Rose, East Baton Rouge Parish Schools, Baton Rouge, Louisiana LPB)
Roshanna Beard, Apalachee Tapestry Magnet School of the Arts, Tallahassee, Florida (WFSU)
Shelly Bautista, Carson Street Elementary School (LAUSD), Carson, California (PBS SoCal)
Susanne Tata, Alamo Heights Presbyterian Day School, San Antonio, Texas (KLRN)
Tara Haynes, Pine Mountain Settlement School, Bledsoe, Kentucky (KET)
Tina Mosley, Our Daycare & Learning Center, North County, Missouri (Nine Network)
Traci Piltz, Billings Public Schools, Billings, Montana (Montana PBS)
William Tolliver Jr., Children's Museum of Pittsburgh, Pittsburgh, Pennsylvania (WQED)
Doniell Elmore-Murray, Creative Corner Child Care, Inc., Dayton, Ohio (Think TV)
Angela Hamilton, Harris Elementary School, Las Vegas, Nevada (Vegas PBS)
Graciela (Grace) Munoz Villegas, Spanish for Fun Academy, Chapel Hill, North Carolina (UNCTV)
Jamal Berry, Educare, Washington, DC (WHUT)
Secondary Content
Bottom Content