Section Branding
Header Content
Discovery Education Adds Engaging New Content Supporting Social Studies, The Earth Sciences, And More To Award-Winning Digital Services
Primary Content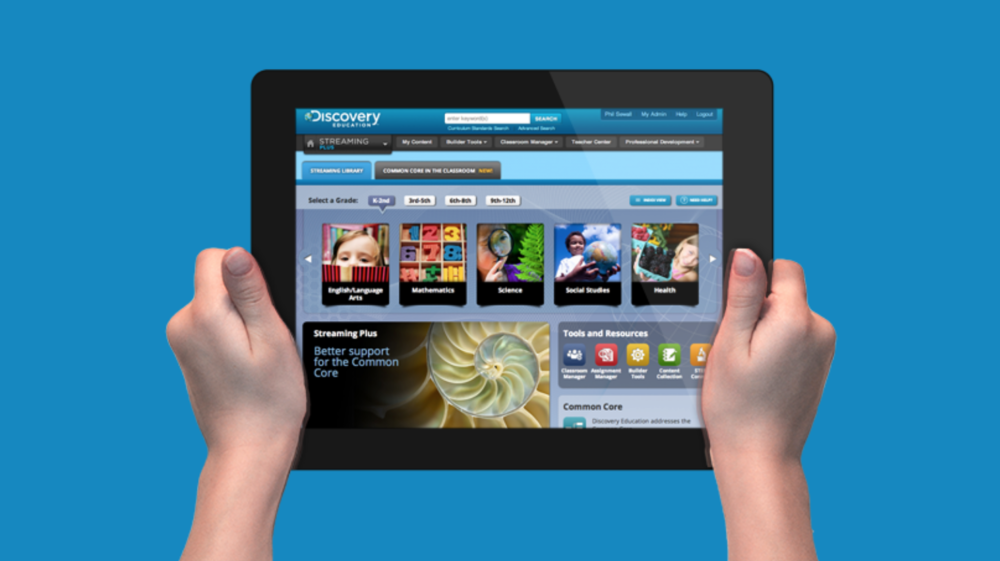 Discovery Education announced today it has added a host of new digital assets to its award-winning supplemental and digital textbook services. The recently-added content empowers educators to create dynamic digital learning environments that support social studies, life and earth sciences, social and emotional learning, and more.
Among the new resources added to Discovery Education's digital services are:
New Content Supporting Social Studies and the Earth Sciences: Two new video series produced by Discovery Education were added to the company's digital services and are now available to help educators engage students in social studies and science education. Through a new series of videos recently added to Discovery Education's and services, students and teachers can delve into the lives of some of American history's most prominent and influential Americans. In the first three videos of this series, students and teachers will gain new insights on such quintessential Americans such as George Washington, Harriet Tubman, and Abraham Lincoln, and learn how the legacies of these famous Americans continue to impact us today. In addition, Discovery Education has added to its Streaming Plus (free for all Georgia educators) and Science Techbook services a new series of videos that shed light on the scientific phenomena of drought, erosion, gravity, and light. When integrated into classroom instruction, these videos reveal for students the wonders of our natural world.
Content Exploring the Science of Happiness: Studies show that two out of three American teens are stressed and many don't know how to handle it. Discovery Education and LG have teamed up to take students on a virtual field trip (VFT) to understand how science-based skills and practices can help us achieve sustainable happiness. During this engaging VFT, which is now available in Discovery Education Streaming Plus, students will learn about the link between happiness and physiology from researchers at the Greater Good Science Center at U.C. Berkeley and visit two schools that incorporate the regular practice of these key, learnable skills.
A New Look at STEM Careers: For students wanting to learn more about career paths in STEM, six new videos have been added to the STEM Careers series in Discovery Education Streaming Plus and STEM Connect. Through these new titles, students can explore the skills, education, and dedication it takes to become a neurologist, storm water review engineer, dietician, cybersecurity and web development instructor, and waste and materials management specialist.
Adventures in Weather, Climate, and Marine Conservation: Now available in Discovery Education Streaming Plus and Science Techbook are 173 new reading passages and 27 videos covering topics such as weather and meteorology, climate, marine biology, and marine conservation from NOAA, the National Oceanic and Atmospheric Administration. In addition, 18 images featuring maps and safety resources for disasters have been added to those services.
Multi-language elementary math programs: New content in the series "Pharaohs and the Robot" is now available in English and Arabic in DE Streaming Plus Global. Students meet two young pharaohs in ancient Egypt who learn core math concepts from a time-traveling robot. Topics include comparing and ordering fractions, calculating area and circumference of a circle, and measuring length.
Discovery Education's STEM Connect enhances core curriculum and brings STEM to life in classrooms. A cutting-edge, web-based, interdisciplinary K-8 supplemental resource built on a 4Cs STEM skills framework, STEM Connect helps students develop the creative, critical thinking, communication, and collaboration skills they need for success beyond graduation. Featuring flexible, modular learning units, STEM Connect provides students an easy-to-follow educational experience that includes real-world challenges, career connections, and hands-on activities. 
Discovery Education Streaming Plus is a comprehensive digital service supplementing instruction across all K-12 curricular areas that helps build students' mastery in interpreting, understanding, and evaluating information across all subject areas. Students can access a variety of digital assets such as images, primary source documents, podcasts, articles, and videos, then are empowered to become content creators with a suite of content creation tools that help teachers and students safely and easily collaborate in real-time on virtual projects. Teacher resources include lesson plans, instructional strategies, and content collections organized around themes, as well as a collection of STEM resources designed to fuel a cultural shift in teaching and learning.
Georgia Public Broadcasting is proud to provide all Georgia educators free access to Discovery Education Streaming Plus services. To get started with your Discovery Education account, please email education@gpb.org. 
Secondary Content
Bottom Content