Section Branding
Header Content
Georgia Student Named Top 10 Finalist In "Young Scientist Challenge" By Discovery Education And 3M
Primary Content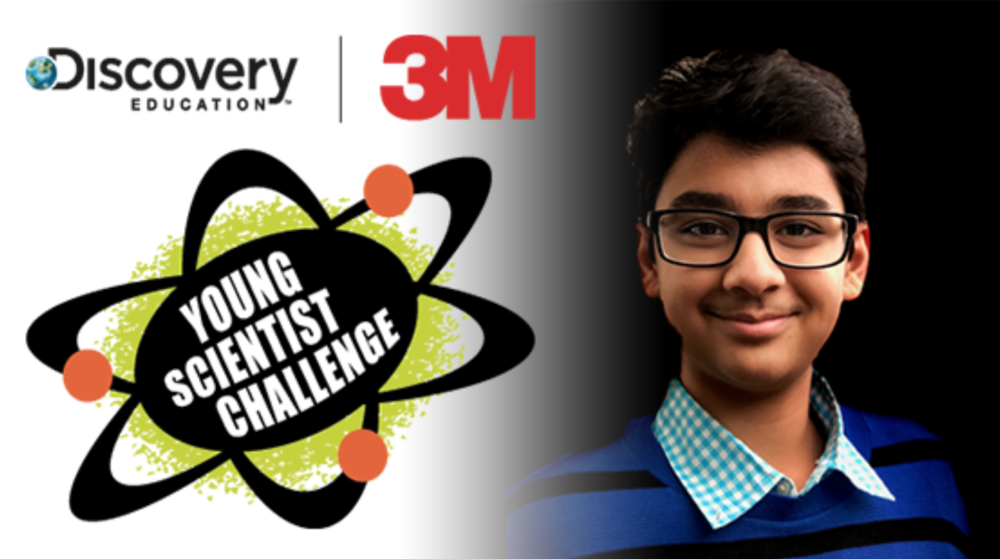 Young minds dream big, and when given the opportunity, they have the innate ability to spark change for the betterment of communities large and small. This week, Discovery Education and 3M named Krish Wadhwani, a student at DeSana Middle School in Alpharetta, Ga., as a top 10 finalist as part of its Discovery Education 3M Young Scientist Challenge. This competition recognizes students in grades 6-8 who exude curiosity in the scientific process and inspire peers to solve the biggest challenges of the present and future.
Students were invited to submit short videos that describe a new invention or idea that could solve or impact an everyday problem. Of hundreds who entered, judges selected 10 finalists for their exceptional science acumen, spirit of innovation and ingenuity, and effective communication skills demonstrated in their entry videos. The finalists, seven boys and three girls, ranging in ages from 12-14  ̶  include those from public and private schools all across the nation.
Finalists received $1,000 and will have the unique opportunity to work one-on-one with 3M scientists during a summer mentorship program to develop their ideas into a working solution that has potential to positively impact their family, community, or the global population.
Wadhwani's project, "Potential Cure to Huntington's Disease," proposes using an injection medication called "SyAMs Huntington Protein Untoxicator" that could potentially destroy toxic huntington proteins.
"I chose to focus on Huntington's Disease because I feel the general public often forgets about less common diseases like this one," says Wadhwani. "What's most important is that there is still no cure, yet it is taking thousands of lives on a yearly basis. It has always been my dream to cure a disease, and thanks to the Discovery Education 3M Young Scientist Challenge, I now have a platform to share my idea for a potential cure with the scientific community."
Wadhwani says he plans to pursue a career in the medical field and is specifically interested in cardiology and neurosurgery. If selected as the grand prize winner, he says he would use the $25,000 award to help fund his college expenses, donate to Saint Jude and the American Heart Association, and possibly use the money to expand this project even further. 
When asked about what he is looking forward to the most as a Young Scientist, Wadhwani said, "I absolutely cannot wait to get in contact with the 3M scientist I am working with. His name is Dr. Vasav Sahni and he is an expert in healthcare and technology! I strongly believe his mentorship will benefit me in many different ways and with some hard work, I believe I can harness the full capabilities of this project."
Students meet virtually with their mentors, who provide guidance from concept to prototype. 3M is a company rooted in scientific exploration, and the belief that every problem has a solution. These practices offer students complete experience of the scientific process and how to apply it to solve a real-world problem. Throughout the program, each student will have access to resources and support provided by 3M and Discovery Education.
"Year after year, we have been honored to witness firsthand the ingenuity and charisma of the nation's youngest generation," said Lori McFarling, senior vice president and chief marketing officer at Discovery Education. "3M shares our unwavering support for children who, no matter their age, seize the opportunity to solve real-world problems and who encourage their peers to explore the power of science." 
GPB Education extends its sincerest congratulations to Krish Wadhwani as he heads to St. Paul, Minn., to participate in the final competition at the 3M Innovation Center during October 2018. A panel of judges will evaluate finalists on a series of challenges, including a presentation of their completed innovation. Judges will score each challenge independently. The winner will receive $25,000, a trip to watch the taping of a Discovery Network show and the title of "America's Top Young Scientist."
Secondary Content
Bottom Content