Section Branding
Header Content
30 Books That Will Inspire Adventure This Summer
Primary Content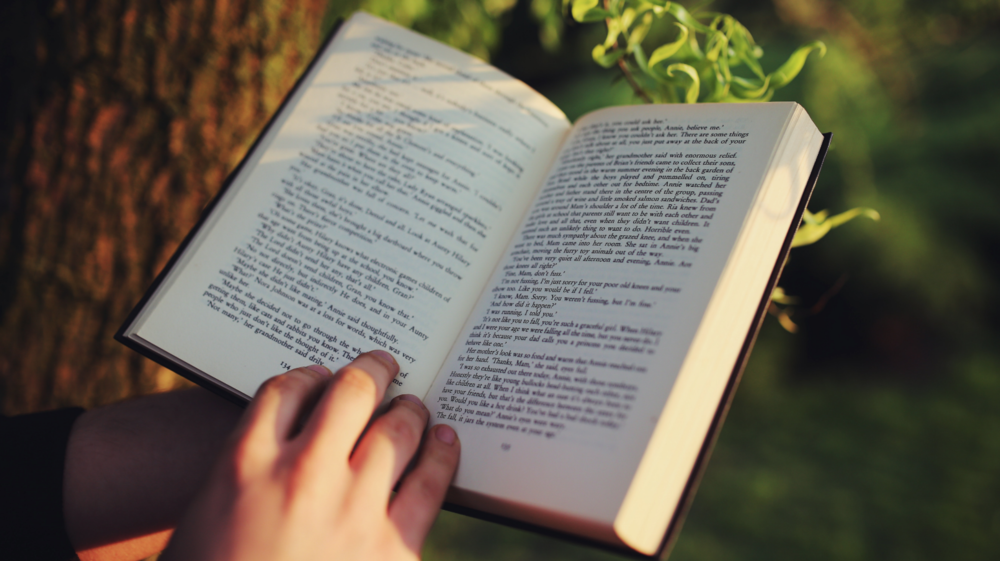 As PBS launches its Summer of Adventure programming and the Great American Read takes viewers on a journey to uncover the nation's 100 most-loved books, GPB Education is encouraging kids to seek adventure this summer through reading! From whimsical bedtime stories to action-packed series, these books will be sure to inspire adventure during the summer break. 
ELEMENTARY SCHOOL
1. From the Mixed-Up Files of Mrs. Basil E. Frankweiler by E. L. Konigsburg
When suburban Claudia Kincaid decides to run away, she knows she doesn't just want to run from somewhere she wants to run to somewhere—to a place that is comfortable, beautiful, and preferably elegant. She chooses the Metropolitan Museum of Art in New York City. Here, she gets caught up in the mystery of an angel statue that leads her on a quest to learn more about the previous owner, Mrs. Basil E. Frankweiler. 
2. Where the Wild Things Are by Maurice Sendak
Feeling misunderstood at home and at school, mischievous Max escapes to the land of the Wild Things, majestic—and sometimes fierce—creatures. 
3. The Jungle Book by Rudyard Kipling
Since its inception in 1894, The Jungle Book has enchanted readers―both young and old―with its invaluable moral lessons. By bestowing the animals in the stories with human traits, famed writer Rudyard Kipling gives readers timeless parables that teach family values and the importance of community.
4. A Wrinkle in Time by Madeleine L'Engle
When the children learn that Mr. Murry has been captured by the Dark Thing, they time travel to Camazotz, where they must face the leader IT in the ultimate battle between good and evil―a journey that threatens their lives and our universe. 
5. In the Night Kitchen by Maurice Sendak 
As the bakers in the night kitchen need more milk for their batter, Mickey falls into the cake! They decide to put him in the oven anyway, but Mickey has different plans. He escapes in a plane made of bread dough and helps the bakers find the milk at last.
6. Charlie and the Chocolate Factory by Roald Dahl
Willy Wonka's famous chocolate factory is opening at last! But only five lucky children will be allowed inside - including our hero, Charlie Bucket. With his golden ticket in hand, Charlie is ready for the wildest time of his life!
7. The Polar Express by Chris Van Allsburg 
A young boy, lying awake one Christmas Eve, is welcomed aboard a magical trip to the North Pole. Through dark forests, over tall mountains, and across a desert of ice, the Polar Express makes its way to the city atop the world, where the boy will make his Christmas wish.
8. Harry Potter series by J. K. Rowling
The adventures of Harry Potter, the Boy Who Lived, and his wand-wielding friends at the Hogwarts School of Witchcraft and Wizardry. Harry, Ron and Hermione must master their craft and battle the machinations of the evil wizard Voldemort and his Death Eaters.
9. Above the Timberline by Gregory Manchess
This lavishly painted novel tells about the son of a famed polar explorer searching for his stranded father, and a lost city buried under snow in an alternate future.
MIDDLE SCHOOL
10. Book of Ember series by Jeanne DuPrau
The city of Ember was built as a last refuge for the human race. Two hundred years later, the great lamps that light the city are beginning to flicker. When Lina finds part of an ancient message, she's sure it holds a secret that will save the city. She and her friend Doon must race to figure out the clues before the lights go out on Ember forever.
11. Island of the Blue Dolphins by Scott O'Dell
Far off the coast of California looms a harsh rock known as the island of San Nicholas. Here, in the early 1800s, according to history, an Indian girl spent eighteen years alone, and this beautifully written novel is her story.
12. Hatchet by Gary Paulsen
Thirteen-year-old Brian Robeson is on his way to visit his father when the single-engine plane in which he is flying crashes. Suddenly, Brian finds himself alone in the Canadian wilderness with nothing but a tattered Windbreaker and the hatchet his mother gave him as a present. It will take all his know-how and determination, and more courage than he knew he possessed, to survive.
13. The Hunger Games series by Suzanne Collins
In the ruins of a future North America, a young girl is picked to leave her impoverished district and travel to the decadent Capitol for a battle to the death in the savage Hunger Games. But for Katniss Everdeen, winning the Games only puts her deeper in danger as the strict social order of Panem begins to unravel.
14. Divergent series by Veronica Roth
In a future Chicago, 16-year-old Beatrice Prior must choose among five predetermined factions to define her identity for the rest of her life, a decision made more difficult when she discovers that she is an anomaly who does not fit into any one group, and that the society she lives in is not perfect after all.
15. The Maze Runner series by James Dashner
Sixteen-year-old Thomas wakes up in the middle of a maze, with no memory, and realizes he must work with the community in which he finds himself if he is to escape. But once he escapes, he discovers the outside world is a new and dangerous place.
16. The House on Mango Street by Sandra Cisneros
For Esperanza, a young girl growing up in the Hispanic quarter of Chicago, life is an endless landscape of concrete and rundown tenements. She tells her story in a series of vignettes, as she tries to rise above the hopelessness of her surroundings and come into her own power.
17. The Alchemist by Paulo Coelho
Paulo Coelho tells the mystical story of Santiago, an Andalusian shepherd boy who yearns to travel in search of a worldly treasure. His quest will lead him to riches far different—and far more satisfying—than he ever imagined.
18. The True Adventures of Charley Darwin by Carolyn Meyer
Young Charley Darwin hated school—he much preferred to be outside studying birds' eggs, feathers, and insects. And so, at the age of twenty-one, he boarded a ship called HMS Beagle and spent five thrilling but dangerous years sailing around the world, studying plant and animal life that was beyond anything he could have imagined.
19. The Ultimate Hitchhiker's Guide to the Galaxy by Douglas Adams
In this collection of novels, Arthur Dent is introduced to the galaxy at large when he is rescued by an alien friend seconds before Earth's destruction, and embarks on a series of amazing adventures, from the mattress swamps of Sqornshellous Zeta to the Restaurant at the End of the Universe.
20. The Sisterhood of the Traveling Pants by Ann Brashares
During their first summer break spent apart, longtime friends Lena, Tibby, Carmen and Bridget each embark on adventures that they share with each other through a pair of jeans that they have decided will be worn by all, and so will absorb all of their stories.
HIGH SCHOOL
21. Nick & Norah's Infinite Playlist by Rachel Cohn and David Levithan
High school student Nick O'Leary, member of a rock band, meets college-bound Norah Silverberg and asks her to be his girlfriend for five minutes in order to avoid his ex-sweetheart. That fateful five minutes leads to an all-night quest to find their favorite band's secret show.
22. The Hobbit by J. R. R. Tolkien 
Bilbo Baggins, a respectable, well-to-do hobbit, lives comfortably in his hobbit hole until the day the wandering wizard Gandalf chooses him to take part in an adventure from which he may never return.
23. Into the Wild by Jon Krakauer
In April 1992 a young man from a well-to-do family hitchhiked to Alaska and walked alone into the wilderness north of Mt. McKinley. His name was Christopher Johnson McCandless. He had given $25,000 in savings to charity, abandoned his car and most of his possessions, burned all the cash in his wallet, and invented a new life for himself. Four months later, his decomposed body was found by a moose hunter….
24. On the Road by Jack Kerouac
Inspired by Jack Kerouac's adventures with Neal Cassady, On the Road tells the story of two friends whose cross-country road trips are a quest for meaning and true experience.
25. A Confederacy of Dunces by John Kennedy Toole 
Ignatius J. Reilly is a flatulent frustrated scholar deeply learned in Medieval philosophy and American junk food, a brainy mammoth misfit imprisoned in a trashy world of Greyhound Buses and Doris Day movies. He is in violent revolt against the entire modern age.
26. Life of Pi by Yann Martel
Pi Patel survives a tragic disaster at sea and is hurtled into an epic journey of adventure and discovery. While marooned on a lifeboat, he forms an amazing and unexpected connection with the ship's only other survivor...a fearsome Bengal tiger.
27. Treasure Island by Robert Louis Stevenson
When young Jim Hawkins decides to follow a map to buried treasure, he must befriend or outsmart memorable characters such as pirate Long John Silver, captain Billy Bones, and island man Ben Gunn. Mutinous plans, mysterious deaths, and a tangle of double crosses keep Jim guessing all the way to the prize.
28. Ready Player One by Ernest Cline
When the creator of a virtual reality world called the OASIS dies, he releases a video in which he challenges all OASIS users to find his Easter Egg, which will give the finder his fortune. 
29. Paper Towns by John Green
One month before graduating from his Central Florida high school, Quentin "Q" Jacobsen basks in the predictable boringness of his life, until the beautiful and exciting Margo Roth Spiegelman, Q's neighbor and classmate, takes him on a midnight adventure and then mysteriously disappears.
30. Jurassic Park by Michael Crichton
An astonishing technique for recovering and cloning dinosaur DNA has been discovered. Now humankind's most thrilling fantasies have come true. Creatures extinct for eons roam Jurassic Park with their awesome presence and profound mystery, and all the world can visit them—for a price. Until something goes wrong…. 
What books inspire you adventure for you? Share them in the comments section or on Twitter and Facebook.
Secondary Content
Bottom Content