Section Branding
Header Content
6 Strategies For Differentiation With Discovery Education
Primary Content

Through Georgia Public Broadcasting's ongoing partnership with Discovery Education, all Georgia educators and students have free access to an expansive digital library of various content types, including images, audio files, reading passages, videos, games, and more. These multimodal resources provide diverse representations of the information, allowing educators to identify appropriate content for collective groups or individual students depending on level of interest, preferred learning style, and readiness. Accessibility and literacy-promoting features such as closed captioning and text-to-speech provide further options for enhancing learning in every student. 
In this blog, we explore the "Five Ws and How" of Discovery Education's learning management system as a supportive resource for differentiated learning and instruction.
WHAT Type of Learner Are You? There's Something for Everybody - Visual, Auditory, Reading/Writing, and Kinesthetic!
Featuring nearly 200,000 resources for all grades and subject areas, DE's Streaming Plus collection gives immediate access to quality, vetted content for all types of learners. You can search by keyword, topic, or even standard, then narrow down your choices by grade, type, reading or Lexile level, language, and copyright date.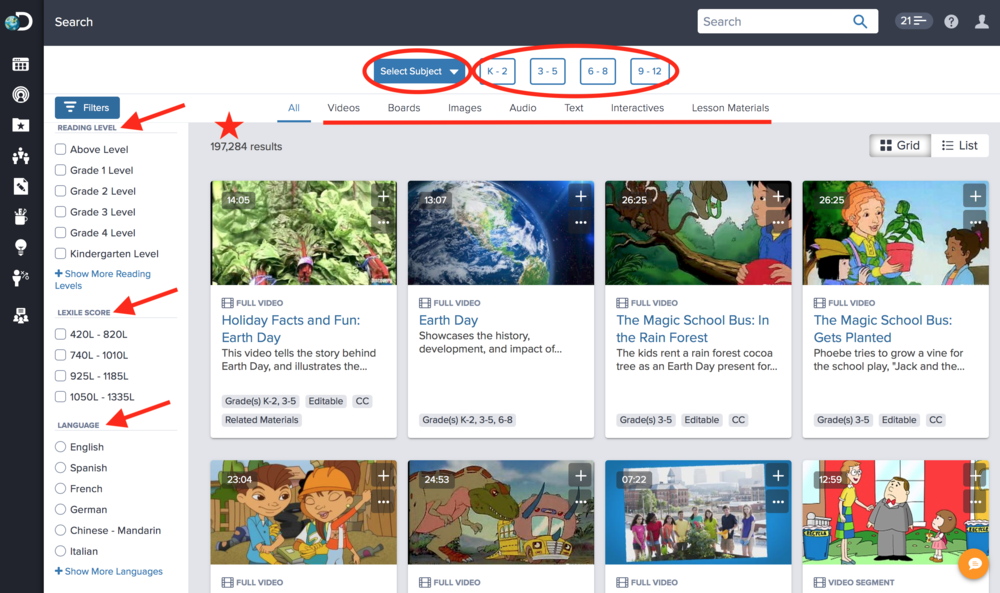 WHO Doesn't Enjoy a Good Video? Activate CC for a Literacy Boost and Keep it Short and Sweet With Duration Limits!
More than half of DE's online resources are videos, currently available in 19 different languages. You can further narrow down the choices by type of video (e.g., animated) and duration (e.g., less than five minutes). Or pick a favorite publisher – searching for Weston Woods will bring up over a thousand video books!
Looking for a subtle way to boost literacy in all of your students? Simply turn on the CC feature available in every close captioned Discovery Education video. Numerous studies have found that same-language subtitles help viewers decode words and read better, improving "foundational reading skills [such as] phonics, word recognition, vocabulary, and fluency" (neidlejm, 2016).
To activate closed captioning, click on the CC icon in the bottom right-hand corner of the video screen and set the text font, size, and color to your preference.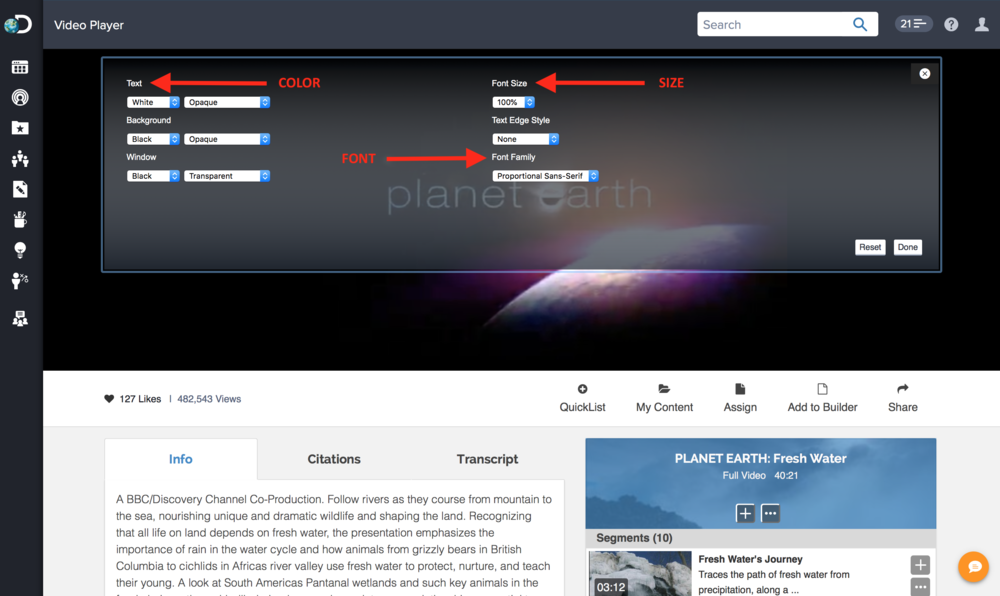 WHERE Did You Hear That? Turn Up the Volume to Learn More!
From songs and sound effects to audiobooks and podcasts, Discovery Education offers nearly 8,000 resources for auditory learners.  We all know how certain songs can stick in our heads, and this collection of educational music is no exception. Each tune comes with an accompanying PDF document of lyrics and can be inserted directly into a Discovery Education board (more on that coming up).
The podcast selection features series like "Stuff You Should Know" and "Stuff You Missed in History Class," while the audiobook collection includes everything from the preschool picture book Goodnight Gorilla to the young adult story The Hunger Games. And if you need to calm down your class with ocean waves crashing or wake them up with elephants trumpeting, there are over 3,000 sound effects to choose from.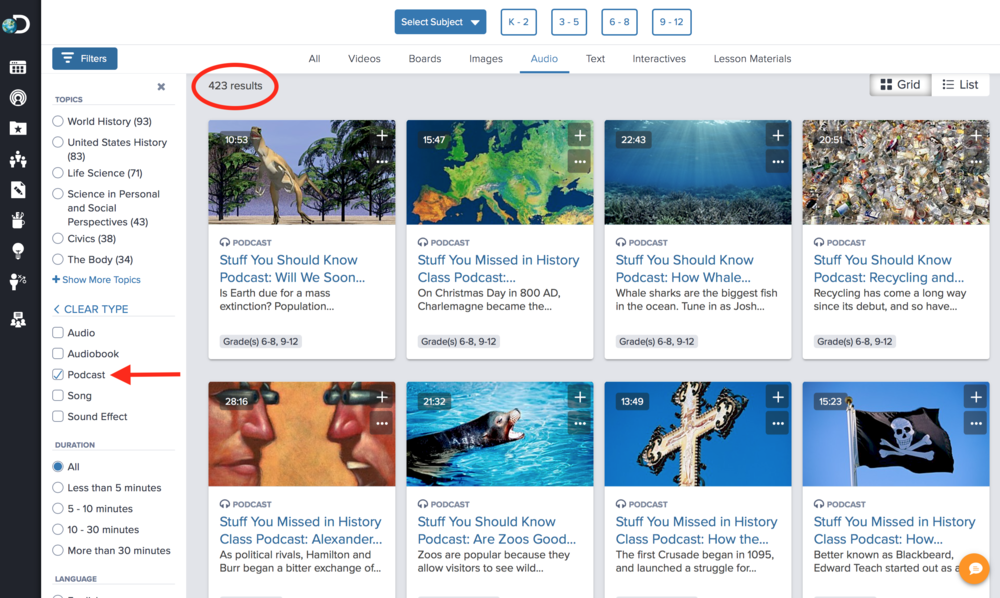 WHY Not Get Ready for Reading? Enjoy a Silent Read to Yourself or Activate docReader for a Read-Aloud Experience!
Besides the entire A-Z encyclopedia at your fingertips, Discovery Education's text collection includes activities, documents, reading passages, and learning guides that are presented via the docReader web-based application. This reading tool transforms text into speech so that you can listen while following along as words are highlighted on the screen.
Choose the menu at the top right for settings that will enable you to zoom in and out on the text, adjust the reading speed or text appearance, choose a highlighting color, activate the reading ruler, or save and print the document.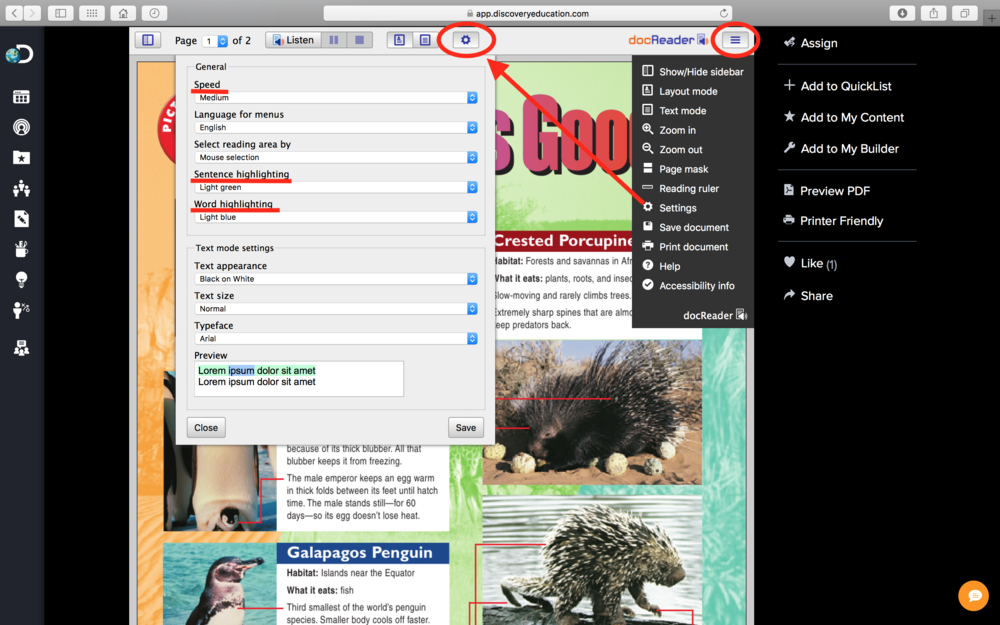 HOW Can You Share All of This Fabulous Content? Get Your Creative On and Build a Board!
Now that you have learned how to find and explore Discovery Education's content, what are some creative ways to share it with your students and colleagues? Board Builder allows teachers to embed a variety of content in one place where it can be easily accessed and explained. This tool is especially useful for guiding students through step-by-step lessons or activities using imagery and written or audiovisual instructions. 
To get started with Board Builder, check out the short tutorials in Discovery Education's Professional Learning Center.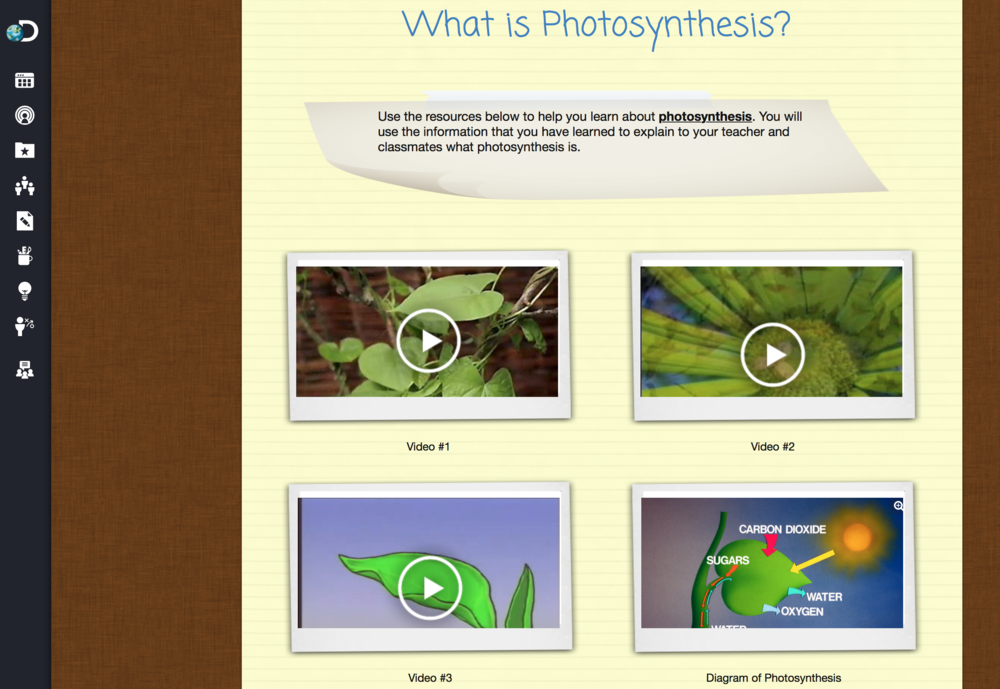 WHEN is the Best Time to Pair Content With a Teaching Strategy? Any Time – With More Than 300 Great Games and Activities!
Spotlight on Strategies (SOS) is a collection of teaching strategies and activities that promote meaningful interaction with Discovery Education's digital content. Choose kinesthetic learning activities like Four Corners and Snowball Fight or visual exercises like Picture It and Visual Walkabout. Auditory strategies include Silence is Golden and Surround Sound, or try a reading/writing exercise like AEIOU or Six Word Story. Introduce a strategy or two every month, and periodically bring back those strategies that resonate with your students. They will become familiar with the strategies over repeated use and will increase in confidence and skill as they apply these different approaches to content analysis. 
The easiest way to find the Spotlight on Strategies Content Collection is to search for "SOS" in the keyword box. Each strategy is grouped by a particular literacy skill that it promotes.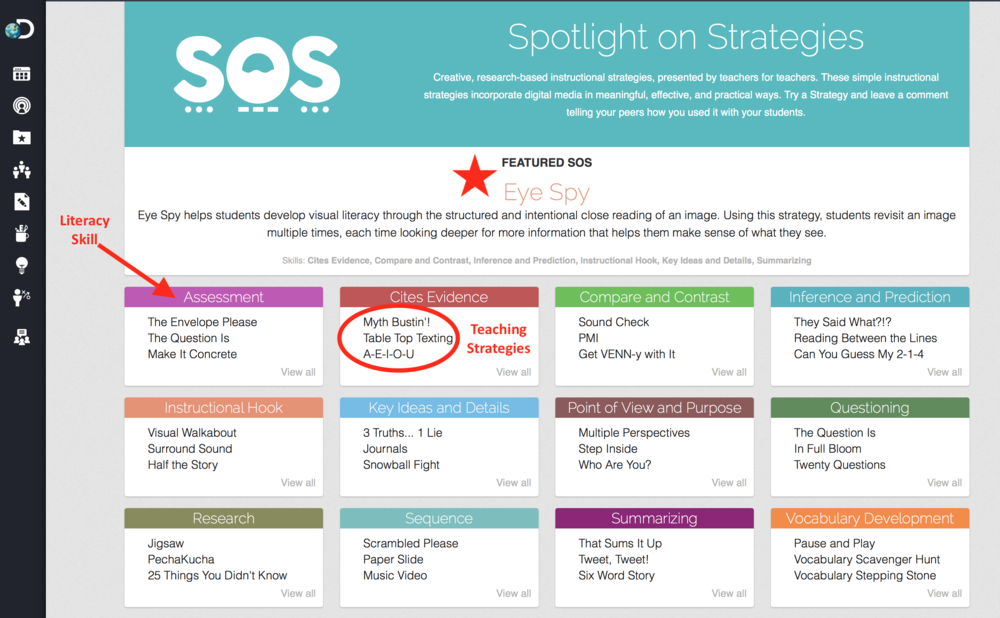 But Wait, There's More!
These six strategies for differentiation with Discovery Education are just the tip of the iceberg for what's available to Georgia teachers and students at no charge via DE's comprehensive learning management system. Activate your free accounts to access STEM camps, virtual field trips, collaborative projects, lively lessons, the Celebrate With DE calendar, hot topics (including a collection on differentiated instruction) and that's right – even more! 
GPB's education outreach team is standing by to offer help and hands-on professional development workshops on this comprehensive digital resource and the many others created, curated, and distributed by Georgia Public Broadcasting. Contact education@gpb.org to arrange for a free training at your location and convenience.
For more tips and tricks on differentiated instruction, follow us on Twitter and Facebook! 
Secondary Content
Bottom Content