Section Branding
Header Content
How To Get Great Content Quickly From PBS LearningMedia
Primary Content
Have a favorite show on PBS? Of course you do. Covering the broadest variety of content, PBS' programming addresses the spectrum of topics from science to drama, history to athletics, early childhood to advanced research. But an often overlooked resource is their platform PBS LearningMedia, offering more than 100,000 free digital resources to PreK-12 educators nationwide.
Organizations like the National Archives and Digital Public Library of America, along with well-known PBS shows like American Experience, NOVA, and Curious George, have curated lessons, videos, and interactives. For schools that face the challenge of restrictions on which websites are available, PBS offers some of the most prized content from Youtube, like the Crash Course series or even Khan Academy. Below, you'll see how to get quick access to robust content through several different methods. 
Subject Search 
Aside from the simplicity of using the search and filter features on the PBSLRM homepage, there are also content area search tools just a scroll away. In the screenshots below, you can see the subject area boxes available science, social studies, Math, and ELA. Just click a content area and you're off!
After choosing a content area, users can easily find grade-specific resources and even use filters within a subject to get more precise results. Each "Topic" (Numbers is shown here) also populates a selection of Featured Resources to help get you started with some of their latest and most popular content collections.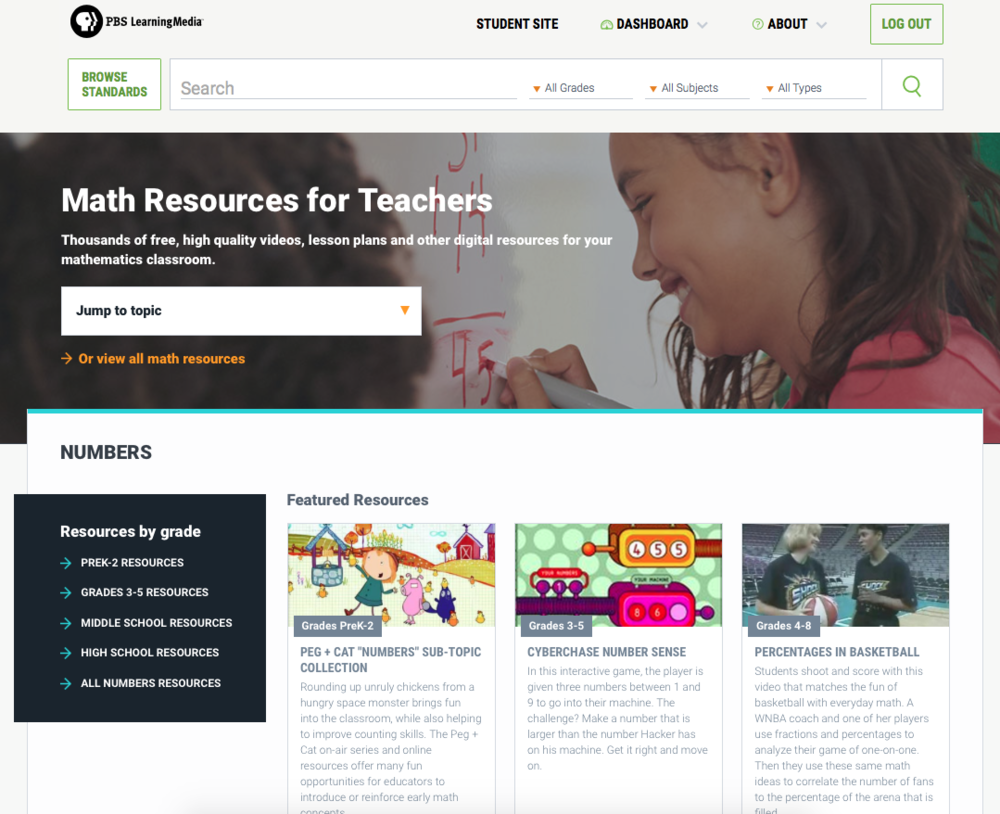 Content Collections and Tutorials
And speaking of Content Collections, we've created a little bit of a hack to help you navigate the best content from across the platform. Simply have a look at our Google site, which lists all of the best collections we've found organized by content area. All in one place! We organized everything around STEM, social studies, and ELA/FineArts.  Each collection is listed by subtopic and includes a small description as well. We even went as far as to include behavior management and character-building topics with a host of collections. 
Need a little help? No problem. Our own Mary Ann Lane partnered with Lynn Early, Georgia's 2017 PBS Digital Innovator to explain some of the basics of the platform, and also how Lynn makes the most of her time on the site. Our video is under twenty minutes, so no hour-long monologues here! But if you'd like a deeper look at PBS LearningMedia, their staff has put together several tutorials to navigate the basics, more in-depth ways to utilize content, as well as build your own resources using their tools.   
And if you were wondering about my favorite show, it's American Experience. As a history teacher, I find it invaluable. 
Secondary Content
Bottom Content