Section Branding
Header Content
A Conversation With Georgia's Top Regeneron Science Talent Search Scholar
Primary Content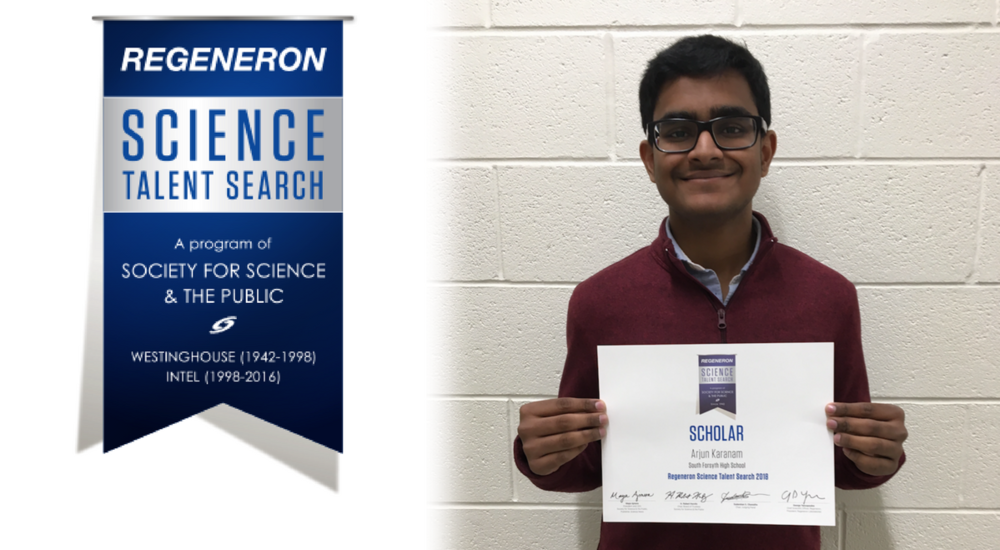 The Regeneron Science Talent Search, founded and produced by Society for Science & the Public, is the nation's oldest and most prestigious science and math competition for high school seniors. It recognizes and empowers the most promising young scientists in the U.S. who are creating the ideas and solutions that will address our world's most urgent challenges.
Guided by the belief that advances in science and engineering are key to solving global challenges, Society for Science & the Public founded the Science Talent Search in 1942, providing a national stage for the country's best and brightest young scientists to present original research to nationally recognized professional scientists. Science Talent Search alumni have gone on to receive more than 100 of the world's most esteemed science and math honors, including 13 Nobel Prizes, 11 National Medals of Science, two Fields Medals, 18 MacArthur Foundation Fellowships and five Breakthrough Prizes.
These competitions have inspired generations of science enthusiasts who have gone on to become Nobel Laureates, Fields Medal Recipients, and holders of more than 100 of the top awards in scientific achievement.
The Judging Process
The Regeneron Science Talent Search Evaluation Process searches for passionate individuals who display exceptional promise as a scientist, have an excellent record of academic achievement and receive outstanding recommendation(s) from teachers and scientists. The Research Report submitted by these students demonstrates outstanding research ability, creativity in asking scientific questions, and clear, thorough communication of the research. These students have put forth extraordinary effort in the pursuit of science research.  
Each entry is first reviewed by a rules committee, checking for any possible concerns with student eligibility, human and animal research procedures and approvals, and team research. Entries are passed through the iThenticate system to check for similarity to other existing sources and questionable reports are reviewed individually by the rules committee.  
Entries moving forward to judging are reviewed and scored by at least 3 Ph.D.-level scientists in the subject area of the research. These scientists review all portions of the application. There are no cutoffs for GPA, test scores or any other factor.  There are no limits to selections based upon category or geographic region, nor are there quotas to fulfill. Selections are based solely on merit.
The top 20-25% of entries are moved forward to be reviewed by a 15-member panel of Ph.D. scientists across all subject areas. This panel convenes in person to finalize the top 300 scholars and select the 40 finalists.  
While in Washington, D.C., the 40 finalists undergo five 15-minute judging interviews with 3-judge panels about all areas of STEM. They also present their research to the judges with a three-panel display. The top 10 winners are announced at an Awards Gala at the National Building Museum.
Regeneron Awards
In 2017, Regeneron, a leading science and technology company delivering life-transforming medicines for serious diseases, became only the third sponsor of the Science Talent Search, following previous sponsors Westinghouse and Intel. As part of its 10-year, $100 million commitment, Regeneron has significantly increased awards to better reward the best and brightest young talent and energize the next generation of groundbreaking minds. Regeneron has nearly doubled the overall award distribution to $3.1 million annually, increased the top award to $250,000, and doubled the awards for the top scholars and their schools to $2,000 each to inspire more young people to engage in science. Regeneron will serve as the exclusive sponsor for Science Talent Search through 2027, helping the nation identify, encourage and reward especially talented high school seniors in their pursuit of excellence in science, math, engineering and medicine.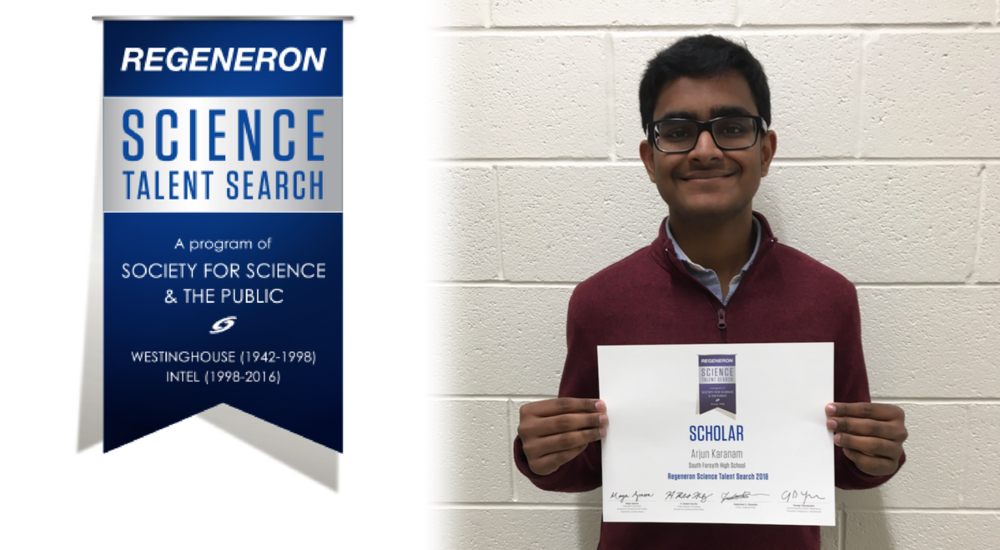 To better understand the path to becoming a top research scholar, we spoke with Arjun Karanam, a senior at South Forsyth High School. 
Tell us a little bit about yourself. 
A lot of what I do centers on using my skills in Technology in order to help my community. I do lots of research projects that utilize computer science, love to make Android apps, and even coordinate workshops at my local library teaching elementary school kids how to code! I also love to debate and practice archery in my spare time. I became interested in science and conducting research back in middle school, when I conducted a project on optimizing the efficiency of solar panels. Back then (and to this day), it fascinated me that as just a student, I could contribute to a massive body of work and potentially come across a finding that could help other people.
How did you become involved in the Regeneron Science Talent Search?
Over my high school career, I've participated in numerous science competitions, from the ubiquitous Science Fair to competitions like the Junior Science and Humanities Symposium and the Siemens STEM competition. The holy grail has always been the Regeneron Science Talent Search, a competition restricted to seniors that serves not only as an evaluation of your research project, but as a culmination of all you've done as a scientist. 
What is your research project about?
My research project is title "Using Oil Compounds and Machine Learning Algorithms in order to Develop an Effective and Affordable Solution to Mitigate Radon Gas." The research process itself was full of many twists and turns, with most of it being my spending countless in my basement perfecting my experimental design. Along the way, there were many challenges, such as finding a way to stop the experimental chamber from leaking and creating an algorithm with the proper accuracy rate, but part of the fun of conducting research is finding a way to overcome these challenges and face the next ones.
The inspiration for my research project came from one of my relatives being diagnosed with Lung Cancer from a reason that many wouldn't expect - Radon Poisoning. Immediately afterward, I became dedicated to finding a more affordable and accessible method to prevent Radon Poisoning, because many current solutions either cost thousands of dollars, require a massive renovation to your home, or both. Although I didn't envision it at first (I always thought my project would never leave my basement), I know have a provisional patent on my invention and my project is now being tested by several local non-profit organizations for an eventual rollout to Radon-heavy acreas across Georgia.
What advice would you give someone who wants to enter the Regeneron Science Talent Search?
The first step to having a Regeneron entry is to both have a research project and have a love for science (and have it show through the stuff you do.) Whenever people ask me how to come up with an idea for a research idea, I never have a right answer. The way I come up with my research projects is very organic, and usually results just from things I notice about the world around me. For example, the inspiration from my Regneneron project came from my relative, and the inspiration behind another project came from me being frustrated at my phone's ever declining battery life. The best problems to solve are those that have effected you either directly or indirectly. 
Obviously you're a pretty smart guy. What are your plans after high school?
Currently, I have been accepted to and plan to attend Princeton University, where I will be studying Computer Science with minors in Cognitive Science and Robotics and Intelligent Machines. Beyond college, I would like to create my own startup company where I would continue my goal of using technology (specifically Machine Learning and Artificial Intelligence) in order to help my community as much as possible.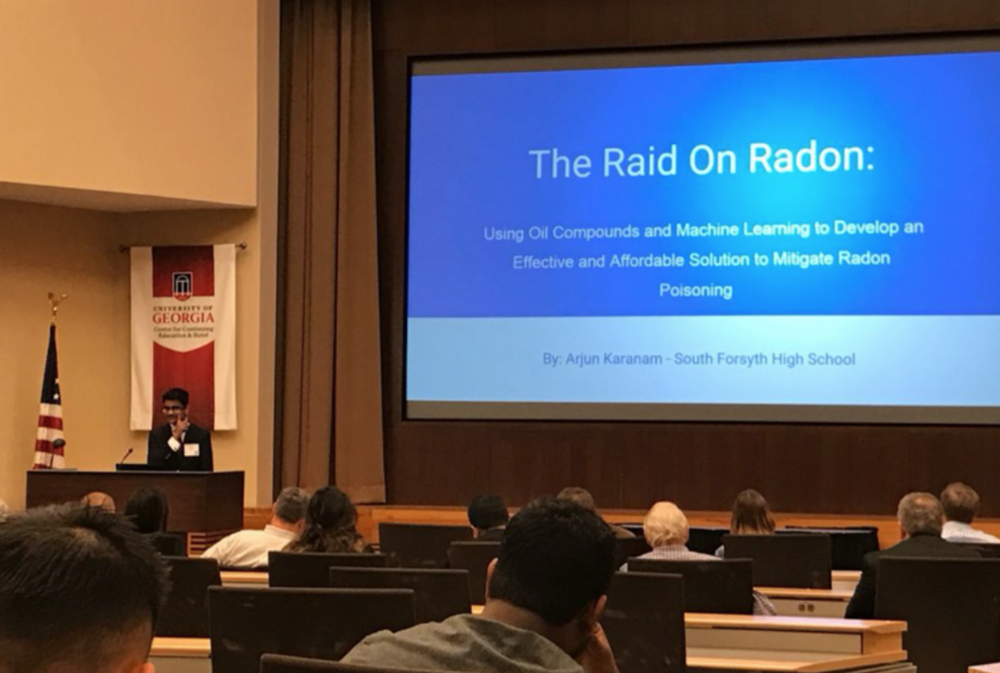 To learn more about the Regeneron Science Talent Search and other top scholars, click here. 
Secondary Content
Bottom Content