Section Branding
Header Content
Interactive Digital Storytelling Is Here!
Primary Content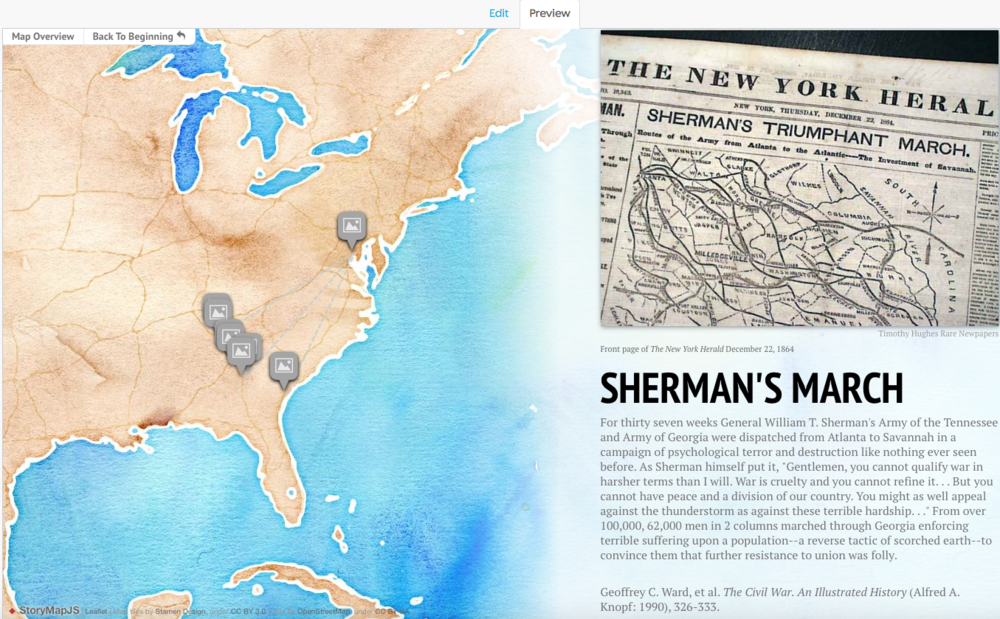 Looking for a new way to display historical information or allow students to demonstrate their mastery and understanding? Hoping to integrate more dynamic instructional technology into your teaching? Look no further than StoryMapJS created by the Knightlab at Northwestern University. A free open-source authoring tool, StoryMap is user-friendly and visually striking. Story Maps are a popular strategy to teach comprehension. As Adolescent Literacy, an initiative of Washington D.C. public television station WETA, points out this "technique uses visual representations to help students organize important elements of a story." And in terms of social studies, these stories are the heart of the narratives we use to teach topics like history. ReadWriteThink has several great lessons to help you get started.
Not long ago I wrote about oral history and its utility in the classroom for social studies education. StoryMap takes this approach to the next level by allowing users to create narrative histories with interactive maps. Each slide puts a point on a map (familiar to anyone who uses GPS); then creatively edit the background map and zoom in or out, upload, link, and write content to tell your story. Some of the largest new outlets in the world have contributed examples including The Washington Post, CNBC, Al Jazeera, and National Public Radio's Marketplace. Once you've created your free account and logged in, there are a few different ways to begin creating.
A narrative story based on maps and images appears to be the most straightforward. A social studies teacher could follow military campaigns, elections, or social movements. Science teachers could track the spread of a disease or the history of a medical or technological development. Fine Arts educators might trace an artistic movement or the biography of a famous artist. But these are basic ideas.
A more challenging approach is their gigapixel option which allows users to focus on one uploaded image rather than move through a narrative map. Educators might explain parts of a painting or photo, analyze a political cartoon or campaign poster.
Macalester College offers a great tutorial!
Already having great success with using story maps in the classroom? Have great tips for engaging students with this great tool? Let us know in the comments section.
Secondary Content
Bottom Content