Section Branding
Header Content
Discovery Education Hosts Virtual Viewing Party To Remember Pearl Harbor
Primary Content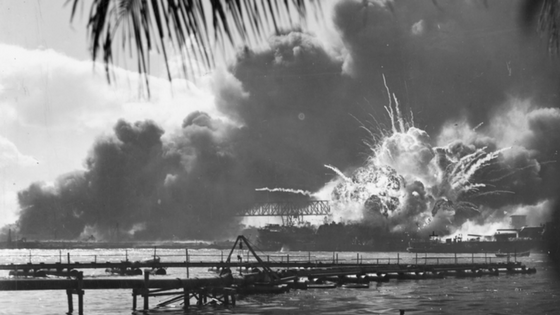 On December 7th at 12:55 pm (ET), join Discovery Education in remembrance of the 75th Anniversary of the attack on Pearl Harbor for a virtual viewing party. Together, students across the country will gather to watch President Franklin D. Roosevelt's speech to Congress at the exact moment the first bomb struck 75 years ago.
FDR's Pearl Harbor Speech to the Congress of the United States, which was broadcast live by radio the day after the attack, attracted the largest audience in US radio history, with over 81% of American homes tuning in. Today, thousands of classrooms will simultaneously access this video, which shows portions of President Roosevelt's speech as well as footage of Americans gathering listen to the speech and Congress' formal declaration of war. Having students across the country listening at the same time simulates the shared experience and allows students to share their thoughts, reflections, and emotions through modern devices.
Join the conversation by following @DiscoveryEd on Twitter. Share photos of your classroom viewing, reflections from the essential questions, and more using #CelebratewithDE.
This video is available to Discovery Education Streaming customers. GPB is proud to provide all Georgia educators free accounts with Discovery Education. To access your username and password, email us at education@gpb.org.
Classroom Resources
GPB is proud to provide free resources to Georgia educators and students through our partnerships with PBS LearningMedia and Discovery Education.
Georgia World War II Oral History Project 
Grades: 5-12
Our World War II Veterans Oral History Project presents the story of World War II through the personal accounts of men and women from Georgia whose lives were touched by the war. Through letters, photographs, and full-length video interviews, the project makes the experiences of Georgia's "greatest generation" available for generations to come.
Grades: 6-12
This mini collection of photographs from the 1941 attack on Pearl Harbor were individually selected from the prestigious Getty Images collection to help PBS LearningMedia teachers and students discuss the attack, its legacy, and its impact on the United States' involvement in World War II. 
Grades: 6-12
In this KACV educational unit about World War II, students will learn about the attack on Pearl Harbor. Students will consider whether the attack could have been prevented and learn that proper communication is vital to protect society and to prevent conflict. The unit includes video interviews with WWII veterans, a student research handout, and lesson plans. 
Secondary Content
Bottom Content