Section Branding
Header Content
Dive Into Learning With SPLASH AND BUBBLES!
Primary Content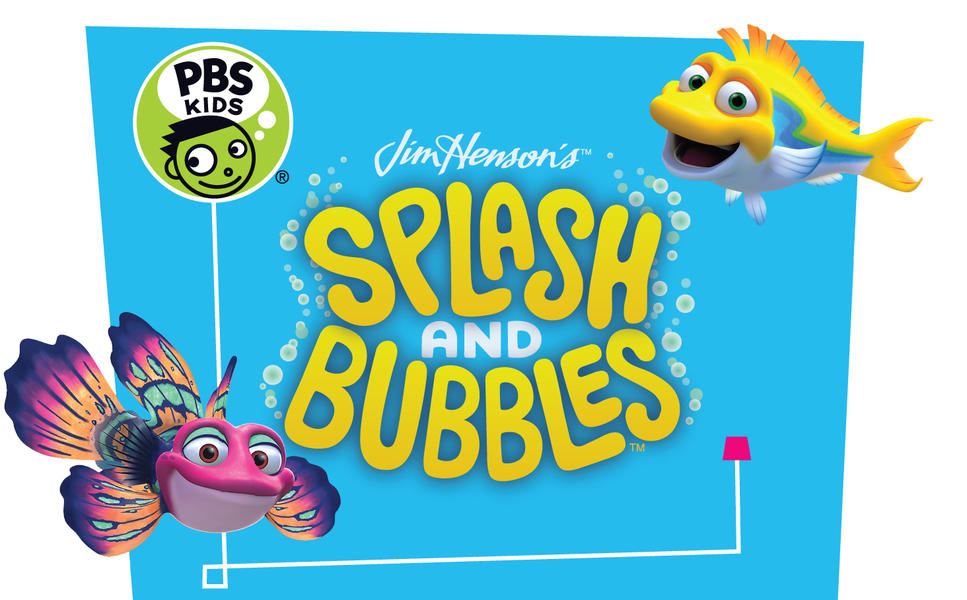 Splash and Bubbles from The Jim Henson Company and Herschend Enterprises will premiere Wednesday, November 23, 2016, on GPB. Using groundbreaking digital puppetry technology, the animated series will help children learn marine biology and ocean science concepts while building social-emotional skills.
The show is designed to encourage kids ages 4-7 to explore the natural undersea world. Developed with an advisory panel of top marine biologists, digital innovators and educators, Splash and Bubbles is grounded in a marine biology curriculum that focuses on themes of diversity, individuality, interconnectedness and the celebration of learning and discovery. The series also introduces the concepts of ecological balance and the importance of taking care of the ocean.
Splash and Bubbles follows the adventures of Splash, a yellow fusilier fish who has migrated all over the ocean before settling down in Reeftown, where he befriends Bubbles, a Mandarin dragonet whose vivid orange and electric blue coloring matches her colorful personality. Until Splash came along, Bubbles and most of the other Reeftown residents had no idea what lived beyond the cozy confines of their coral walls. Together, Splash, Bubbles and their friends explore the world's undersea habitats, make new friends and learn about the many different ways life looks and lives in the ocean, celebrating the importance of diversity along the way.
"Through the adventures of Splash and Bubbles, we hope to inspire environmentalism, empathy and curiosity about the vast world of marine biology," said Lisa Henson, CEO of The Jim Henson Company. "We hope the series becomes a starting point for children to build confidence in their ability to make a difference in our environment and inspires a lifetime of learning."
Classroom Resources
GPB is proud to provide free resources to Georgia educators and students through our partnerships with PBS LearningMedia and Discovery Education.
Lu the Explorer
Grades: Pre K-K
Have your class learn along with Splash and friends in this lesson plan that accompanies the Splash and Bubbles story segment "Lu the Explorer". Teach about ocean zones and biodiversity in this lesson aimed at prek and kindergarten. 
Octo-Explorer
Grades: 1-3
In this PBS lesson, learn all about the special characteristics of the octopus which help them to defend themselves in the ocean! Viewers learn that the octopus has the power to camouflage themselves, use jet propulsion to travel quickly, and the defend themselves by shooting ink!
The Great White Shark
Grades: 3-5
Meet Cretoxyrhina, the ancestor of the Great White Shark. Like its ancestor, the Great White is an excellent hunter owing to its sense of smell and sharp teeth. Venture into shark-infested waters and discover that the creature of our imaginations may not be the monster we think it is in this clip from KQED's QUEST series.
Guess How Whales Hear!
Grades: K-5
What does the ocean sound like to a whale? How do whales hear? Dr. Darlene Ketten of Woods Hole Oceanographic Institution really wanted to know. This video segment reveals how one marine biologist used the scientific process to learn more about what and how whales hear.
Understanding Oceans
Grades: 6-8
Learn how ocean currents affect water temperatures, weather, and life all over the globe in this Discovery Ed lesson plan.
For more great education resources and news about Splash and Bubbles, follow us on twitter and like us on Facebook: @GPBEducation. 
How do you teach your little ones about the ocean? Share with us in the comments section below!
Secondary Content
Bottom Content