Section Branding
Header Content
A Great PBS LearningMedia App For Students
Primary Content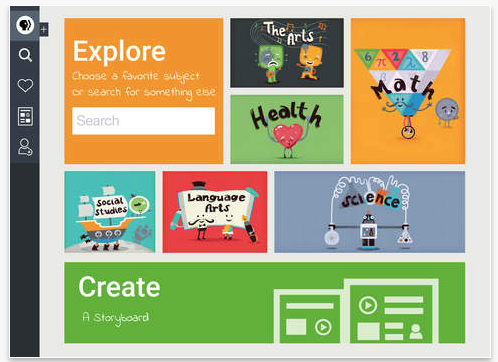 A companion to the PBS Students site, PBS LearningMedia supports an amazing app for students. Free for iOS, it offers help for homework and also allows students to explore great content and resources from the National Archives and NOVA to Jim Henson and NASA. Registration for students requires little to no privacy concerns. Their award-winning digital tools allow students to aggregate their favorite resources while also being creative makers through Storyboards. Teacher can also assign students content to complete. Click here to get students registered for the website.

PBS Students is brought to you by PBS LearningMedia, PBS' education destination designed to empower educators and students by offering free resources to drive learning and achievement. You can support PBS LearningMedia through the selection of other apps and TV shows available in the iTunes Store and by visiting pbsstudents.org (students) or pbslearningmedia.org (educators).

Why download the app?

NEW, RELEVANT RESOURCES EVERY WEEK
PBS adds new, innovative resources every month related to the topics learned in class and current events that can help support your learning and keep you current.

ACCESS TO THOUSANDS OF RESOURCES
Explore, view, save and download thousands of resources from videos and games to images and audio clips.

FAVORITE YOUR FAVORITES
Favorite resources you love so that you can have quick access anytime.

TOOL TO CREATE AND DEMONSTRATE
Create illustrative interactive web pages (Storyboards) using resources, graphics and images that will wow your teachers and parents, using your favorite resources to demonstrate your mastery of concepts. (For Kids 13 years and +)

As America's largest classroom, PBS offers digital content and services for teachers of children from pre-K through 12th grade that help bring classroom lessons to life. PBS LearningMedia, a partnership of PBS and WGBH Educational Foundation, is a free and paid media-on-demand service offering educators access to the best of public media and delivers research-based, classroom-ready digital learning experiences to engage students in exploring curriculum concepts that align with National and Common Core State Standards. Nationwide, more than 1.8 million teachers and users have registered access to more than 120,000 digital resources available through PBS LearningMedia. Through our partnership with PBS LearningMedia, GPB offers free accounts and support to every teacher and student in Georgia. To learn more information about PBS LearningMedia and get started with your free account go to PBSLearningMedia or email us at education@gpb.org.
Secondary Content
Bottom Content