Section Branding
Header Content
PBS Kids Kicks Off New Holiday Programming
Primary Content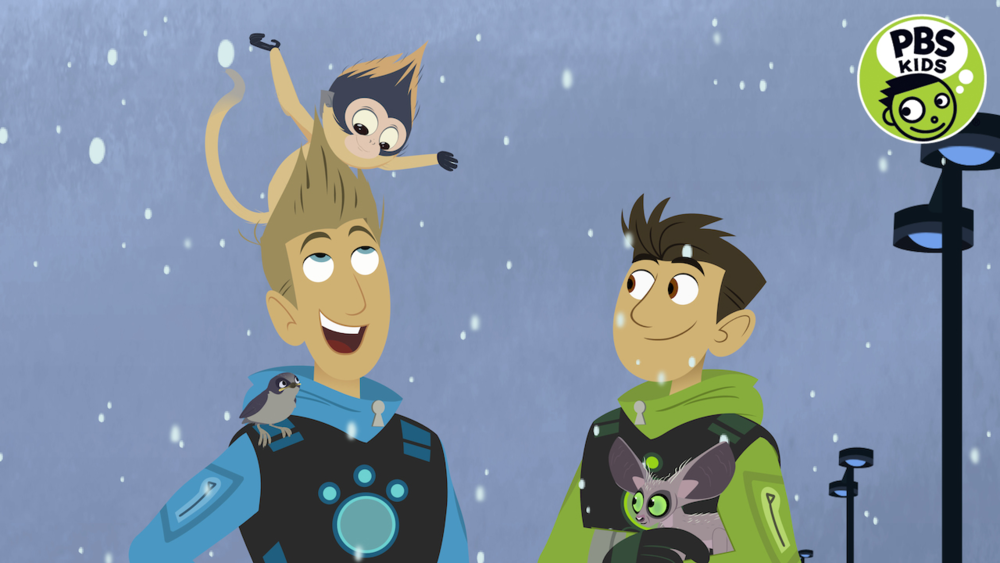 PBS Kids, the number one educational brand for kids, is making its way into homes again this holiday season with new episodes of children's favorites. New holiday-themed episodes of DINOSAUR TRAIN and SUPER WHY! premiere on December 7 and will re-air throughout the month. Additionally, PBS Kids premiered WILD KRATTS: A CREATURE CHRISTMAS, an hour-long movie in which the Kratt brothers race to return disappearing baby animals to their families in time for Christmas. Clips from the special are available on pbskids.org and the PBS Kids video app. Additional program descriptions and airdates are below.
PBS KIDS Holiday Program Descriptions and Airdates (check local listings)
WILD KRATTS: A CREATURE CHRISTMAS
Encore presentations on December 7, 18, 20, 24 and 25
In this one-hour special, it's Christmastime and the Wild Kratts are taking a break from creature adventuring to celebrate. But when the Wild Kratts receive an alert that their favorite creatures are suddenly disappearing around the globe, their holiday party quickly turns into a rescue mission. The Wild Kratts must race against time to thwart their greedy archrivals' most miserly scheme yet! Will they be able to travel to the ends of the earth and return their baby animal friends to their homes in time for the holidays?
DINOSAUR TRAIN - "Trains, Submarines and Zeppelins"
Premieres December 7; encore presentations on December 17, 25, and 27
When Mr. Pteranodon and Larry go out to the Big Pond to find some red platanoids for the Winter Solstice Celebration, they accidentally miss the last train home. Will Larry and Mr. Pteranodon stop bickering long enough to figure out a way home, or will they be stranded in the middle of nowhere and miss the family Winter Solstice Celebration?
SUPER WHY! - "Judith's Happy Chanukah"
Premieres December 7; encore presentation on December 9
Whyatt is excited to have been invited to Red's Gramma's house to celebrate Chanukah, but doesn't know much about the holiday. To learn more, the Super Readers jump into the book Judith's Happy Chanukah, where they meet Judith, who loves Chanukah so much that she can't wait to share it with her new friends.
ARTHUR'S PERFECT CHRISTMAS
Airs December 7, 12 and 25
Everyone's favorite aardvark gives kids a new spin on seasonal traditions in this one-hour special, showing children the many ways to celebrate. Plans are underway in Elwood City for the best holiday season ever as Arthur, D.W., their family and friends make preparations for perfect gifts, perfect parties, and perfect family traditions for Christmas, Hanukkah, Kwanzaa, and even "Baxter Day" (Buster and his mom's special celebration). However, just as in real life, perfection is hard to attain and Arthur learns that the real joy of the holidays is spending it with his family.
PEG + CAT + HOLIDAYS
Airs December 7 and 24
"The Hanukkah Problem" - When Albert Einstein invites Peg and Cat over for Hanukkah, he shows them how to make a 2D piece of paper into a 3D dreidel. Later, they need to use this process to bring peace to Al's home and save his Hanukkah. "The Christmas Problem" - When Santa Claus is in trouble, Peg and Cat have to solve their biggest problem ever: how to make and wrap presents for all the children of the world and then deliver them using 100 sleighs. "The Penguin Problem" - Peg and Cat coach a team of skiing penguins, who would have a shot at the Olympic gold medal if only they knew "over," "under," and "in between."
CURIOUS GEORGE: A VERY MONKEY CHRISTMAS
Airs December 7, 12, 20, 24 and 25
Join George and The Man with the Yellow Hat as they countdown the days until Christmas. There's only one puzzle: neither of them can figure out what to give the other for a present. The Man is having trouble reading George's wish list and George doesn't have a clue about what to get for the Man who has everything. Will they be able to find the answers before Christmas morning?
THE CAT IN THE HAT KNOWS A LOT ABOUT CHRISTMAS!
Airs December 8, 16 and 24
This adventure finds the Cat in the Hat, Nick, and Sally on a journey around the world to help a lost reindeer find his way home to Freezeyourknees Snowland in time for Christmas. On the way, the Thinga-ma-jigger breaks down and they depend on a variety of animals – from African bush elephants to bottlenose dolphins to red crabs – and their remarkable abilities to help them make an amazing journey home.
For more information on specific PBS KIDS content supporting literacy, science, math, and more, visit the PBS website.
Secondary Content
Bottom Content