Section Branding
Header Content
EdTech Tips: Immerse Yourself In Duolingo!
Primary Content

Want to learn Spanish? French? Italian? Dutch? Turkish? Duolingo is the free science-based language education platform to help you make that desire a reality. With over 100 million users, Duolingo has challenged the way people think about language acquisition. It has 40 different language courses and is available on multiple platforms: duolingo.com, Android, iOS, and Windows Phone. While Duolingo is a great way for anyone to learn a language, it also has an education platform called Duolingo for Schools that was created to give educators access to their students' progress.  Teachers can create sections of students whether by class period or ability. Once sections are established, a link is generated; teachers can copy that link into an email to students where once they accept the invitation. Students will then be prompted to create a Duolingo account (or log in to their existing account) and asked to confirm that they want to share progress with you. Students will automatically appear on your dashboard.
Here is what teachers need to know about Duolingo:
· Duolingo for Schools is FREE!
Currently, Duolingo for Schools is 100% free and there are no advertisements or in-app purchases to interrupt or distract your students. According to their website, the mission of Duolingo is to "bring fair access to education around the world" and they intend to never charge people to learn a language.
· Teacher dashboard
The dashboard allows teachers to track all of their students in one place, control the students' privacy settings, and assign in-class activities to coincide with Duolingo lessons. The dashboard has two views: a detailed list view and a course progress view. On the detailed list view, you can see how often your students use Duolingo, how many lessons they complete, how many skills they complete, and how many experience points (XP) they earn. The course progress view allows you to compare your students' progress in a Duolingo course, so you can see at a glance how far each student has made it.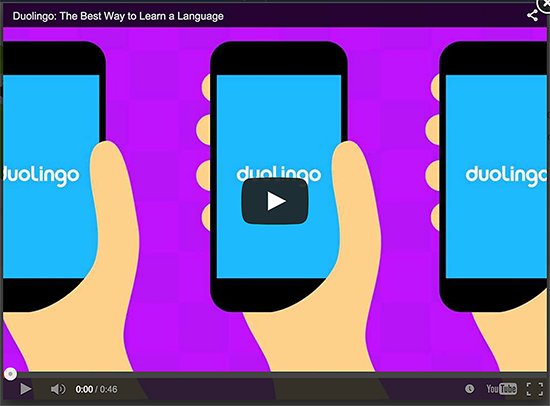 · Lessons provided
On the dashboard, you can assign individual students lessons according to where they are in the course. Each lesson includes a variety of speaking, listening, translation, and multiple-choice challenges. While working in lessons, students receive instant feedback about what they missed and why it was wrong.
· Gamification
Duolingo has game-like features, which may help engage students. Each lesson begins with 4 hearts; if a student answers a question incorrectly, he or she loses a heart. When there are no more hearts left, the student will have to start over and try again. It also gives a streak count that motivates students to stay on track by recording how many days in a row they spend completing lessons in Duolingo.
· Go offline
While Internet access is necessary to have full access to all Duolingo's features, the Android and iOS apps do have an offline mode, which allows students with no Internet connection at home the opportunity to access a handful of lessons at a time.
With a resource as handy as Duolingo, teachers will be better able to differentiate lessons based on individual need, and students will be more engaged and motivated to learn another language. Share with us your experiences using Duolingo!
Secondary Content
Bottom Content