Section Branding
Header Content
Top 5 EdTech Tips: Socrative
Primary Content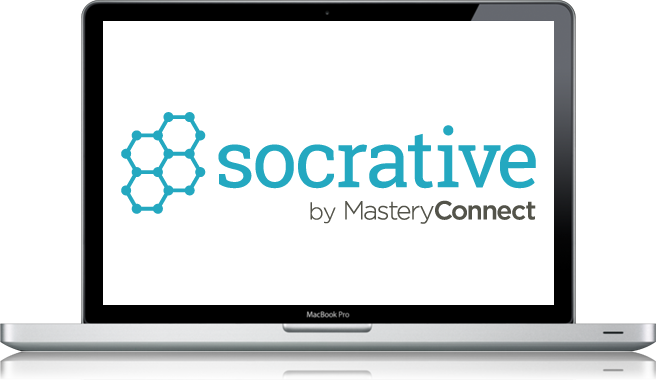 Socrative is an online tool that helps teachers assess students' knowledge from anywhere using technological devices. Its platform is easy to use and available on Apple, Android, Chrome, Kindle and Window devices as well as on the web. Here are five ways you can use Socrative in your classroom.
1.  Great for Formative Assessments
If you are looking for an easy way to administer formative assessments, Socrative is for you! Socrative allows you to assess student knowledge in the form of quizzes, quick question polls, exit tickets and games. Quizzes can range from multiple choice, true/false, Short Answer and Open-Response questions. Remember, formative assessments are administered to help guide your instruction. Therefore, it is important to assess students often to insure you are using effective teaching methods. Using Socrative provides an easy and engaging way of accomplishing this task.
2.  Seeing Results in Real Time is a Great Time Saver
As students begin answering questions on their devices, their results begin to populate on the teacher dashboard in real time. This gives you immediate insight on where to take your instruction as opposed to having to wait until after grading papers.  Saving time on grading and pinpointing problematic areas for students gives you more time to plan and create fun and interactive projects and assignments for students. Students are also provided with instant feedback and can have a better understanding of what they need to review in order to master the material. The image below shows what you would see in real time as a student takes a self-paced quiz.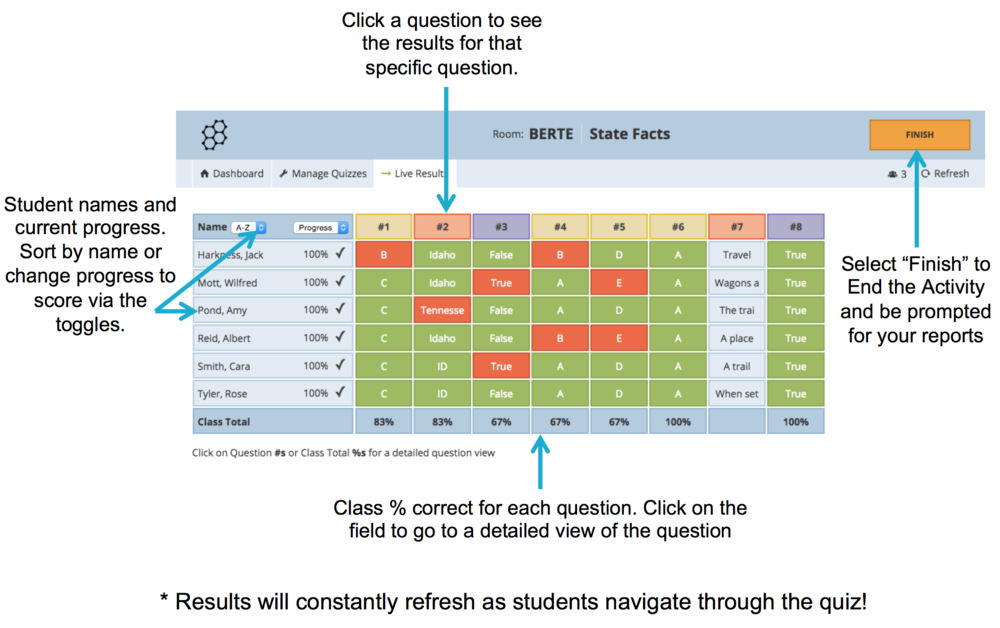 3. Detailed Reports of Quiz Results
Socrative provides detailed reports of the quizzes taken in your class. You can choose to view quiz results for the whole class, individual students, or even question by question. This information can then be viewed in a Google Spreadsheet or e-mailed in an excel file. In addition, you can use these reports to show that you are meeting TKES requirements by using data to guide instruction, measure your students' progress and provide feedback to both students and parents.
4. Great for Flipped Classrooms
Use Socrative to gauge whether your students are truly grasping the concepts from at-home tutorials by having them take a quiz once they have completed their course. Socrative's ability to provide instant feedback will let you know what concepts the class and/or individual students did not understand during their home sessions. You can then tailor in class instruction based on the results or even set up groups to help students work through a concept.
 5. Space Race
Students love to play games and compete against one another. Socrative's Space Race provides a fun way to assess your students using an interactive game. Students may compete individually or in teams. As they begin to answer questions correctly or incorrectly, their results can be seen in real time in comparison to their classmates. Assessing student knowledge via a game, keeps students engaged and prevents them from feeling as if they are always being evaluated in the same traditional format.
If you have any great suggestions on how to use Socrative in the classroom, let us know by leaving a comment below!
Secondary Content
Bottom Content