Section Branding
Header Content
NASA Summer of Innovation and Grant
Primary Content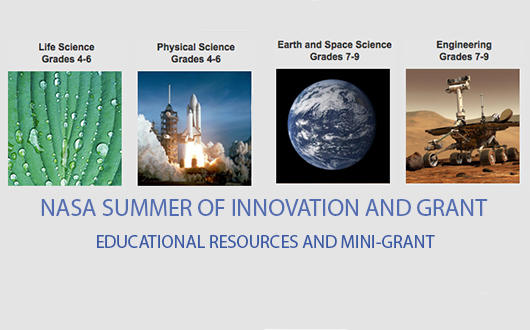 This week's Tech Thursday features NASA's Summer of Innovation program, which is intended to keep kids engaged in Science, Technology, Engineering, and Math (STEM) throughout the summer by supporting community-based organizations with curriculum as well as $2,500 mini grants.
The application deadline for the mini grant program is June 10; the awards will be announced a week later. You can read more about it on the NASA SoI website. The program is specifically for organizations supporting students in grades 4-9 targeting "underserved and underrepresented middle school students."
If you do not get an award or are perhaps ineligible to apply, NASA still has an incredible list of resources supporting science for grades 4-9 online in Life Science, Physical Science, Earth and Space Science, and Engineering. There are also thematic lesson plans including key word, or vocabulary, lists, prep time and lesson time estimates and levels of complexity for each activity.
"Fun and interactive learning experiences are a perfect way to keep students' minds sharp during the summer break," said Leland Melvin, NASA's associate administrator for education in Washington. "NASA centers and other national partners offer great Summer of Innovation opportunities, but the mini-awards allow smaller, non-traditional partners to inspire students in their local communities through creative educational activities."
The Office of Education at NASA expects to give between 180 and 200 awards this year.
Secondary Content
Bottom Content