Section Branding
Header Content
Engaging Exercises for Inauguration 2013
Primary Content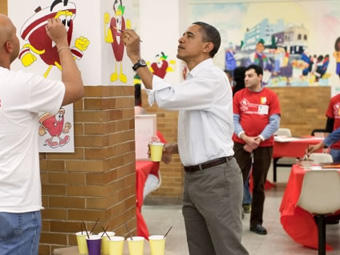 Updated January 18, 2013 by Rosemary Jean-Louis
The Presidential Inauguration is January 21, 2013. There several ways you can get students actively involved in the commemoration of the President's new term.
National Day of Service
On Saturday, January 19, leading up to the event, President Obama has asked us to join him in the National Day of Service honoring Dr. Martin Luther King, Jr. President Obama, Vice President Biden, members of Congress and their families have pledged to volunteer on Saturday in service in the Washington, D.C. area. To get your students involved, you can invite them to meet at the school or community park to pick up litter or rake leaves or any number of other options. If you have younger students, you may have them perform service projects in the classroom. For example, give each student a wipe and have them wipe down a classmate's desk.
NPR's Dear Mr. President
NPR is hosting an opportunity for anyone to share what is most important to them with the President. In their feature "Dear Mr. President", you can share a photo of yourself holding a sign with a keyword or phrase you want the president to remember. There's also a section for you to explain why that word or phrase matters to you. It's a great way to engage students in thinking about what is important to them on a personal and national level and would make for a fun, interactive writing prompt this week.
We'd love to hear from you what your students come up with for service projects and what word or phrase they're putting on those signs.
See this video below from First Lady Michelle Obama on how to sign up for service this National Day of Service.
Additional Resources
For a full list of inauguration resources check out Larry Ferlazzo's Websites of the Day.
Be sure to check out Rosemary's blog on Dr. King Resources for Classrooms and King Day Activities in Georgia .
Secondary Content
Bottom Content