Section Branding
Primary Content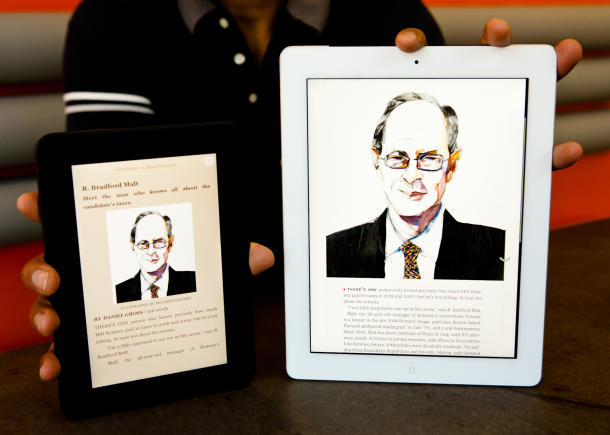 In a Gizmodo article last week, Amazon was declared the winner against Apple. That is to say, Amazon has so far done a better job of making its Kindle accessible for classrooms than Apple has done with its iPad.
Amazon's technology allows for integration to the web and their eTextbook service has reportedly "ballooned to over 200,000 titles" and is still growing. The Kindle, in any iteration, is significantly cheaper than the iPad. In cash-strapped school districts around the country, price is a significant factor when schools weigh their ability to update resources with their responsibility to develop college- and career-ready citizens. One of the Kindle options costs $70 – which is cheaper than I remember any single college text costing – and many books can be rented instead of purchased, saving more cash.
Now enter the (alleged) iPad Mini. At this point, we're all fairly confident that the iPad mini is a real thing (that will be announced officially tomorrow). There is even conversation about what this device will mean for education. For example, iBooks 2 will enable interactive textbooks, of particular interest to GPB's New Media and Education group. Imagine ways that a non-flat textbook can engage and support students learning in a cross-platform, multi-media, modern classroom.
The iPad mini will likely cost significantly less than its $500-$600 bigger sibling, placing it more closely within the grasp of school boards and classrooms.
Today schools around the state are loosening mobile device restrictions. For example, Forsyth County has introduced a BYOT, Bring Your Own Technology, standard to increase student access and exposure to current technology.
Osborne Middle School's media specialist, principal, and media committee worked to get Kindles into the school's library. Their success in early 2011 resulted in a significant increase in library traffic – which means more students were reading!
We'll watch and see how Apple's announcement tomorrow impacts the presence of tablets in the classroom.
What is your school's policy on technology devices in the classroom? How are you using tablets in the classroom now?
Secondary Content
Bottom Content