Section Branding
Header Content
Historical Context: South Asia
Primary Content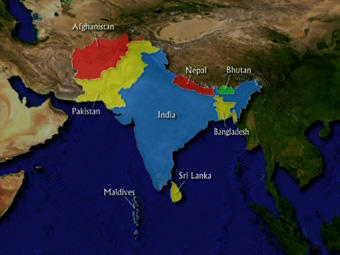 The video explores the South Asian countries of Afghanistan, Pakistan, India, Nepal, Bhutan, and Bangladesh, plus the island nations of Sri Lanka and the Maldives whose cultures and histories are intertwined and often tumultuous.
All together, the video is around an hour and a half long and provides a connected history of the area through thousands of years of conquerors, religions, and kingdoms. It also segments easily so that you can highlight a single country or stage of history to make sharing in the classroom more feasible.
Because the division of the area has been violent in both distant and recent history, some of the images are graphic. Please be sure to preview the clips carefully if you're concerned about that for your classroom.
With the countries so diverse in religion and political composition, this video gives insight into why some countries are democracies while others are ruled by strict dictators.
Secondary Content
Bottom Content