Section Branding
Header Content
Charming, Historical, Famous Savannah
Primary Content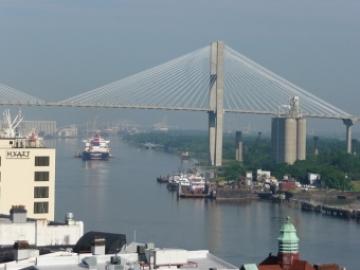 Travel and Leisure magazine recently ranked Savannah in the Top 10 World's Best Cities. Savannah came in at number 8, beating out Quebec and Honolulu. As a native citizen of Georgia who grew up just two counties away from Savannah, I feel immense pride at seeing our state's charming city on such a list.
If you have yet to visit Savannah, then add it to your list -- and soon. The economics of supply and demand tell us that with increased praise for the city, folks will be more likely to travel there, decreasing supply of hotel rooms and such, thus raising the rates. (I sincerely hope that doesn't play out soon as I happen to be headed that way for a family reunion this weekend.) This may be a fun way to make current events relevant in your math and economics classroom. You can monitor the cost of hotels on sites like priceline.com or hotels.com (which are sites for deals but also list the running standard rates for hotels). As an on-going project, students could check on the cost of hotels during the semester and track the changes based on major publicity like this and seasonal travel rates.
Georgia Studies teachers know the importance of Savannah as Georgia's first settlement as well as its continued role in not only tourism, but also as a growing site for import/ export in Georgia's economy. Savannah has been an instrumental character in Georgia's military history, as well as the state's reputation for hospitality and charm. It is the home of the now-international Girl Scouts. You can find more about Savannah with Georgia Stories, GPB's web-based content designed for educators teaching Georgia Studies. There you'll find videos, articles, images, and podcasts to enhance learning and engage students in the fascinating true events of Georgia's history, including her first town, Savannah.
Secondary Content
Bottom Content