Section Branding
Header Content
Fun and Easy Summer Science Activities
Primary Content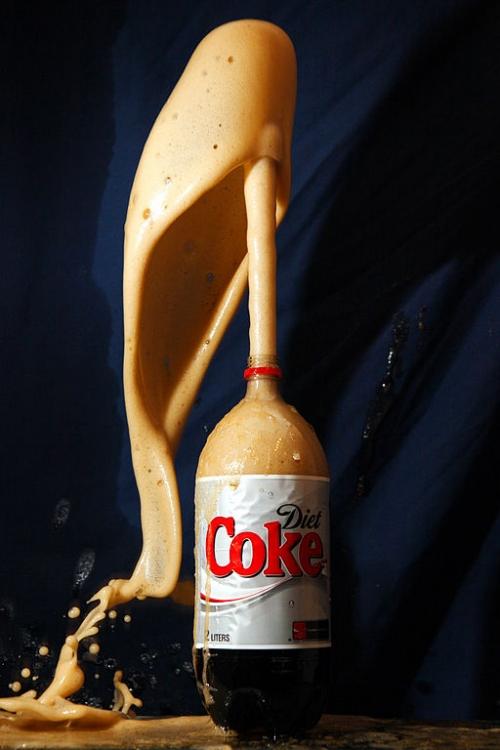 The lazy days of summer are around the corner, so I understand if young scientists aren't interested in conducting experiments, because experiments require thought and work, and the summer is time for fun and playtime. Well, here are some fun ideas for playing around with science!
Similar to the ubiquitous "vinegar and baking soda volcano", the Mentos dropped into soda activity is an oldie but goodie. Simply go outside (trust me, go outside - don't bother doing this in the kitchen, the clean up isn't worth it) with a liter of soda and a packet of Mentos and see what happens. For extra fun, experiment with the "variables" - which kinds of soda create the biggest eruptions? What other kinds of candies create the eruption? Is there an "ultimate" combination of product brands that create the largest eruption? What about the smallest? SciencesBuddies.org has a great write-up for students who want to turn this activity into next year's class science project.
Less messy but still fun is this project - The Magic Ketchup In A Bottle Experiment. You just need some water, salt, empty soda or water bottle, and a package of ketchup from a fast food joint. Depending on the volume of the bottle and the salinity of the water, the ketchup packet will float or sink at the squeeze of your hand. This experiment is great for introducing the concepts of buoyancy and density, and it can be an introductory activity that leads up to a visit to a local Titanic exhibit (GPB's Heather Neal further highlighted the science and engineering behind the Titanic's fate).
For the artistic scientists out there, give these projects a try. Use Salt Dough, food coloring, and jelly beans to make 3D models of animal or plant cells (I actually did this in the 7th grade for a class biology project - my teacher marveled at the ingenuity of the salt dough and gave me an A+). Or purchase a bouquet of white flowers (like carnations or roses), place them in different vases containing water mixed with a different color of food dye, and watch the flowers' capillary action cause the petals to change colors. You can create rainbow flowers by splitting the flowers' stems and placing them into different color containers.
For scientific artists out there, try stitching these biological gems. You can order patterns of your favorite organelles or viruses at TheFlossBox.com. (PS - I totally want this and this! And look how cute this math embroidery pattern is!!!)
And a very simple science project can be done on your hair - experiment with different colors of chalk to create new (and temporary) colored highlights in your 'do. Which colors show up best in blonde hair? Which colors show up best in brown,black or red hair? Is the color stronger with or without color? And how many washes does it take to rinse the color completely out of your hair? Check it out - the beauty salon is now a science lab!
So there y'all go! Have some scientific fun this summer, and let me know if you experience any "eureka-moment" breakthroughs!
Secondary Content
Bottom Content