Section Branding
Header Content
Will January Snows Affect November Votes?
Primary Content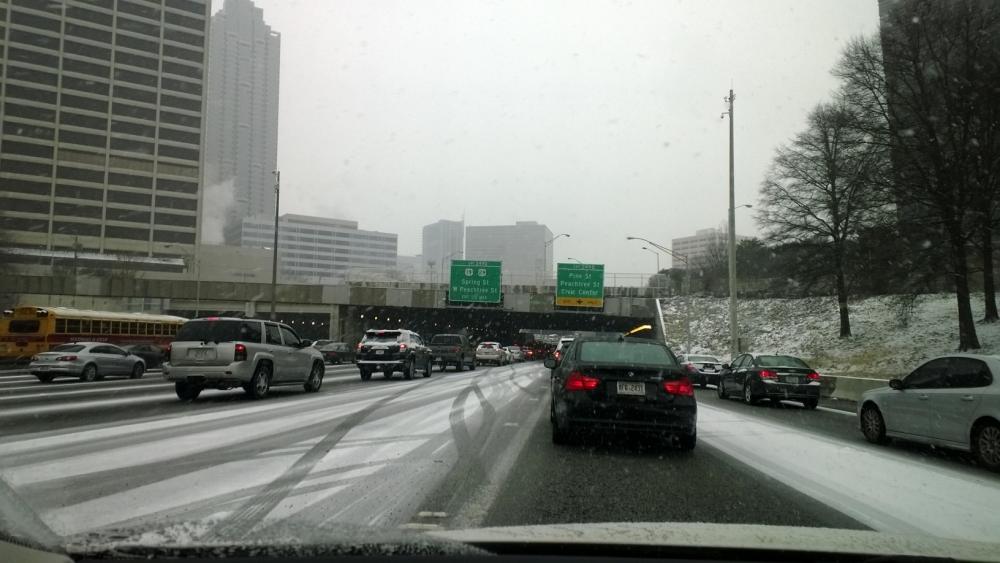 It would appear two inches of snow can cripple traffic in metro Atlanta. It can force people to abandon their cars and start walking. It waylays children and teachers at schools and keeps workers shut in at the state Capitol.
And it can cause even the mightiest of Governors to admit maybe the state wasn't prepared.
But can it turn elections?
Probably not, but that won't keep Georgia Democrats from using the state's slow and scattered reaction to Tuesday's snow storm as an issue in the 2014 gubernatorial race.
"The memory of being stuck in traffic will stay with people until November," said DuBose Porter, chairman of the Democratic Party of Georgia.
In an interview Wednesday not long after Gov. Nathan Deal's hour-long hammering of a press conference, Porter took his shot at hammering away at him. Porter took issue with everything from how workers were let out of their offices to Georgia's lack of public transportation to the use of the National Guard.
'We Knew The Storm Was Coming'
"They were caught with their britches down," he said. "We knew the storm was coming and obviously the state wasn't prepared. We're talking about two inches of snow and this is how we react."
Porter said officials need to focus on making sure everyone is safe and no one is stranded on the road or at a school, as thousands of Georgians were.
The traffic mess in Atlanta actually kept some folks stranded for an entire day. And with so many motorists abandoning their vehicles in the middle of unpassable roads, salt and show trucks had a tough time clearing the way.
But Porter went on to say Deal's handling of the snowstorm shows how vulnerable the Governor and his party are on a number of key issues, including transportation. And he thinks it gives state Senator Jason Carter a chance to show an alternative.
"They have abandoned any plan to solve Georgia's transportation problems," he said. "They put it off, like they did everything else."
Porter noted that Deal called in the National Guard, and then proceeded to blast Deal for seeking federal assistance when it's convenient and spurning it when it's politically expedient (see my earlier piece on Deal's refusal to expand Medicaid.
"He picks and chooses where he wants involvement from the federal government," he said.
If You See A Chance, Take It
The storm gave political openings to Deal's opponents and others who took to social media with a vengeance. The story also had national legs, as outlets like leftist MSNBC used it to pummel Republicans.
Dalton Mayor David Pennington, for example, who is challenging Deal for the Republican gubernatorial nomination, immediately capitalized on Deal's response.
"Although Dalton was supposed to be north of the "expected storm," we started pre-treating our roads at 6 a.m. yesterday," he said. "Government's primary role is to protect the people; Nathan Deal has failed miserably once again.
An Esquire magazine blog post by political journalist Charles P. Pierce has the title "How A Career Takes A Tumble," though it's actually about Atlanta Mayor Kasim Reed, who appeared alongside Deal at Wednesday's press conference.
Even NBC's national TV weatherman, the affable Al Roker, criticized Gov. Deal and Mayor Reed for not preparing for the storm specifically in connection with salting the roads.
"I don't think they wanted to spend the money to pre-treat the roads," he said on national television.
Not So Fast
But others cautioned against giving the snowstorm much political weight.
"It's a mistake anyone could have made," said Tom Crawford, who publishes the Georgia Report, an online political digest.
He continued, "I think it's unfair to attack Gov. Deal for this."
Crawford allowed that it will have a political impact insofar as it arms the opposition.
"What this does do is it gives Governor's critics in the Republican primary and the general election a handy metaphor for attacking him," he said. "They'll say, 'As we saw in the snow storm, Deal isn't prepared to deal with the demands of the job," you know, that kind of thing."
But Crawford said if Gov. Deal and his administration are able to rescue stranded motorists and clear the major roadways in the next day or two, he doubts the snow storm will have much of an impact in the May primary or the November election.
And even Sen. Carter wasn't willing to use the storm as an opportunity for politicking, at least not openly.
"I feel like today, we need to make sure that everyone is safe and that those in need are getting assistance," he said in an email. "Let's get the public safety situation stabilized before we talk politics.
Rare Break In Fast And Furious Session
Deal, for his part, largely took the blame squarely on his shoulders.
"I'm willing to take whatever blame comes my way and if I'm responsible for it, I'll accept that," Deal said at Wednesday morning's news conference.
Deal remained calm even under heavy questioning from the media, but did note that even local meteorologists in metro Atlanta failed to predict how intense the storm would be.
"It's easy to make judgment calls after the fact, but I dare say that there's not anybody in this room that could have predicted the degree and the magnitude of the problem that developed," he said.
What impact the storm ultimately has on Gov. Deal remains to be seen. It's unlikely it will change the dynamic of the May primary where he will face two opponents who can't match his name recognition or campaign war chest. And in November, he faces state Senator Carter who has to overcome the current state of the Democratic Party in Georgia, which is slowly moving from moribund to less moribund.
But the storm has slowed the break-neck pace of the legislative session. Lawmakers will lose two working days this week as the legislature won't reconvene until Friday. If the session was moving too fast for you, enjoy your unexpected break. And if you have to venture out of the house in the meantime, please do it safely.
Tags: transportation, DuBose Porter, Nathan Deal, Democrats, snow, snow emergency, stranded motorists
Bottom Content