Section Branding
Header Content
Georgia Eyes Immigration Overhaul
Primary Content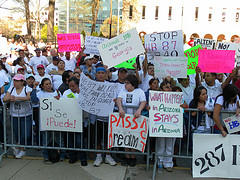 The U.S. Senate took the first steps toward voting on comprehensive immigration reform Tuesday. It's expected to pass the Senate, and then it will move to the House, where a tougher battle awaits. If passed in its current form, the bill would affect a wide range of Georgia residents.
And Atlanta immigration attorney Charles Kuck says it would help the state in five ways. Firstly, border security.
"Stronger border means fewer undocumented workers in Georgia," he said in an interview. "People don't stay in Texas, and Arizona and California anymore. They move to where the jobs are, and Georgia is growing new jobs."
Secondly employers looking for lower-skills workers would benefit.
"There's going to be temporary worker program to actually enable easily employers to get the workers they need – when they need them," he said.
That's welcomes news to Georgia's farmers, says Charles Hall with the Georgia Fruit and Vegetable Growers Association.
He says Congress needs to pass something so all states have the same labor laws.
"In Georgia, we're sitting here with mandatory E-Verify where none of the other states around us, except Alabama, have E-Verify. So we're kind of an island here. But we're kind of optimistic or hopeful that we can get everyone on the same page," he said in an interview.
Hall is referring to the provisions of a state law that requires most employers to check workers' immigration status.
Karen Bremer with the Georgia Restaurant Association says her industry also supports the bill. She says restaurants need workers.
"We have shortages right now in restaurants not just in Georgia but across the U.S.," she said.
The federal overhaul would also provide more visas for higher-skilled workers. And Kuck, the immigration attorney, says the bill would resolve the problem of undocumented workers.
Those eligible to stay would pay a fine and back taxes, and take steps toward becoming citizens.
But many say it's wrong to reward people who broke the law when they entered the country. Some also say the bill would pave the way for foreign workers to take jobs from Americans.
Tags: immigration, U.S. Senate, undocumented residents, comprehensive immigration reform
Bottom Content