Section Branding
Header Content
Law Reigns In Lobbyists
Primary Content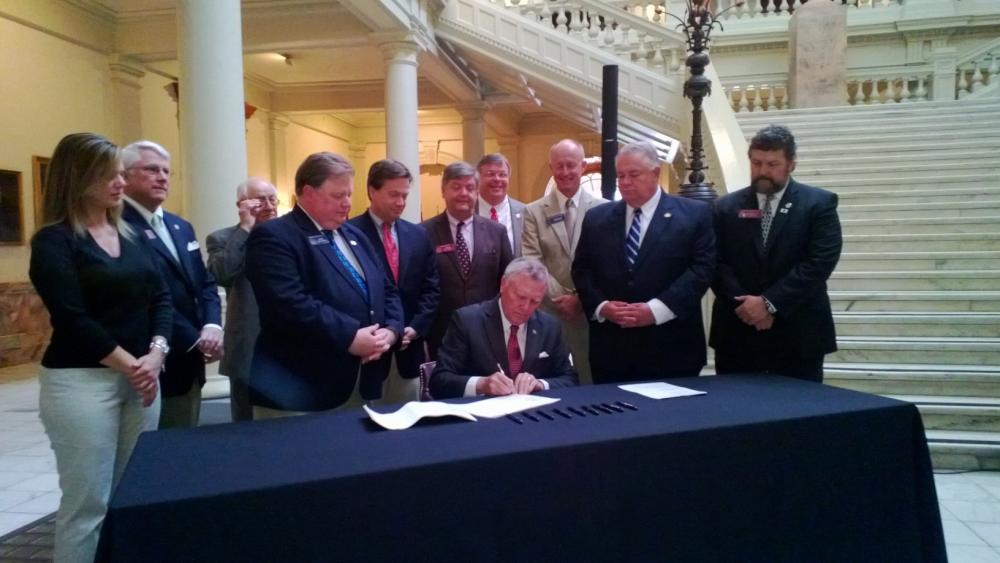 On Monday, Gov. Nathan Deal took a step toward reining in lobbyists' influence on lawmakers by signing a gift cap into law. But one expert and former lawmaker says that's not the point of a gift cap.
Deal signed the bill flanked by House Speaker David Ralston of Blue Ridge.
Ralston said he wrote the bill after a million Georgians voted last year for a nonbinding referendum on a gift cap.
He called the law historic because it limits lobbyists' gifts for the first time. But critics say it has too many exceptions to bring about real reform.
Deal says Georgia's elected officials are good people who don't exploit the power of their office.
"Nonetheless, I believe Georgia's leaders need to not only act honorably and ethically but also guard against the mere appearance of impropriety," he said before signing the bill.
Peggy Kerns is with the National Conference of State Legislatures and a former Colorado lawmaker. She says gift caps send a message to voters.
"It's really so the public understands the lawmakers is out for their best interests, and not whatever sector is trying to push a law," she said in a phone interview.
Still, this measure includes exceptions for lawyers and others. Georgia State University political scientist Steve Anthony says it lacks teeth:
"The most charitable thing you could say is, it was much ado about nothing by the time it was finished," he said.
That's partly because one of the exceptions will give lobbyists carte blanche on spending for a specific group of lawmakers such as a committee.
Georgia is one of several Southern states enacting ethics reform.
Kerns says Southern states favor gift caps over other types of ethics measures.
"The trend, particularly in the Southern states, is to impose more gift restrictions, that is from lobbyists to lawmakers," she said. "So in the last half a dozen years or so, the Southern region has really led the way."
The measure goes into effect on Jan 1, just days before the 2014 legislative session starts.
Tags: politics, David Ralston, ethics, lobbyists, gift cap
Bottom Content