Section Branding
Primary Content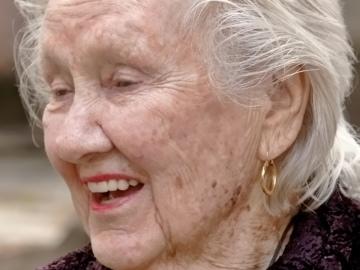 Thursday is the 100th birthday of the woman credited with saving Georgia's Ossabaw Island from development.
Sandy West still lives on the 26,000 acre island and is looking toward the future.
In a 2001 interview with GPB, West recalled what she said to then-Governor Jimmy Carter when they took an evening stroll on the coastal paradise that once belonged to her and her family.
"Ossabaw is a miracle," she said. "It's not only an ecological miracle but it's powerful and it's just beyond price. It just simply cannot be ruined."
West said that she never regretted spending her inheritance on a project that eventually led to saving the island from development.
"I did not spend it on ice cream sodas and painting my toe nails," West said. "I spent it on something I believed in."
Elizabeth DuBose of the non-profit Ossabaw Island Foundation says all of Georgia benefits from the 1978 deal that preserved the island.
"The island was valued at $16 million and she and her family gift-deeded $8 million of that value," DuBose says. "And because of that, they had a say in how they wanted the island to be used. And they said that Ossabaw should only be used for education, research and cultural purposes."
DuBose says West remains keenly interested in the island's future.
"She is the reason that the foundation even exists," DuBose says. "We are an outgrowth of her former foundation that she started in 1961."
West didn't attend a birthday party in her honor last week but was said to be in good health.
DuBose says West, the island's only resident apart from a state ranger, wants attention focused on ongoing efforts to protect Ossabaw Island.
The foundation sponsors educational, research and cultural activities.
Tags: undefined
Bottom Content