Section Branding
Header Content
Residents Slam Ogeechee Proposal
Primary Content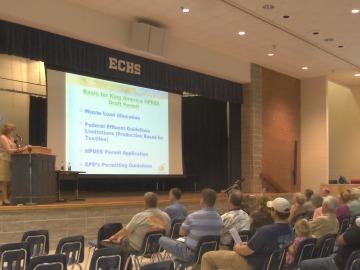 Southeast Georgia residents angry about the state's response to a massive fish kill last year showed up in force at a hearing concerning the Ogeechee River last night.
The residents chastised state environmental officials for considering a new river pollution discharge permit for a Screven County textile mill.
Thousands of fish turned up dead last year in the river starting at the pipe where King America Finishing dumps its waste.
The company now wants a new permit to discharge pollution like formaldehyde and ammonia.
Fulton Love runs a seafood restaurant on the river and blames King America for a drop in business.
"There's no way they should be able to operate," Love says. "They proved themselves unworthy of having a permit. A permit is a privilege. And they have abused the privilege of operating a business in the United States in my opinion."
About 200 people attended the hearing, marked by frequent applause and appeals for state officials not to appease the company.
Pat Doyle of Savannah says, the company's violations make it an unworthy business for self-regulation.
"They're not trustworthy enough to do that," Doyle says. "There should be an outside source of monitoring. They should be shut down, actually."
King America has agreed to fund $1 million in unspecified river improvement projects.
Environmental Protection Division officials didn't answer questions at the meeting or say when they'd make a decision.
No one spoke on behalf of King America.
About 50 speakers addressed the officials in a meeting that lasted almost three and a half hours at Effingham County High School.
Tags: Environmental Protection Division, Georgia Environmental Protection Division, pollution, Chatham County, Screven County, Effingham County, water pollution, industrial pollution, Bryan County, Ogeechee River, GPB News, orlando montoya, Georgia Environmental Protection, Ogeechee Fish Kill, King America Finishing Plant, King America Finishing Company, Ogeechee, The Environmental Protection Divison, King America Finishing, King America, State Environmental Protection Division, Fulton Love, Pat Doyle
Bottom Content