Section Branding
Header Content
Tour Highlights Georgia Downtowns
Primary Content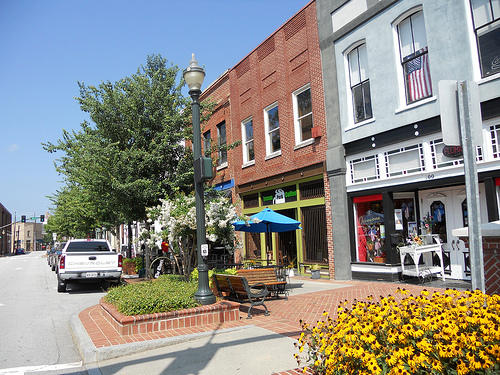 Finding ways to develop small downtowns is the goal of a three-day state tour that kicked off Wednesday. Attendees include business leaders, builders, and state agency officials, and the tour this year includes stops in Metter and St. Mary's in Southeast Georgia and Dublin, east of Macon.
Each town has building stock from a bygone era that could be ripe for new business opportunities.
Mike Starr is with the Georgia Cities Foundation, which gives low-interest loans to people starting businesses in downtowns.
He says he's seeing a budding interest among younger generations who consider it green to renovate an old building.
"Here in Dublin there are two or three buildings that we've seen that are just exceptional examples of preserving and revitalizing and all of them were done by younger entrepreneurs," he said by phone during a break on the tour.
One such entrepreneur is Jeff Davis. Attendees visited a building he's renovating in downtown Dublin that's a former post office built 100 years ago.
Davis owns Alterra Networks. He's moving his IT company into the building -- including a data center for computer servers in the bottom floor -- because he says working downtown offers unique opportunities.
"We're going to be able to juxtapose: We'll be 1912 on the top two floors and 2112 in the basement," he said by phone after showing the visitors around. "Downstairs is going to look like something out of a science fiction movie."
Davis said the old post office building is a "fortress." And while he's spending money retrofitting the space, he said, "Even with acquisition and renovation costs, I couldn't buy an inferior building for two or three times more."
The foundation has been organizing the downtown tour every year since 2001.
Tags: Dublin, St. Mary's, Jesup, Georgia Cities Foundation, Heart and Soul Bus Tour, downtowns, Metter
Bottom Content